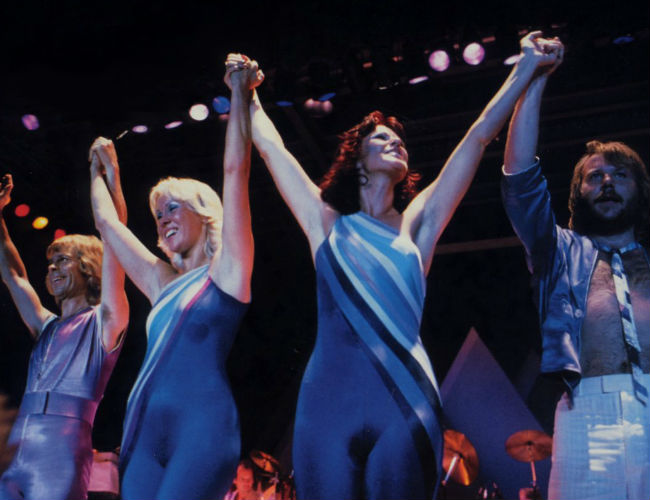 Like many ABBA fans, I occasionally find myself daydreaming of ABBA reforming, recording an album of new material, or at the very least pulling a double album of rarities out of their rumoured treasure vault of unreleased songs, and making all my fandom dreams come true.
After all, due to money and circumstance I never got to see ABBA perform live when they toured Australia in 1977 – Brisbane was a 3 hour drive from my hometown of Alstonville and ticket prices, relative to money in the bank, were prohibitive – and the idea of seeing them strut the stage, belting out "Money Money Money" or "That's Me" is the stuff of giddy daydreams.
Daydreams, I might add, that may possibly come true if a rash of media reports, all of which are gloriously short on detail and rich on press release hyperbole, are to be believed.
According to the good people at The Guardian, ABBA are teaming with entertainment maestro Simon Fuller, the man who gave the world American Idol and its franchise progeny, to give fans an immersive virtual reality concert experience, and it seems, two members of the legendary pop supergroup couldn't be happier.
"We're inspired by the limitless possibilities of what the future holds and are loving being a part of creating something new and dramatic here. A time machine that captures the essence of who we were. And are." (Benny Andersson)

"Our fans around the world are always asking us to reform and so I hope this new Abba creation will excite them as much as it excites me!" (Anni-Frid Lyngstad)
Pre-prepared statements aside however, the idea that ABBA could be the ones to help push the emerging "hyper-realistic" VR technology to the point where it becomes a realistic entertainment option makes perfect sense.
After all, they were among the music artists who first took to video clips as a way of forestalling having to go out on the road, something the group was never terribly keen on even though once they were on stage, they were the masters of the art form.
Quite how it will look remains a matter for fervent conjecture, or fertile daydreaming perhaps since details won't be forthcoming till 2017.
But even so, as teaser announcements go, it's a pretty enticing one, and if it comes with new music into the bargain, then you'll be able to find me locked in a virtual concert hall somewhere refusing to ever leave again.