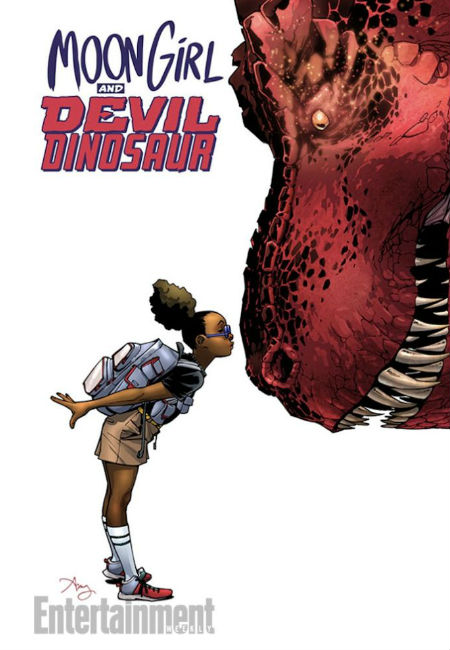 It's been said more than once that "diamonds are a girl's best friend".
But if you're Lunella Lafayette, a plucky tween in Marvel's ever-expanding universe who finds some alien Kree technology and accidentally unlocks a portal to our ancient past, you'd probably prefer a big red lumbering T-Rex, who goes by the rather menacing moniker of Devil Dinosaur, as your closest pal.
Odds are he'll prove way more useful than some baubles when some prehistoric tribes people, rather charmingly called the Killer-Folk – pretty much says it all really; not the kind of people you'd invite to your knitting circle, I'm guessing – come hurtling through the doorway too, after some Kree do-dads for themselves.
It's something confirmed by Mark Paniccia, editor of this new quirky series from Marvel, created by Amy Reeder, Brandon Montclaire and Natacha Bustos:
"Lunella is a little genius with grand plans on going to big schools, but she's got an Inhuman gene, unpredictable alien DNA inside that – once triggered – could take her life in a wildly different direction. She's determined to control that change. She's going to need to grow up really fast to survive in the new Marvel Universe … luckily she will have Devil Dinosaur at her side." (source: Zap2it)
Very lucky indeed.
For as Nerdist notes, Devil Dinosaur has some Marvel runs on the board already:
"Created in 1978 by Jack Kirby, Devil Dinosaur roamed an alternate timeline with his caveman companion Moon Boy. This new title will bring Devil into the present day Marvel Universe, and this time will be teamed up with the super-genius mind of teenage Lunella Lafayette, Moon Girl."
What the writers of the series like most about this most obscure and unusual of character pairings, one that recalls the offbeat charm of The Guardians of the Galaxy crew – refreshing for their lack of superhero earnestness even as they got the fighting bad guys job done – is the way it appeals to a whole pile of across-the-board demographics, meaning they can give the series what Nerdist terms a "Pixar feel".
Frankly it looks like a refreshingly quirky take on the Marvel universe, something I'll be keen to check out when the series debuts in print and via digital platforms in November 2015.