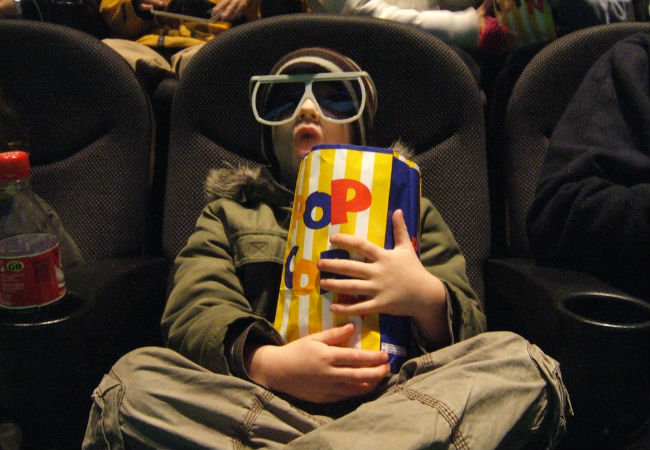 So the Oscars-worthy rush of movies is over for the most part, and you could be forgiven for wondering if there are be any movies even remotely that good still in the offing.
Well, thankfully there are with a rich bounty of both mainstream and indie movies coming our way this year, including a number for whom trailers have recently been released.
While a trailer does not, of course, a satisfying movie make, they are intriguing windows into the souls of upcoming films and so I have gathered six of my current favourites together in another marvellous massing so we can test that theory till all we can see are A-list stars and CGO effects, and all we can smell are popcorn and choc tops.
Are you ready? Then don your totally unnecessary 3D glasses and let's press play!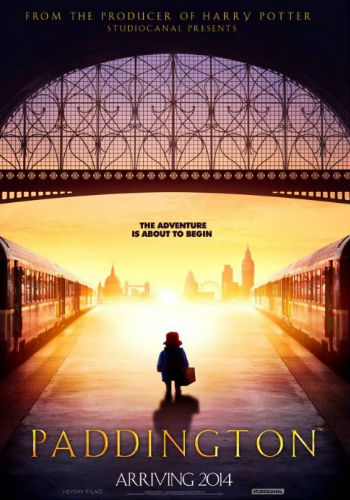 SNAPSHOT
Paddington is based on an original screen story by Paul King (Bunny and the Bull) – who also directed – that follows the movie's furry protagonist as he travels from Peru to London, in search of a place to call home – which he believe he may've found in the gentle Brown family – but landing in lots of trouble along the way, which includes crossing paths with a museum taxidermist (Nicole Kidman) whose interest in Paddington proves most unwanted.
(synopsis via screenrant)
Based on the much loved series of books by Michael Bond, Paddington is yet another echo of my childhood coming to the big screen, an event which fills me with both childish excitement and not a little dread.
On the one hand, the idea of having a character as sweet and comedically inept as Paddington Bear up on the big screen at long last, is a delightful thought, given how large he loomed over my childhood, both via the books and the stop motion TV show that ran from 1976-1987.
However, Hollywood is littered with movie adaptations of iconic children's media that while commercially successful, failed to truly evoke the charm and spirit of the originals.
I am talking about you Scooby Doo, The Smurfs, Alvin and the Chipmunks to name a few, all of which succumbed to some foolish idea that modern movie audiences won't enjoy the characters in their original form.
They're made far more self-aware, post-modern, full of wise cracks and fart jokes, and any sense that you are experiencing these characters as they were meant to be experienced has gone completely out the window.
Yes they make money but at what cost?
I am hoping that Paddington, with a script by Paul King (Mighty Boosh) and the voice of Colin Firth as Paddington Bear himself, will keep in mind that staying true to a character's origins is not the death knell to commercial success – hello Muppets! – and that charm and whimsy have a place in the modern entertainment landscape.
We'll see if they got the memo when Paddington opens on 12 December 2014 in USA and 18 December 2014 in Australia.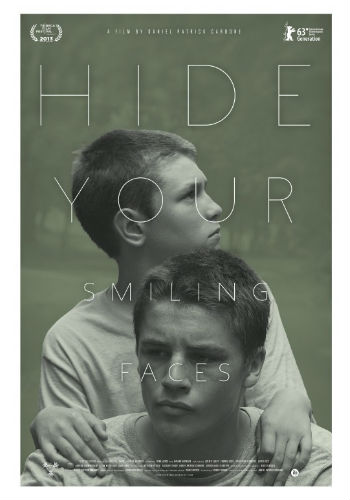 SNAPSHOT
Hide Your Smiling Faces vividly depicts the young lives of two brothers as they abruptly come of age through the experience of a friend's mysterious death. The event ripples under the surface of their town, unsettling the brothers and their friends in a way that they can't fully understand. Once familiar interactions begin to take on a macabre tone in light of the tragic accident, leading Eric and Tommy to retreat into their wild surroundings. As the two brothers vocally face the questions they have about mortality, they simultaneously hold their own silent debates within their minds that build into seemingly insurmountable moral peaks. Hide Your Smiling Faces is a true, headlong glimpse into the raw spirit of youth, as well as the calluses that one often develops as a result of an unfiltered past.
(synopsis via hideyoursmilingfaces.com)
A film about childhood experiences of a kind entirely removed from the innocent sweetness of Paddington Bear, writer-director Daniel Patrick Carbone's debut feature Hide Your Smiling Faces is one those well told, tightly wrought indie movies that examines the human condition in all its messy glory.
Attracting rapturous reviews from the likes of John DeFore at Hollywood Reporter, and Rodrigo Perez at The Playlist (not to mention a stellar 86% approval rating at rottentomatoes), and innumerable film festival appearances including 2013 Berlin International Film Festival, 2013 Tribeca Film Festival and 2013 BFI London Film Festival, First Feature Competition. Hide Your Smiling Faces is drama writ large in the most intimate of ways.
While not every is inured with this gentle but provocative coming of age tale – Tom Hiddleston of Time Out described it as "a self-serious, obviously heartfelt mood-piece which would have benefited from a bit more clarity and a lot less drifty, indie-by-numbers vagueness" – the majority opinion seems to be that this is a film worth seeing.
Which is exactly what I will be doing when it arrives in Australia after opening in USA on 28 March 2014.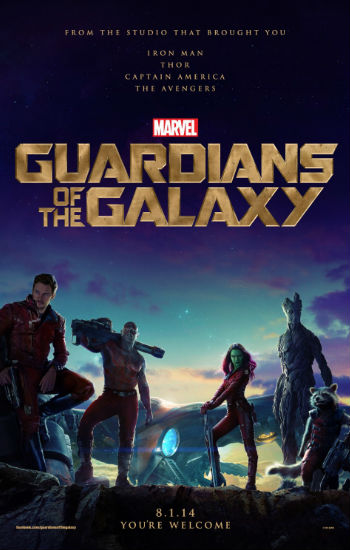 SNAPSHOT
An action-packed, epic space adventure, Marvel's Guardians of the Galaxy expands the Marvel Cinematic Universe into the cosmos, where brash adventurer Peter Quill finds himself the object of an unrelenting bounty hunt after stealing a mysterious orb coveted by Ronan, a powerful villain with ambitions that threaten the entire universe. To evade the ever-persistent Ronan, Quill is forced into an uneasy truce with a quartet of disparate misfits — Rocket, a gun-toting raccoon; Groot, a tree-like humanoid; the deadly and enigmatic Gamora; and the revenge-driven Drax the Destroyer. But when Peter discovers the true power of the orb and the menace it poses to the cosmos, he must do his best to rally his ragtag rivals for a last, desperate stand — with the galaxy's fate in the balance. (synopsis via marvel-movies.wikia)
I'll be honest – I am not a superhero comic book nerd.
I am not sure why that never happened since I avidly watched all the Marvel and DC cartoons as a child, and prodigiously read through a whole range of British and Hanna-Barbera comics which while not even remotely close in theme or execution to the Marvel or DC variety, nevertheless I was predisposed to reading more than just books.
So I have spent my adult years, in part, catching up on characters as diverse as Iron Man, Thor and Captain America, and re-acquaiting myself with the likes of Batman, Superman and Spider Man, and now I can Guardians of the Galaxy to my newly acquired superhero collection.
What is intriguing me about this latest addition to the Marvel cinematic universe is that it carries a great deal of comedy with it, something which has been hinted at in the Thor and Iron Man franchises, where wise cracks and witty observations are part and parcel of the action, but which seems to be front and centre in this amusing tale of a bunch of misfits saving the universe from a nasty fate.
The fact that it stars Chris Pratt of Parks and Recreation fame is a major plus point (along with Doctor Who's Karen Gillan, Bradley Cooper (voice) and Zoe Saldana), as is the fact the trailer manages to be funny without being ridiculously annoying, a sign that the movie's producers have managed to tread that easily broached balance between comedy and drama.
I don't necessarily go and see every superhero movie going but I am fairly certain I'll be adding Guardians of the Galaxy when it opens in USA on 1 August 2014 and Australia on 7 August 2014.
BETTER LIVING THROUGH CHEMISTRY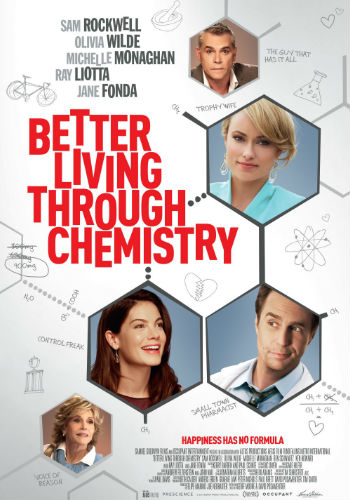 SNAPSHOT
Sam Rockwell (The Way, Way Back) plays a timid pharmacist called Douglas Varney who is stuck in a loveless marriage with an overbearing wife (Michelle Monaghan). He begins an affair with a beautiful trophy wife, Elizabeth (Olivia Wilde), which soon finds him spiralling downwards into a pit of drug-addled depravity as she convinces him to dip into his own pharmaceutical stash.
(synopsis via screenrant)
I am a belated convert to deliciously dark comedies.
I can still recall many years ago, 1987 to be exact, when Raising Arizona came out and I found this very funny movie hard going because I just couldn't relax and enjoy its darkly comedic stylings.
Now, of course I happily chow down on all manner of black-hued storytelling from HBO to AMC and a host of movies, many of them from the indie universe but back then I struggled to see why I should want to see life exposed in all its ugly story at the cinema.
Thank goodness I saw the light of truth in advertising narrative because Better Living Through Chemistry, despite its quirky, light hearted rom-com vibe, continues producing studio Occupant Film's "tradition of tackling slightly dark subject matter by taking a look at the modern day reliance on pharmaceutical solutions to life's problems." (screenrant again)
Plus it stars the enormously talented and fast talking Sam Rockwell, as well Michelle Monaghan and Olivia Wilde, which sounds to me like the perfect marriage of outstandingly good material and impressive acting talent.
Better Living Through Chemistry opens on 14 March 2014 in USA; no Australian release date as yet.
GODZILLA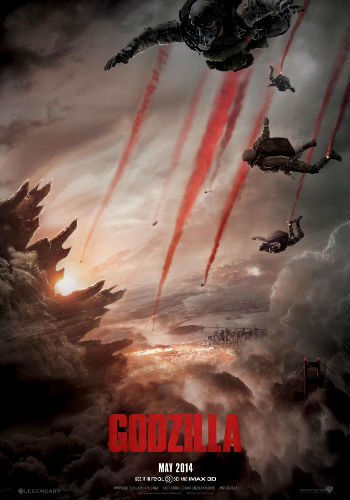 SNAPSHOT
The king of all monsters gets a reboot with this Warner Bros./Legendary Pictures production helmed by Gareth Edwards, who gained critical attention with his intimate twist on the giant-creature genre with his feature-film debut, Monsters. Frank Darabont (The Mist) and Max Borenstein provide the script. (synopsis by Jeremy Wheeler, Rovi via movies.msn.com)
The good news is that we've been assured that this iteration of Godzilla is not going to be "light hearted" or "campy", unlike Roland Emmerich's wafer-thin camp 1998 attempt to bring Godzilla to the big screen.
In fact, while some remain sceptical of this version's dramatic credentials, such as Rico Simpkins at Worlds Without End:
"Two inviolable rules of drama are about to clash like Rodan and Mothra:

Everything Bryan Cranston is in is great.
Godzilla movies are always terrible.

One of those rules will go down in flames on May 16."
Monsters director Gareth Edwards, along with some of the actors in the film such as Elizabeth Olsen who plays Elle Brody (see video below) have been at great pains to make it clear that Godzilla circa 2014 will be gritty, real and a return to the serious environmental and societal messages that characterised the original Japanese films from the 1950s.
That's good to hear because I walked away from Emmerich's effort quite disappointed and graphically underwhelmed, and was treating this take on the iconic Japanese monster with a great deal of scepticism, despite the presence of Edwards, who's film Monsters is one of the best movies I have seen in that particular genre.
But I am not thus convinced of its dramatic bona fides, thanks to the trailer which is all gravitas and dire drama with nary a hint of melodramatic silliness, and the sense that you are rightly witnessing the very possible end of the world.
Which is exactly how a Godzilla movie should look and feel.
Godzilla opens in Australia on 15 May 2014 and in USA and UK on 16 May 2014.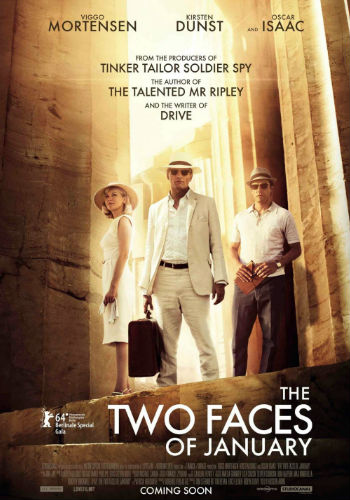 SNAPSHOT
In 1962 the American couple Chester MacFarland (Mortensen) and his wife Colette (Dunst) tour Greece and visit the Acropolis of Athens. There, they meet Rydal (Isaac), who works as a tour guide but scams tourists in the process. The MacFarlands invite Rydal to dinner, and Rydal, entranced by the couple's wealth and beauty, accepts their invitation. While Rydal visits the MacFarlands' hotel, Chester presses him to help move an unconscious body. Rydal helps, but eventually gets caught up in ensuing events. He also becomes infatuated with Colette and runs the risk of provoking Chester's ire. (synopsis via wikipedia)
Based on Patricia Highsmith's 1964 novel of the same name, The Two Faces of January is being released fresh from some film buff loving at the Berlin Film Festival in February this year.
Acknowledged as a complex tale that is difficult to translate to the big screen, something true of many books with recent movie adaptations such as Cloud Atlas and Life of Pi, Hollywood Reporter, in a report on the film admitted that the story is a tough sell based as it is on "a trio of greedy, lying, vapid losers".
Even so, the characters are complex and compelling, there is intrigue a plenty, and like many of her novels such as The Talented Mr Ripley there is a great deal of exploration of the lengths and depths people will go to when they want to get ahead in life, or even simply stay alive.
I am not sure what this says about me but I love watching flawed characters stumble through an intriguing narrative as their humanity or lack thereof explodes in their faces, and this looks to be the mother of them all if the trailer is any indication, helped along by Drive writer Hossein Amini ability to craft an involving, eminently watchable story, a sensibility he has clearly brought bear in his directorial debut.
It looks like a not to be missed cinematic experience.
Two Faces of January opens in UK and Ireland on 16 May 2014; dates unavailable for USA and Australia at this time.