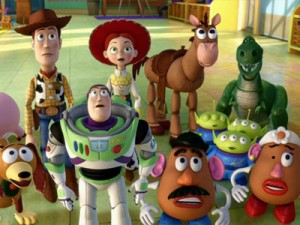 Oh joyous news!
To my eternal delight – "eternal" being defined as anything that catches my attention long enough to stop me looking at Twitter again for at least five minutes – phoenixdark9 on YouTube has mashed together Toy Story 2 (and a small bit of Toy Story 3) with the spine-tingling narration from Star Trek's Into Darkness teaser trailer.
It was revealed to the world by the amazingly on point folks at cultbox who even managed a pixar-ish pun on the name of the actor who plays Into Darkness' villain, Benedict Cumberbatch.
Yes the following mashup trailer features none other than … a drum roll of groans and sighs if you will … Bear-edict Cumberbatch!
Oh yes, and they released the actual full trailer for Into Darkness today.
You know without Woody and Buzz and the gang …
(But with a whole host of CGI effects and some more hints about the actual identity of Benedict Cumberbatch's bad guy).
Check out this great article on nationalpost.com previewing the full trailer, and sharing some thoughts on what it all may mean.