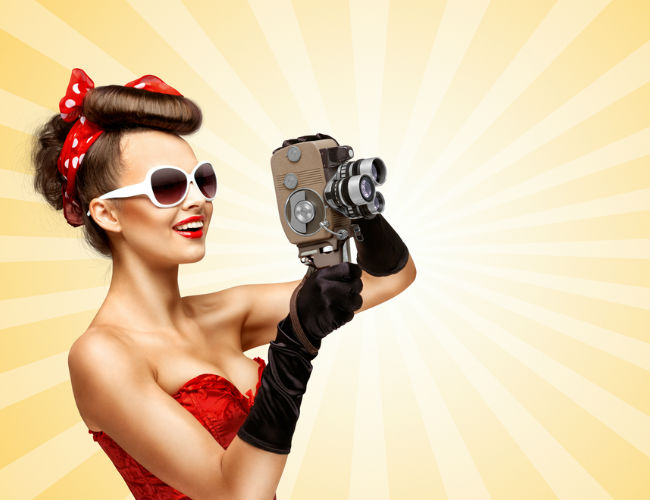 So many films, so little fun and yet these three films, all utterly different in their own ways, make you want to find all the time in the world to see them.
And so, of course, I will.
Granted I am trying to stick to just one movie a week so I have actual time at home to watch TV and read books and graphic novels, but it's so hard to stick to that with cinematic gems like these in the offing.
So maybe just two a week … or three .., hell, maybe I'll just move into my local cinema and be done with it.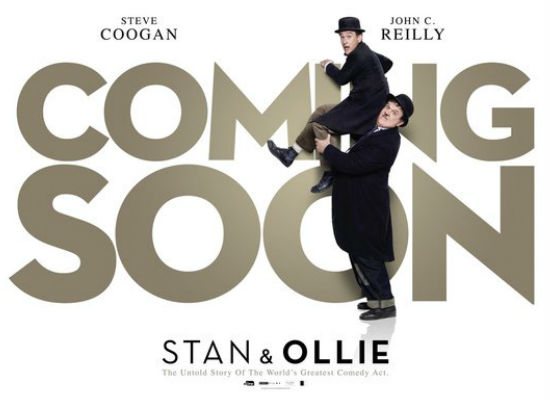 SNAPSHOT
The true story of Hollywood's greatest comedy double act, Laurel and Hardy, is brought to the big screen for the first time. Starring Steve Coogan and John C. Reilly as the legendary movie icons, Stan & Ollie is the heart-warming story of what would become the pair's triumphant farewell tour.

With their golden era long behind them, the pair embark on a variety hall tour of Britain and Ireland. Despite the pressures of a hectic schedule, and with the support of their wives Lucille (Shirley Henderson) and Ida (Nina Arianda) – a formidable double act in their own right – the pair's love of performing, as well as for each other, endures as they secure their place in the hearts of their adoring public. (synopsis via Comic Buzz)
One of my fondest childhood memories involves watching Laurel and Hardy shorts that Australia's national broadcaster ABC used to screen at about 1 pm weekdays.
Whenever I was home sick or on holidays, I would sit there delighted watching these comedic gems which were made between 1921 and 1943 along with a slew of feature films, utterly enraptured by the joyous rapport between the two performers.
But as with anything in life, and especially entertainment, what you see upfront isn't necessarily what what's happening behind-the-scenes and so it was with Stan Laurel (1890–1965) and Oliver Hardy (1892–1957) who, though close friends throughout their mostly joint careers, also had their differences.
Name me any friends, especially those working so close together, that don't and as Paste Magazine notes, those moments of discord are good dramedy fodder:
"[The film] is set toward the end of the duo's long association. Unsurprisingly, the film milks some of the infighting between the two for dramatic effect, as it does also with Hardy's deteriorating health, brought on no doubt by the large man's famous girth. The whole thing is set to Edith Piaf's 'Non, je ne regrette rien'"
Stan & Ollie opens 11 January in UK and 21 February 2019 Australia.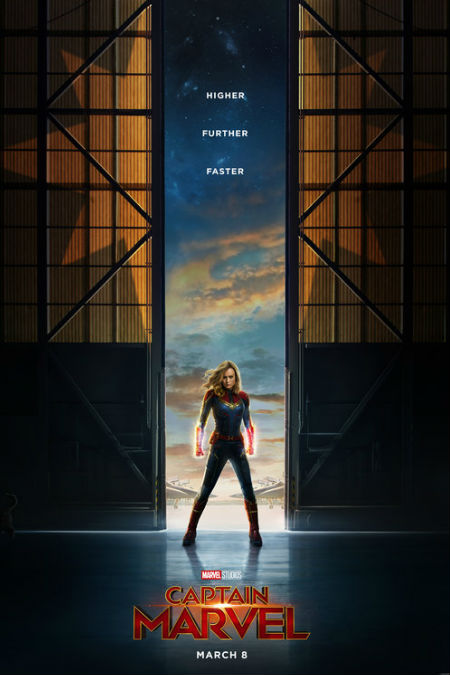 SNAPSHOT
The story follows Carol Danvers as she becomes one of the universe's most powerful heroes when Earth is caught in the middle of a galactic war between two alien races. Set in the 1990s, Captain Marvel is an all-new adventure from a previously unseen period in the history of the Marvel Cinematic Universe. (synopsis via Coming Soon)
What a riveting trailer!
It suggests rather than outright tells, leaving plenty for us to discover in the film rather having all handed to us on an overstuffed promotional plate, and even better, Marvel's first female superhero lead, a refreshing and long overdue change of pace from the testosterone-laden, hyper-masculine films they have released to date.
For the record, I have enjoyed many of those films, but there is something captivating about seeing a superhero who's isn't initially sure who she is, who is willing to take to grapple with the uncertainty but who is more than able to stand up for herself without the aid of any man when the need arises.
There are very few superhero films I get truly excited about – I am not a comic book fan boy of longstanding so my exposure to many of these characters is minimal – but Captain Marvel looks like it has captured both intimacy and expansive and I can't to catch it, and a rather magical cat who is not a cat at all, in cinemas
Captain Marvel opens in Australia on 7 March 2019 and 8 March in UK/USA.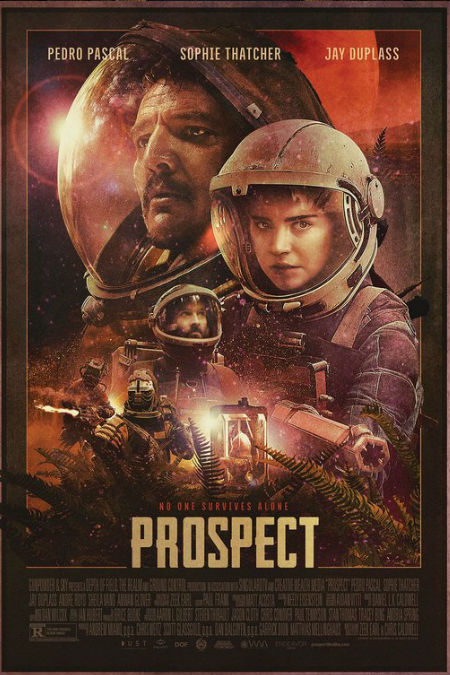 SNAPSHOT
A teenage girl and her father, Ezra (Pedro Pascal) and Cee (Sophie Thatcher), travel to a remote alien moon, aiming to strike it rich. They've secured a contract to harvest a large deposit of the elusive gems hidden in the depths of the moon's toxic forest. But there are others roving the wilderness and the job quickly devolves into a fight to survive. Forced to contend not only with the forest's other ruthless inhabitants, but with her own father's greed-addled judgment, the girl finds she must carve her own path to escape. (synopsis via official Prospect site)
Greed is bad; we know that.
What Prospect tells us is that it is every bit as bad in outer space as it here on good old planet Earth.
In fact, this adaptation of the 2014 short film by directors/writers Chris Caldwell and Zeek Earl does it so well, and with such immersively fraught energy that Variety was led to say that Prospect is what a "standalone Star Wars movies should feel like".
That is some high praise there with Den of Geek! further observing that the film "a sci-fi twist on gold rush classics like The Treasure Of Sierra Madre."
It looks and sounds utterly brilliant, a sci-fi film with something to say and an impressive way of saying it.
Prospect premiered at South by Southwest Film Festival in March 2018 with international release dates TBA; following its cinematic release, notes Den of Geek!, the film will be a "major movie carrot for a new US sci-fi-centric streaming service from SingularDTV, called DUST."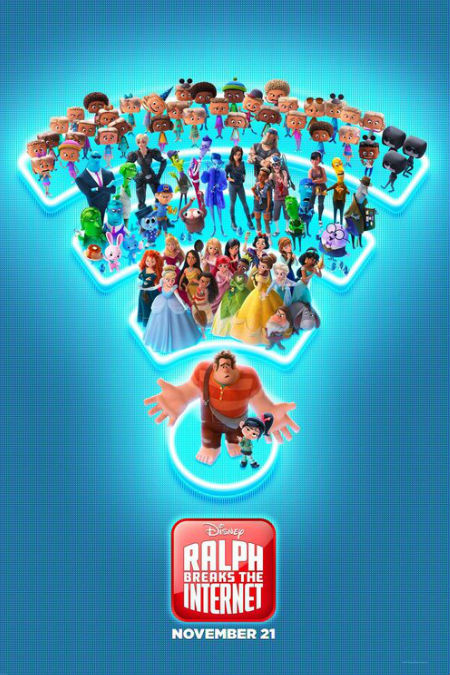 SNAPSHOT
Ralph Breaks the Internet leaves Litwak's video arcade behind, venturing into the uncharted expansive and thrilling world of the internet – which may or may not survive Ralph's wrecking. Video game bad guy Ralph (voice of John C. Reilly) and fellow misfit Vanellope von Schweetz (voice of Sarah Silverman) must risk it all by traveling to the world wide web in search of a replacement part to save Vanellope's video game, Sugar Rush. In way over their heads, Ralph and Vanellope rely on the citizens of the internet – the netizens – to help navigate the way, including a website entrepreneur named Yesss (voice of Taraji P. Henson), who is the head of algorithm and the heart and soul of trend-making site "BuzzzTube." (synopsis via Coming Soon)
Oh what a glorious thing!
A new Ralph Breaks the Internet trailer!
In this second promotional piece of animational eye candy for Disney's next cartoon blockbuster (trust me on this), we have Rick Astley singing, Disney Princesses, spam ads walking and talking and Buzz Lightyear! (And lots of exclamation marks! Yes, I'm excited!)
But it's not all sweetness and light and emotional journeys of discovery – we also go to the Dark Web and – gasp – to the comments section where the seedier, trollier side of the internet emerges. Points for not glossing over harsh realities Disney.
Overall though this looks like a fantastic romp through the internet that reminds of Inside Out and Zootopia for sheer world-building inventiveness. I think we're all going to love it.
Ralph Breaks the Internet opens USA on 21 November, UK on 30 November and Australia on 26 December.