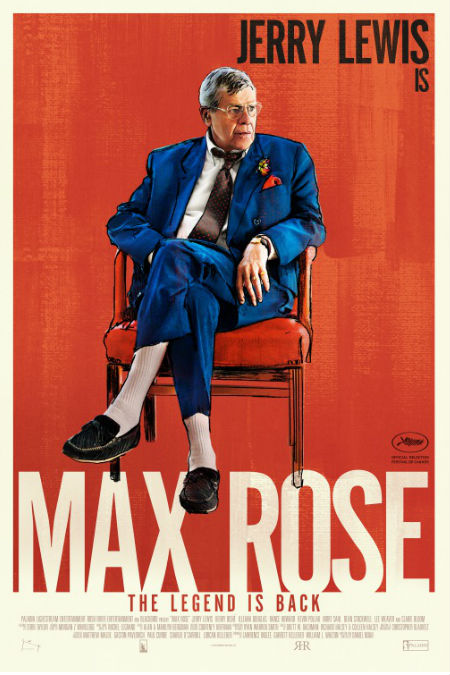 SNAPSHOT
In his first leading role in more than 25 years, Jerry Lewis will star in indie drama Max Rose. The film follows retired jazz pianist Max Rose (Lewis). Though his career wasn't everything he hoped for, Max always felt like a success because his beautiful, elegant Eva (Claire Broom) was by his side. Then, while going through her effects, he discovers a love note from another man, a shocking revelation that leads him to believe his entire marriage, indeed, his entire life, was built on a lie. Following a period of anger and withdrawal, Max decides to confront Ben (Dean Stockwell) the man who "stole" his wife in the hope that what he learns will provide the answers he so desperately needs. Lewis last toplined in Martin Scorsese's 1983 film, The King of Comedy, and he had supporting roles in 1994's Arizona Dream and 1995's Funny Bones. (synopsis via Coming Soon)
I have loved Jerry Lewis since I was kid and I was first clapped eyes on him in his films with Dean Martin – they had such great comic/straight man chemistry on-screen that I was supremely disappointed later on to discover that they had much cared for each other in real life (or so the story goes) – and in one of my top 50 films of my life The Family Jewels where an orphaned young girl must choose between multiple adoptive uncles, all of whom are played by Lewis.
The man could be funny, serious, vulnerable, sweet and a thousand other things in-between and there was just something inherently likeable about the way he acted that won me over time and again.
Of course, Lewis long ago hung up his acting boots for a life of philanthropy, and at 90, he's not getting any younger.
But in news that made me dance with joy – well if would have if I hadn't been commuting at the time; dancing, along with much any actual human emotions are banned on bus and train journeys as we all know – Lewis has come out of retirement to play a grieving husband in a film by writer-director Daniel Noah, Max Rose, who honestly didn't ever expect to land a star of Lewis legendary status, as he told EW:
"He had no agent, there was no way of reaching him. We tried a million ways to get through to him and we were shut down in every one. We finally discovered that he had an office in Las Vegas. So, we kind of cold-called and his secretary said, 'He doesn't make pictures any more. You can send the script, but he won't read it.' We sent it and expected never to hear from him again. While we were waiting he was given his honorary Oscar (in 2009). I remember sitting in front of the TV watching him and I thought, This is the closest I'm ever going to get to Jerry Lewis. About a week later, we get a call from him. He had read the script and he committed on the phone. He said, 'Let's make a movie,' and we were off and running."
Thank god he said yes! Max Rose looks like an astonishing beautiful, moving and thoughtful film that confirms Lewis still has every last piece of the charisma and talent that drew me to him all those years ago.
The film opens 2 September in New York, L.A. 9 September and nationwide later in the month and into October.