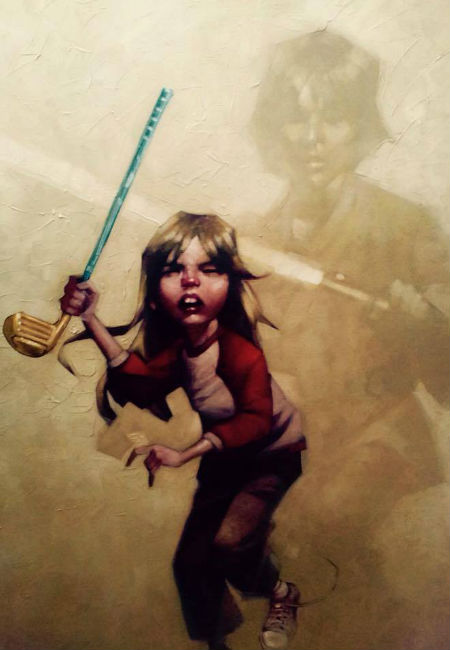 I learnt a long time ago how powerful imagination can be.
A budding writer from the moment I realised two words could come together with devastatingly brilliant effect, leaving wonderment, thrills, excitement, fear, adventure and a whole host of other authentically real human emotional reactions in their wake, I have been enthralled with the places my imagination can take me.
But even I, budding Hemingway that I have been most of my life, refused to sit at my desk all the time, and many a summer evening in the 1970s found me running around my backyard, either alone or with my sister, fighting imaginary enemies, holed in my imaginary castle (in reality a tall, low hanging bush) and surveying my kingdom, armed with little more than a stick and a cardboard box shield.
Our games were reasonably conventional – Kings and Queens, Cowboys and Indians, nameless adventurers across lands both Earthbound and in space – until one day in 1977 when my mother took me to a small one theatre wooden cinema in the main street of Ballina, NSW to see a small film called Star Wars and my world, my imagination, every game I'd ever played and wanted to play, every story I longed to write, was utterly and forever transformed.
Suddenly I wanted to be Luke or Han swashbuckling my way across the Death Star to rescue a Princess Leia, or C-3PO and R2-D2 slipping in under the nose of the evil Imperial forces and playing havoc with technology, or Obi-Wan guiding Luke to a whole new life on the hot, harsh sands of Tatooine not long after his old one had violently gone forever.
It was intoxicatingly wonderful, and now Craig Davison, who has magically combined scenes of children at play with iconic characters and images from Star Wars has taken me back to those heady, euphoric days in 1977 when everything seemed marvellously possible, and magically far far away from my small backyard where it was entirely likely Sand People and Gredo lurked in places I had yet to explore.
And yes you can buy his prints and turn your home once again into that same imagination-stoking world you once inhabited with carefree fun and imagination as a child.
(source: Nerdist)