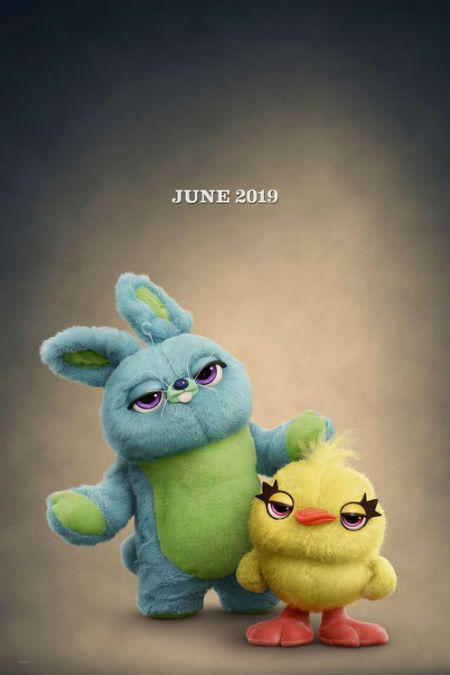 SNAPSHOT
Woody has always been confident about his place in the world and that his priority is taking care of his kid, whether that's Andy or Bonnie. But when Bonnie adds a reluctant new toy called "Forky" to her room, a road trip adventure alongside old and new friends will show Woody how big the world can be for a toy.

Woody's journey in Toy Story 4 includes a visit to a carnival where he meets Ducky and Bunny, two carnival prizes who are eager to be won. But when their plans are rudely interrupted by Woody and his friends, they find themselves on an unexpected adventure with a group of toys who have no idea what it feels like to be tacked to a prize wall. Toy Story 4 is directed by Josh Cooley (Riley's First Date?) and produced by Jonas Rivera (Inside Out, Up) and Mark Nielsen (associate producer Inside Out). (synopsis via We Got This Covered)
Barely have we recovered from the unexpected joy and delight of a teaser trailer and a hauntingly-sweet poster showing Woody (Tom Hanks) standing alone, waiting, as we all are, for June 2019, than Disney delivers up a very meta longer trailer which manages, as We Got This Covered explains, to bring together the new and the old in a wholly-hilarious way:
"Things get a little meta in this latest promo, viewable above, which sees carnival toys Ducky (Keegan-Michael Key) and Bunny (Jordan Peele) reacting to the first trailer before struggling to remember Buzz Lightyear's catchphrase. When Buzz and Woody themselves show up to remind them that it's 'To infinity and beyond', the newcomers laugh off the idea for its mathematical impossibility."
If that isn't enough, three posters have also been offered up, showing Ducky and Bunny in all their wisecracking glory (yep, they're so well-wrought so quickly that one look at the poster and you get a sense of who they are; Pixar, once again, at its absolute best), Forky, who we met in the teaser trailer, looking as anxious as ever, and Buzz who manages to be so Buzz in his poster that you can't help but smile.
If you were excited by the teaser trailer, which was funny, sweet and brilliantly-chaotic all at once as only Toy Story can manage, you will be beyond thrilled by this trailer which serves as a reminder that the franchise which began it all for Pixar is well and truly alive and going places … perhaps even to insanity and a blond?
Toy Story 4 releases 20 June 2019 Australia and 21 June 2019 in USA.