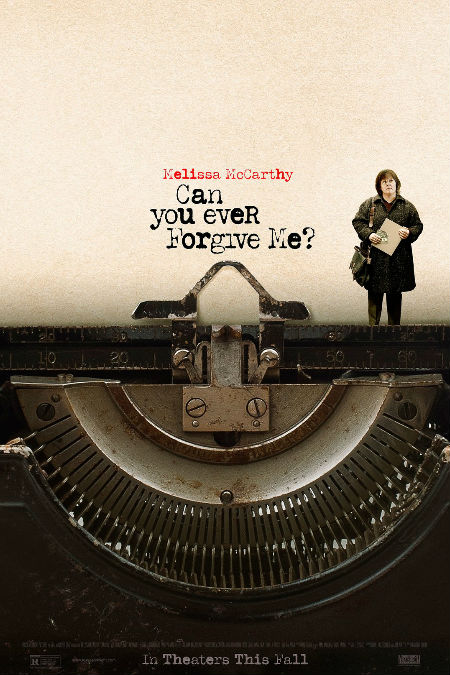 SNAPSHOT
Melissa McCarthy stars in the adaptation of the memoir Can You Ever Forgive Me?, the true story of best-selling celebrity biographer (and friend to cats) Lee Israel (Melissa McCarthy) who made her living in the 1970's and 80's profiling the likes of Katharine Hepburn, Tallulah Bankhead, Estee Lauder and journalist Dorothy Kilgallen. When Lee is no longer able to get published because she has fallen out of step with current tastes, she turns her art form to deception, abetted by her loyal friend Jack (Richard E. Grant).

The film is directed by The Diary of a Teenage Girl's Marielle Heller from a script written by Nicole Holofcener (Enough Said) and Jeff Whitty (Avenue Q), based on the memoir of the same name by Lee Israel. The Can You Ever Forgive Me? cast also includes Dolly Wells, Jane Curtin, Ben Falcone, Anna Deavere Smith, and Stephen Spinella. (synopsis via Coming Soon)
Biopics are tricky things to get right … or at least they seem that way much of the time.
Make them too chronological and detail-filled and you don't get so much of an insight as to the person was or is, so much as their diary and Wikipedia entry sprung, somewhat dully, to life.
Go to far to the other extreme and you end with so narrow a look at them that their full complexity as a person is lost.
Can You Ever Forgive Me? gives the impression, from its first trailer at least, that it has managed to land somewhere impressively inbetween, which fits the aims of the production team, of which Marielle Heller is the director:
"There are pitfalls to biopics that are hard to get away from. There's an expectation that you're doing a certain amount of journalistic storytelling that's going to give an exact play-by-play showing someone's entire life from cradle to grave. This does none of that."

Instead, Heller and her largely female band of collaborators (Anne Carey and Amy Nauiokas co-produce, while Nicole Holofcener penned the script with Jeff Whitty) sought to peel back Lee's layers in a 'character piece' that deals with an atypical woman mainstream audiences are used to seeing, but not knowing. In part, Heller thinks that's also why Israel was able to get away with her forgeries for so long. "People didn't really give her much thought," she observes. "[She was] a middle-aged woman who you'd probably pass on the street and not really give a second thought." (EW)
Can You Ever Forgive Me? opens in USA on 29 October (no international dates available at this time).