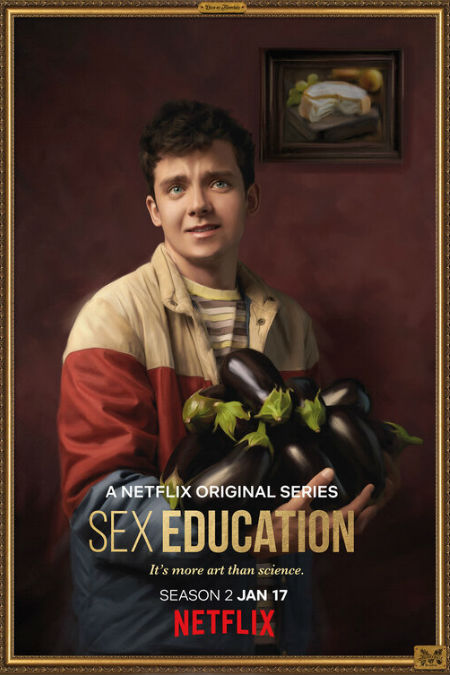 You have to hand it to humanity – despite all evidence suggesting life is a clusterf**k of magnificent proportions from which we might receive the occasional, delightful reprieve, people persist in thinking that perhaps it's the messiness that's an aberration and that's the normal state of affairs is a blissful state of untroubled idyll.
If only that were so.
One group of people who are finding out rather early just how chaotic and unpredictable uncertain life can be are the students of Moordale Secondary School who collectively in season 2 of Netflix's Sex Education are discovering just how marvellously messy things can be.
Leading the pack of explorers, reluctantly as always, is Otis Milburn (Asa Butterfield), the 16-year-old of sex and relationship therapist Dr Jean F Milburn (Gillian Anderson), who begins the second season of the streaming platform's breakout hit by finally getting over his no doubt parentally-inspired hang-ups and going on what can only be described as a masturbation bender.
Granted he's a bit late to the self-pleasuring party but can you blame him? His mother, though she undoubtedly loves and nurtures him, is a force of nature, laidback demeanour notwithstanding, sot titanically overwhelming that Otis has recoiled from indulging himself sexually despite, like any young man, very much wanting to.
Things at the start of the season are looking very orgasmically sunny – Otis is having himself some solo fun, he has a gorgeous girlfriend in Ola Nyman (Patricia Allison) and he might just be on his way to some sort of normal teenage existence.
Ah-ah-ah, not so fast young man for life has other ideas.
Into Otis's blissfully uncomplicated mix of sexual aloneness and relational togetherness, is tipped the presence of Ola's dad Jakob (Mikael Persbrandt) who is, rather awkwardly for Otis at least, dating Jean, the lingering presence of Maeve (Emma Mackey) who declares her undying love for Otis after refusing to do so at the end of season 1 – true love often has really shitty timing; at least in TV shows anyway – and a huge out-of-hand party at Otis's place during which he finally loses his virginity (to very much not the right person) after getting so drunk that he tells Ola and Maeve exactly how he's feeling about them in the most insulting and publicly embarrassing of ways.
The end result is a mess of epic proportions, one that he is eventually able to put right but not before normal, such as it is, is royally upended, strewn across the floor of his life where it is stomped into a beer-soaked carpet by a thousand uncaring feet.
Otis, alas, is not the only one encountering great big bumps in the existential road.
Maeve too, while back at school (after some fine blackmailing of emotionally-repressed slimy headmaster Michael Groff, played by Alistair Petrie) and finding her feet again as part of the Quiz Heads team and as a member of an accidental group of disparate female students (including Ola, friend Aimee played Aimee Lou Wood, Olivia played by Simone Ashley, Vivienne played by Chinenye Ezeudu and Lily played by Tanya Reynolds), is having to deal with some messiness of her own.
Otis is still with Ola, though that changes as the season goes on, and her mother (Anne-Maree Duff) is back on the scene and clean for more than a year until, sadly, she's not, with any hope of familial happiness, however faint, going with it.
Mackey invests a hopeful world weariness into Maeve who so desperately wants to believe that normal can be wonderful, cosy and warm only to find it is anything but, time and again.
The theme continues throughout Sex Education season 2 with Otis's gay best friend Eric (Ncuti Gatwa) caught between the charms of new student, Frenchman Rahim (Sami Outalbali) and former-tormentor-not-ardent-suitor Adam groff (Connor Swindells), Jean wondering if she is relationship material even as she weathers being the mother of a sweet and nice but slightly-asshole-y teenage son and a host of other students come hard up against (and not in the good way you might expect given the show's name) life's capacity for confoundingly messy and complicated situations.
Some of which are traumatic in ways that add further substance to a show already weighty with the truthfulness of life.
Aimee for instance is the victim of a sexual assault on the bus, her steadily-gathering trauma inspiring best friend Maeve and others in her group to share about the times they have felt unsafe in a society that is unfairly geared to men and which seems to routinely force them to adopt behaviours that don't really make them any safer and only serve to deny the chance to be fully, unapologetically themselves.
The episode in which these confessions take place, the rather prosaically-named "Episode 7", is a quietly powerful piece of storytelling which takes things deeper once again, reaffirming that while the show might have a cheeky title, something it happily plays to at times with the episode opening scenes of people having sex, it is not afraid to confront the harsh, cruel realities of life.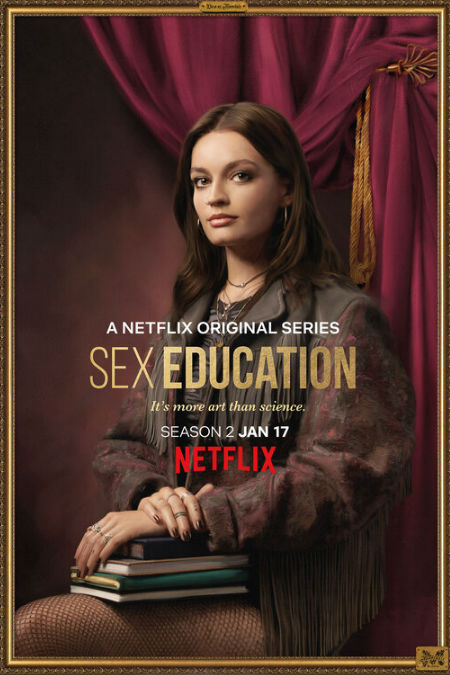 If this all sounds a bit grim, it takes place within the context of a series which has at its heart the need all of us have for connection and intimacy, a driving need that also indicates a health predisposition to sex in all its myriad kinky forms.
What is so refreshing about Sex Education is not simply that it challenges sexual taboos with a welcome alacrity, removing unnecessary trauma and shame, but that it contextualises the place of sex within the friendships and relationships that criss-cross a diverse cast of characters, many of whom get a far greater chance to shine than they did in the first season.
We get to know the popular clique known as "The Untouchables" comprising Olivia, Ruby (Mimi Keene) and Anwar (Chaneil Kular) a little bit better as their vulnerabilities are allowed to poke through, find out more about the lives of the teaching staff – a particular favourite is the emancipation of Groff's wife Maureen (Samantha Spiro) and come to understand a whole lot more about some of the minor characters whose lives are every bit as enticing and real as that of the main protagonists.
Sex Education manages to do this, and tell a multiplicity of stories in a way that somehow does justice to them all while balancing life and dark tones, quirkiness and substance, despair and hope in ways that feel very authentic and liberating, especially if you come from a background where sex was seen as some sort of twisted embarrassment best pushed into the shadows.
That doesn't, of course, happen even remotely on Sex Education which creates a world in which life can be harsh, sad and judgmental and where growing up opens a window onto how fucked up messy things can be, but where there's also connection, support, love, friendships of the most unexpected kinds (the bond that develops between Vivienne and tortured swim star Jackson Marchetti played by Kedar Williams-Stirling is a particular delight) and a sense that while messy is normal is doesn't have to be fatal and maybe, just maybe, somehow good and affirming can emerge from the chaotic detritus of being alive.
Netflix has announced that season 3 of Sex Education is happening with the new episodes expected to bow in early 2021.