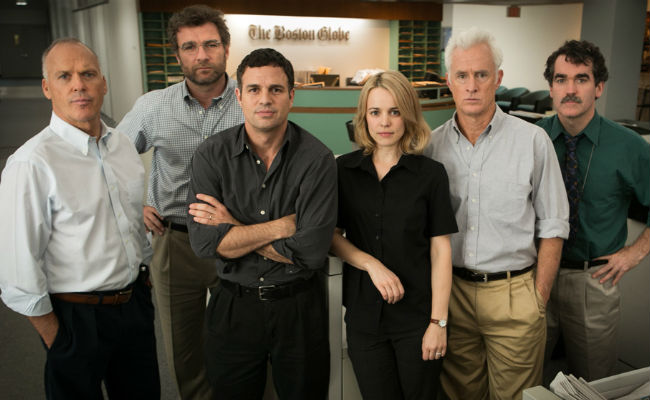 SNAPSHOT
Spotlight stars Michael Keaton, Mark Ruffalo, Rachel McAdams, Liev Schrieber, and Stanley Tucci. It tells the riveting true story of the Boston Globe's Spotlight investigation team who uncovered a scandal that would rock the city and shock the world. For years, whispers of the Boston Archdiocese's cover up of sexual abuse within the Catholic church were largely ignored by the media, the police and the legal system. Against all odds, the spotlight team fought to expose the truth. (synopsis via Film School Rejects)
It takes a special kind of person to take on the great injustices of the world.
They need to be brave, intrepid, not easily dissuaded, and staunch believers in the fight ahead.
And they need to be ready for the consequences that will come their way, because as sure as night follows day, the foul things that hide in the dark will rise up and seek retribution, especially if they know their reign is at an end.
What makes these kinds of stories such riveting viewing precisely is that all these qualities are usually exemplified in people that in every other way are quite ordinary but when called to, rise up and behave in extraordinary ways.
What makes the actions of the Boston Globe's Spotlight so noteworthy is that it was their investigations, undertaken when all the powers that be were studiously looking the other way, that exposed a wider nationwide scandal throughout the USA and the world, one that is still playing out all these years later.
Fighting for the truth, for justice is taxing, exhausting and takes everything from a person but it also makes the world an infinitely better place.
Which is precisely why movies like Spotlight must be supported so we can be reminded again that the price of justice is eternal vigilance and that each of us have a role to play in ensuring this vigilance never waivers.
Spotlight premieres at the Toronto International Film Festival in September before opening in USA on 6 November 2015.