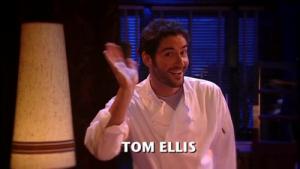 I am a HUGE fan of Miranda Hart.
I adore her quirky quintessentially British sense of humour that fuels the very funny sitcom that make sensible use of her first name, cannot wait to read her new book Is It Just Me? (which alas I must order from overseas as Australia doesn't seem to be stocking the hardcover version), and if as rumoured she makes a "Miranda" movie, I will be in the front row (if my physio is reading this, that is just a crazy, silly joke … no, no it's not), and if her special adventure into Switzerland with Bear Grylls ever comes out on DVD, I will be buying that too (for her quips and Bear's, well, everything really).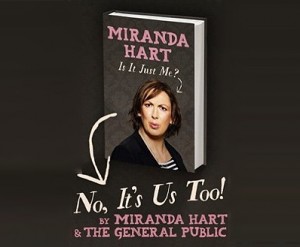 But even Miranda, supremely talented though she is, wouldn't have had the classic sitcom on her hands that she does without a stellar cast of actors including the handsome Tom Ellis, who plays her on-again, off-again love interest (but enduring friend … mostly), Gary.
Their three tentative steps forward, one giant leap back towards a romantic relationship lies at the heart of the show, and I have always wanted to know more about the actor who brings Gary so perfectly to life.
Well, metro.co.uk gave me the chance and their interview with Tom is definitely worth reading.