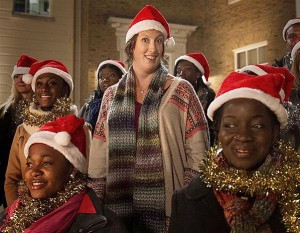 Miranda is back people with a big, bold, funny Christmas special!
OK it's on Boxing Day (9pm BBC One, UK) and it's not so much a festive-themed episode as simply scheduled around Christmas but it does mean the return of Miranda and the gang absent Clive (James Holmes, for reasons unexplained).
It's an episode, according to cultbox.com, that's packed to the very hilarious rafters with all sorts of "shenanigans" (a favourite Miranda buzzword that should be repeated at least 3-4 times an episode, preferably with a gleeful smile) …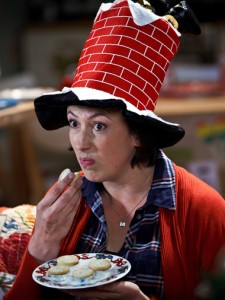 Miranda's shop goes under and she has to get a (short-lived) office job – featuring Jason Watkins from Being Human as a business manager – which features the sort of misunderstandings and pratfalls that are Miranda Hart's very much loved stock-in-trade.
(I am imagining this will be side-splittingly funny indeed given her professed love of office work, as detailed in her book Is It Just Me?, and its possibilities for practical jokes and organised hilarity.)
Her friendship with Stevie, who was managing the shop, comes under great strain as a result.
She is still "friends" with Gary – seriously guys someone make a move! – and according to cultbox, is "accidentally featured in a local news report on obesity on television".
This triggers some fun at Miranda's expense, naturally.
"Stevie, played by the diminutive Sarah Hadland, goes all meta on us stating, "Of all the people to get on the telly, you! Really weird!" Cue knowing look to camera."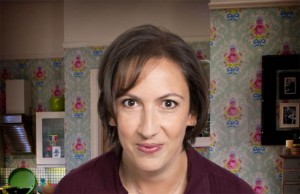 So phew!
Much busyness, and mirth-making all around and with the amount packed into the episode, it's probably a good idea it's on Boxing Day when we will be suitably relaxed after a no doubt, action-packed Christmas Day.
No word yet on when it will reach Australia but given the ABC's track record, it shouldn't take too long.
I should have hopefully crawled out of my Christmas pudding-induced coma by then.