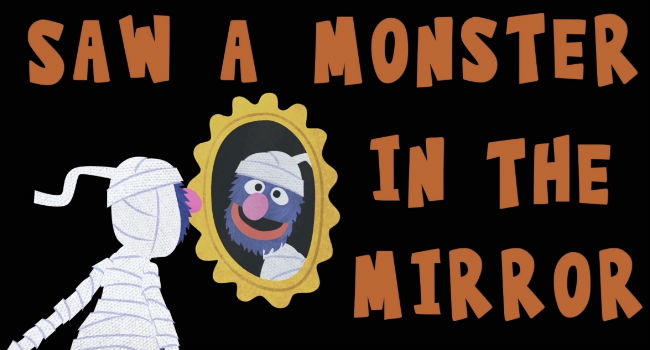 Grover, my favourite monster in the world – yeah sorry Godzilla and the Demagorgon, you're not even in the running – is a lot braver than most people think.
Sure he may be spooked by monsters at the end of books, and get a little nervous when he is waiting on people in a restaurant, but he can also stare down all kinds of things that might scare other people.
Take seeing a "Monster in the Mirror" for instance.
In this fun song, written by Christopher Cerf and Norman Stiles which debuted in 1989, Grover sees his reflection in the mirror. Rather than get scared by the monster staring back at him, he sings "Wubba wubba wubba wubba, woo woo woo" and with some help from celebrity pals like Candice Bergen, Ray Charles and Julia Roberts, gets so comfortable with his mirrored self that he evens embraces him by the end of the song.
Awww that's my Grover!
Now to mark this year's Halloween festivities, an animated lyric video of the song has been released by Sesame Street on their YouTube channel.
Featuring many of Grover's besties like Herry Monster, Cookie Monster, Telly Monster and Count von Count, it breathes whole new monstrously fun life into the song, with Groovy getting his mummy on, bandages flailing all around him as he comes to grips with who the monster in the mirror is – a lovely guy who seems to agree with everything Grover says!
Not so scary after all!