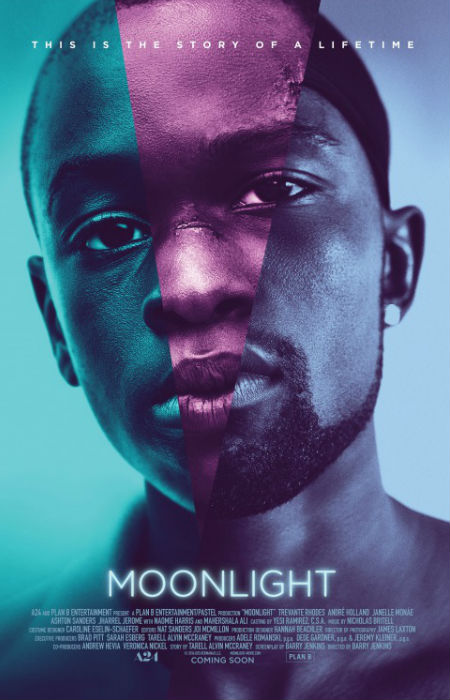 SNAPSHOT
Moonlight is the tender, heartbreaking story of a young man's struggle to find himself, told across three defining chapters in his life as he experiences the ecstasy, pain, and beauty of falling in love, while grappling with his own sexuality.

Anchored by astonishing performances and the singular vision of filmmaker Barry Jenkins, Moonlight is a groundbreaking exploration of masculinity-a sensual, intoxicating piece of cinema that uncovers deep truths about the moments that define us, the people who shape us most, and the ache of love that can last a lifetime.
Coming to grips with who you are is a rite of passage for every single person growing up, an essential step to a free-thinking, independent, on your own terms adulthood.
But as Barry Jenkin's masterfully intimate portrayal of one man at three critical stages makes clear, it is rarely straightforward and can be complicated by all kinds of factors.
Moonlight focuses on what it is like for a sexually-conflicted young black man to grow up in South Florida, dealing with not just the expectations of family and friends, and the neighbourhood around him, but by the wider issues that come from being black in contemporary America, an issue that Variety touches on in its excellent review of the film which premiered at this year's Telluride Film Festival:
"What does it mean to be Black in America today? That question, too big for any one film to answer, serves as the driving inquiry in Barry Jenkins' "Moonlight," a beautifully intimate character study that argues in no uncertain terms that the African-American identity is far too complex to be reduced to the flimsy stereotypes so often presented on-screen.

"'Black' isn't just a race, community, or color, but one of three names by which a sexually conflicted young South Florida man allows himself to be called in a film that's ultimately about taking control of one's own identity. That's exactly what Jenkins himself is doing by delivering a film so firmly committed to capturing the black experience, resulting in a socially conscious work of art as essential as it is insightful."
Moonlight opened in USA on 21 October.