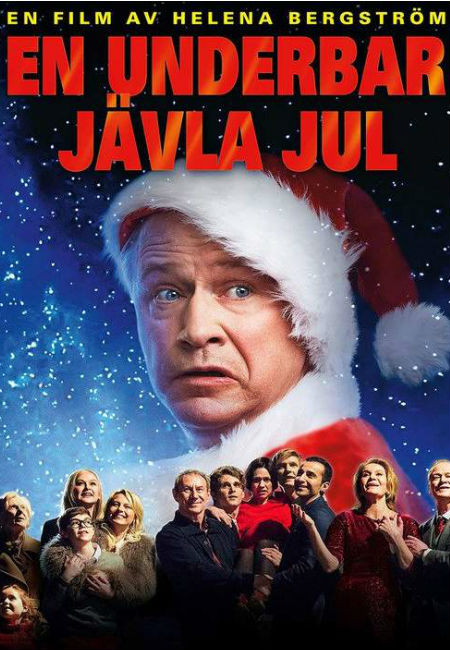 Ah the best laid plans of mice and gay men.
What could be better than announcing to your respective families at a joint Christmas Eve dinner, which the first time either side has set eyes on the other, than you are expecting a child?
Quite a bit as it turns out in Helena Bergström's A Holy Mess (En underbar jävla jul), a massive 2015 Christmas hit in its native Sweden, which pivots around the emotionally-loaded holiday, which should in theory be all about love, joy and happiness but all too often ends resembling nothing of the kind.
Oscar (Anton Lundqvist) and Simon (Anastasios Soulis) are sweetly expecting the former state of mind to prevail, both a bundle of breathless expectation that has seen them cook up a storm with their close friend Cissi (Rakel Wärmländer), the mother of the very soon-to-be-born baby and fellow home owner – complicating the timing of the announcement is the fact that the guys have left it to the nine month mark to break the news – decorate the backyard of their slightly rundown newly-bought home so it resembles a light-festooned Christmas wonderland and come up with a strict timetable punctuated by food, sharing and yes Donald Duck.
(One of the pleasures of the film is watching the various festive Swedish traditions unfold from the tradition of watching Disney's 1958 Christmas Special From All of Us to All of You to Santa's visit after Christmas eve dinner, a Santa bearing, to an outsider's eyes, a fairly creepy mask, and the requisite food such as herring salad.)
The fact that their optimistic imaginings don't quite come to pass is hardly surprise but it's the deft way Bergström, who wrote the screenplay with Edward af Sillén and Daniel Réhn, and plays the part of Simon's mother Carina, that truly impresses.
This is a film that has all the possibility of descending into silly, angry, emotionally-nullified farce, but which instead finds a winning balance between hard-hitting emotional moments, particularly when neither family handles the news of an impending "gay" grandchild as well as expected – latent homophobia does bubble to the surface at times – and some laugh out loud scenes, punctuated by some hilarious oneliners, many delivered by Simon's happily-freewheeling Greek-born father Millitiadis (Michalis Koutsogiannakis).
The resultant atmosphere more closely resembles what might actually happen at an event like this – everyone on their best behaviour, moments of bonhomie and laughter, others where the prickly barbs of differing mindsets and social outlooks coming up hard against each other, all framed by two sets of strangers united only by the joining of their two family members.
Granted it's finely-calibrated, emotionally-nuanced pace isn't fully sustained to the end with a good deal of emotional treacle and feel good festive cliche finding its way into an overly action-packed final act; but by and large A Holy Mess stays true to itself, an exploration of expectation meeting realities and the messy emotional fallout that inevitably entails.
What leavens the intensity of the film are characters like Millitiadis and Oscar's grandmother Gunn-Britt (Inga Landgré) who blithely and happily, for the most part simply say what's on their minds, to the alternating and horror of other family members.
While everyone is tiptoeing around with the sort of awkward care and uncertainty borne not just of meeting new people but confronting the reality of Oscar and Simon as a couple – this is not simply the first time the various family members have met but also when everyone has seem the two guys together, Gun-Britt and Millitiadis are simply saying what comes to mind providing a good percentage of the laughs and some piercing insights too when needed.
In stark contrast, people like Oscar's highly-strung parents, Ulf (Robert Gustaffson), who conducts himself like the proverbial bear with a sore head, and Monica (Maria Lunqvist, mother of the actor who plays Oscar) who is tearing herself inside out to be amenable and positive with mixed results, and Simon's mother Carina, divorced from his dad and with a younger Muslim boyfriend, the ebullient, friendly Rami (Peshang Rad) are so busy trying to be well-mannered and sociable than they inevitably make things worse with what they don't say than what they do.
Subtext is writ strong in every scene, whether hilarious or serious, until all the cards are laid on the table and Oscar and Simon have to confront the fact that their happily ever after dream of familial bliss may be a harder to achieve than they thought.
At its core A Holy Mess is not really a movie about gay issues as such, although clearly it is an integral and important part of the film, but more about the way that families, particularly those that are coming together for the first time, navigate the often tricky waters of diverging opinions, worldviews and expectations.
After all, simply being in a family doesn't automatically confer a shared outlook or unified sense of self, and though there may be undeniable love, support and loyalty there in spades, it can be obscured by petty differences, disappointed expectations and frustrated hopes and dreams, all of which can cause more dissension and separation than the cordial harmony everyone wants, especially on major occasions like Christmas and which Simon and Oscar naively and sweetly think is simply theirs for the asking.
As a festive film, it won't surprise anyone that everyone ends up reasonably happily ever after nor that this warm-and-cosy ending is proceeded by a complete dropping of any pretense to everything being familially perfect; what may impress though is the fact that A Holy Mess, unlike many of its festive genre mates, doesn't succumb to saccharine sentiment or darkly depressing ennui.
Instead, with serious intent in one hand, and hilarity in the other, both finally finally and utterly essential to the film's feel and narrative momentum, the film stares the reality of family interactions versus its idealistic dream state square in the eye, all the while asserting that the reality of most peoples lives, and not simply at Christmas, lies gloriously, messily somewhere in-between.