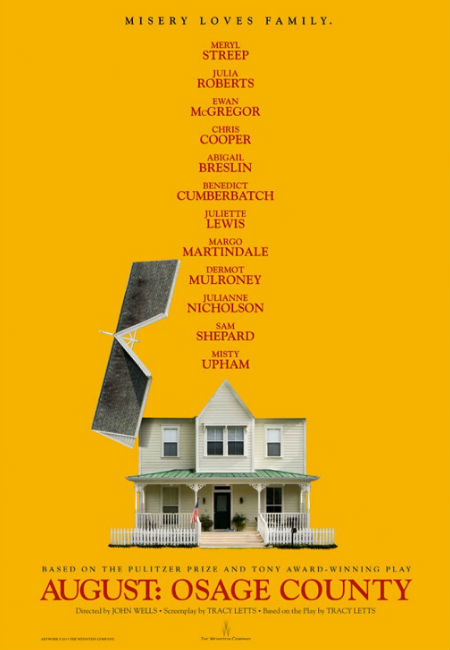 Families of all stripes and sizes are riven by a multiplicity of fracture lines, a reality made starkly evident in August: Osage County, based on the Pulitzer Prize and Tony Award-winning play of the same name by Tracy Letts.
You would want to hope though that there are not that many families with the sheer number of skeletons in the closet and thus resultant unseen fault lines as the Westons, headed by poisonously bitter Violet (Meryl Streep) who slips in and out of lucidity depending on which drug she is dependent on at the time.
Hers is a kingdom built on fear, belittlement and a good dose of bitterness, all fuelled by a bewildering array of pharmaceutical drugs, whose vast breadth is only matched by her husband Beverley's (Sam Shepard) love of the bottle and a good book to read.
Their marriage is less a loving supportive relationship of equals than a cold war of self-medicated adversaries.
So when Beverley declares he has had enough, not verbally but simply by walking out the door and not returning, he triggers an escalation in the conflict which gradually draws in their three daughters Barbara (Julia Roberts), Ivy (Julianna Nicholson) and Karen (Juliette Lewis) and their partners, close relatives such as Violet's sister Mattie Fae (Margo Martindale), her husband Charlie (Chris Cooper) and even Violet's carer played with quiet dignity by Misty Upham.
And what a battle royale it becomes, as everyone present does their best to protect themselves from the inevitable fallout that results when it emerges that Beverley is not coming back.
His absence sets in motion a destructive dynamic which sees the initial paper thin amicability of joint grief ripped asunder as secret after secret emerges and the delusionary play acting of one big happy family is revealed to be as hollow and illusory as Violet's cancer-ridden body.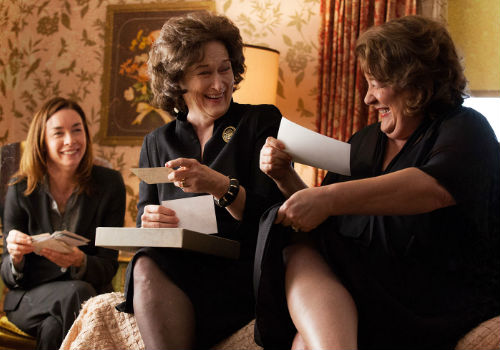 What makes August: Osage County work so well, both as a play and now as a movie, apart from the fact that the supremely talented Tracy Letts's self-confessed love of southern gothic drama is on full display, is that no one is presented as a complete and utter monster.
Hideously flawed many of them, and prone to sticking their collective heads into the sand till it all blows away and leaves nothing but exposed lies and betrayals, but never entirely, unlikeably monstrous.
Even Violet, whose stock in trade is cruel name-calling and soul-destroying observations uttered under the guise of "telling the truth" has moments where you understand that the vindictive creature before you is the product of a hard, lonely, deprived life, long ago voided in childhood of any real warmth and charm.
It is not presented as an excuse for her isolating personality which is refreshing; merely an explanation that she was not birthed in a vacuum of cigarettes, cruelty and cannabis.
Director John Wells draws out excellent performances from everyone involved in a movie which largely takes place in the grand double story family homestead, it's quiet grandeur on the hot plains of Osage County, Oklahoma very much at odds with the raucous goings-on inside.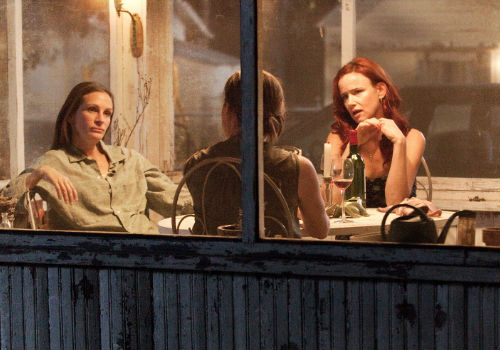 Julia Roberts very much deserves talk of Oscar buzz as does of course Meryl Streep who once again tosses any concerns of vanity aside as she strides menacingly through the narrative, words tossed like hand grenades, their destructive impact barely acknowledged or even understood.
Chris Cooper and Margo Martindale are also impressive as a couple who, though in possession of a loving marriage the polar opposite of Violet and Beverley's drink-and-drusg detente, have their own crises to deal with which may or may not see their relationship crash asunder on the rocks that threaten to claim the entire family.
August: Osage County may sound like an unholy dramatic mess, an exhausting round of screaming, yelling and family discord but thanks to Tracy Letts' beautifully written dialogue, deft touches of black humour, and a gift for moderating what could have been a soap operatic hyperbole into engrossingly tragic family drama and John Wells ability to keep the show on the road without everyone running headlong into each other, the film powers on with nary a narrative bump in the road.
Confronting it may be, leaving you insanely grateful for your own family's only marginally annoying dysfunctional behaviour, but these are people you strangely want to spend time with who leave you deeply emotionally affected by movie's end.
You understand too as the film reaches its oddly quiet, reflective and unexpectedly touching denouement that very few of us can claim any sort of strangehold on noble, flawless behaviour and that a little more honesty and a whole lot less self-protective posturing might just give all of us the chance of coming within shouting distance of the white picket fence families we have all dreamed of having.
Or at the very least avoid the sort of dramatically intense scenes that define August: Osage County as one of the more rewarding films of recent times.