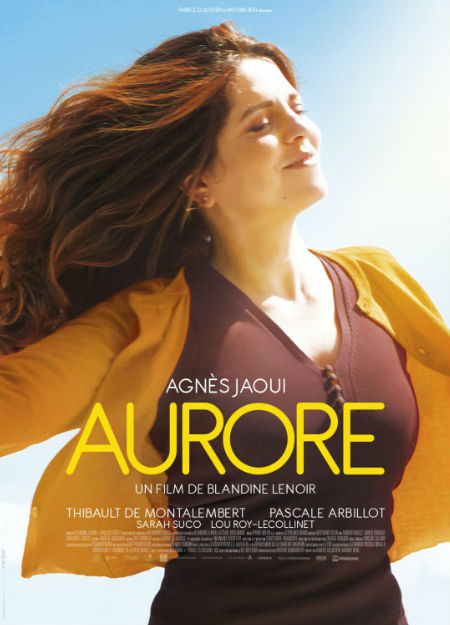 Time is not particularly good to anyone.
Oh, it bestows some blessings, if you would like to call them that, such as wisdom, emotional maturity and insight, and even material gain if that's what rocks your existentially long-in-the-tooth boat.
But we all make do, grabbing those precious moments of love, family, forgiveness and rare second chances as lose to us as possible, hoping they will be enough to forestall or make up for any losses we might suffer.
Aurore Tabort, née Plou (Agnès Jaoui), the eponymous protagonist of Blandine Lenoir's Aurore aka I Got Life! knows all too well how cruel and bounteous in unequal measure life can be.
The beautiful fifty-something of two young women, one of who Marina (Sarah Suco) is pregnant at a younger-than-usual-these-days age to Mattheiu (Pierre Giafferi) while the other Lucie (Lou Roy-Lecollinet) is studying and wildly in love with would-be DJ Tim (Théo Cholbi) whom she is convinced the man she is meant to be with for all time.
A few maternal mishaps aside – distracted at work in the restaurant where she reluctantly still works after the previous owner sold it to the slimily enthusiastic Seb (Nicolas Chupin), she regrettably tells Marina, seconds after the gushing news that she's pregnant, "Why do you want to repeat my mistakes?" – Aurore is reaping the benefits of all the hard-won parenting of her youth.
The belle of the high school she once attended where she is linked forever with the impossibly-handsome Christophe Tochard aka Totoche (Thibault de Montalembert) as the couple du jour, Aurore has a great many things in her favour.
They may low-key next to classmates who have moved to America or become doctors but they are important achievements nonetheless, crowned by her close though not perfect relationships with her daughters, her friendship with the riotously effervescent Mano (Pascale Arbillot) who is family to her children, and even the friendship of soon-to-be ex-husband Nanar (Philippe Rebbot).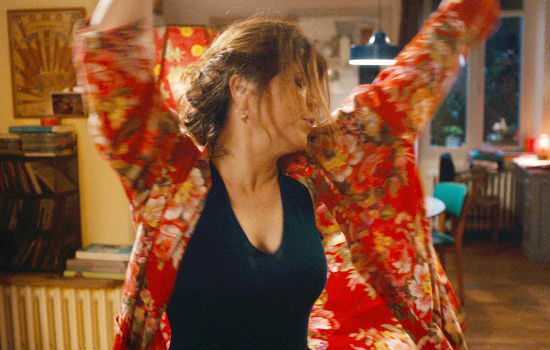 Granted not groundbreaking in the eyes of high-flying go-getters but they matter and Aurore, in many small and touching ways, is clearly blessed by their presence.
The one thing that isn't a positive, and kudos to Lenoir to telling it like it is when cinema is more apt to romanticise than be honest about the stages of a woman's life, is menopause which is making Aurore's life hell, with hot flashes causing havoc at the most unwelcome and unexpected of times.
In the midst of the ups-and-downs of navigating Marina through her pregnancy and birth, Lucie through the highs-and-lows of young romance and Mano through the selling of her houses – Aurore is the plant meant to talk up interest in the properties for sale – she has to endure a little talked-about subject – what happens when youth departs you and leaves hormonal chaos in its wake?
Her doctors isn't much help and not, she admits ruefully, are home remedy soybeans, but the willingness of the film to talk about menopause without crass jokes or flippant commentary is a milestone in film where the realistic ageing of men is given due reverence but that of women all too frequently glossed-over.
Menopause isn't played for laughs for the most part – though one scene where she's a job placement person of similar gender and age is pricelessly funny if also knowably serious – but rather as an all-too-visible sign of the passing of time that looks at one stage to be robbing Aurore of far more than it is bestowing.
In short order she falls out, albeit briefly with both daughters, loses her job and finds out that Totoche, while clearly still attracted to her, is still deeply hurt by the way Aurore ended their relationship way back when they were both 18, and none too keen on re-stoking the fires of romance.
It's not a devastating blow in a film that finds its rhythm and joy in the small important moments of life – it's always more content to make an observation such as the fact that white people only encounter discrimination in old age while other people discover it much earlier  and then move on – and which recognises that for all the attention the big, flashy peaks of life attract, that we exist, more often than not, in the quieter, day-to-day passing of time.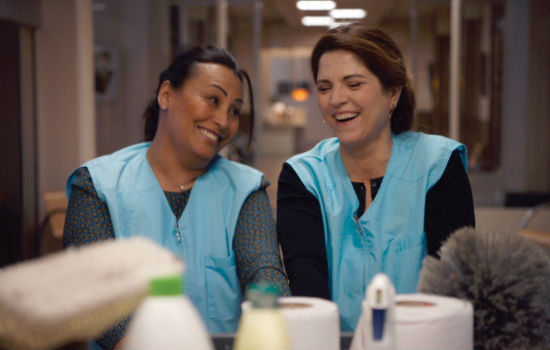 While Aurore ends more predictably than most French films – trust me you won't begrudge a moment of it with Aurore one of those real, grounded characters who deserves even the most cliched of life moments – it spends it narrative unobtrusively and wisely, granting us rare and nuanced insight into the life of a middle-aged woman whose life is far from a trainwreck but not the hoped-for nirvana of her youth either.
Much of the joy of Aurore comes from watching the way each small moment builds to the next, how, unlike Hollywood and its penchant for meet-cutes and happily ever afters, life is full of dead-ends, abortive emotional escapades and unrealised dreams.
But equally how in the absence of the big neon-lit moments, which may or may not amount to something (the reality is they don't as much as they do), there is happiness to be found, even if it is all-too-quickly followed by the hot flush of menopause if you're Aurore, by less-than-ideal punctuations in the passage of time.
At its heart, Aurore is a celebration of things both are they are, and as they might be, finding contentment, though imperfectly-realised, in the small beauties of coffee with friends or dancing, even in your imagination, with your daughters, and in the possibilities that can still be found even at an age when popular opinion and society have consigned you to the has-been pile.
Aurore may not be a rich heir or a doctor or onto her second family, and there's much, including the menopause that she would change, but she has much to her credit she comes to realise, and even some things that might still be coming down the pike – her job as an attendant to five women who pool their pensions and live together proves instructive in that regard – and which could, in time, come to redefine her life in ways she had thought long gone.
If nothing else, you leave this charming and profoundly substantial film, which manages to be both insightfully considered and comically light, with a new appreciation for the many ways in which life defines us and how, even with more than few spanners in the works late in the game, that surprises still, quite pleasingly, await us.