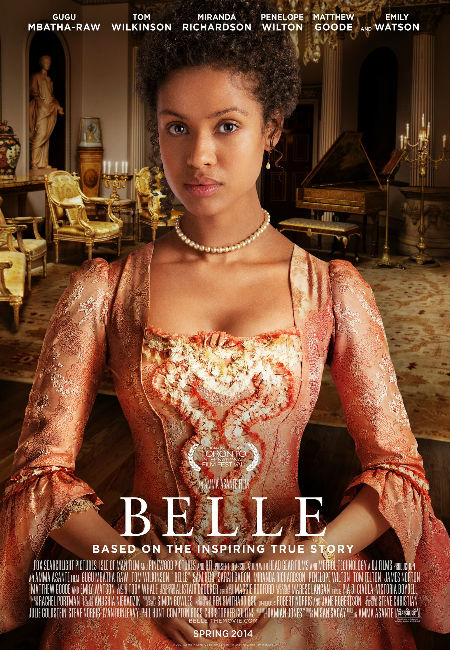 When poet James Thomson penned the words in 1840 to "Rule Britannia" the patriotic affirmation of the power and glory of the then already ascendant British Empire, with its rousing refrain of "Britons never, never, never shall be slaves", he was, of course, not thinking of the people who had become the mainstay of the mighty island state's economy – the slaves trafficked through the length and breadth of its lands.
In the eyes of many people in British society, particularly those among the ruling moneyed classes for whom the slave trade was simply a part of contemporary economic life, the people traded within it were regarded as little more than cargo, to be bought and sold, and disposed of, the way you might dispense with unneeded possessions or out of date foodstuffs.
The concept that was these slaves possessed any innate human worth went unrecognised by the majority of proud Britannia's upper class citizens, although as Belle makes clear – the movie is loosely based on the story of the Lord Chief Justice Earl of Mansfield and his groundbreaking ruling in 1772 which paved the way for the abolishment of slavery in Britain and its territories – not all subscribed to this institutionalised racism.
In the case of the Earl of Mansfield (Tom Wilkinson), then the highest-ranking judge in England, his deviation from the accepted norm was motivated, in part, by his grand-niece, Dido Elizabeth Belle (Gugu Mbatha-Raw) a mixed-race child borne to a slave and his nephew, honourable and kind-hearted Captain Sir John Lindsay (Matthew Goode), who came into the care of his wife (Emily Watson) and he upon the death of her mother.
With strict instructions to raise Dido as if she is his own blood, which of course she is (although the strictures of "correct" society did not allow for such a recognition, something the Earl blithely ignores), he treats her exactly the same way as the other niece in his care, Elizabeth (Sarah Gaden).
Well, almost the same.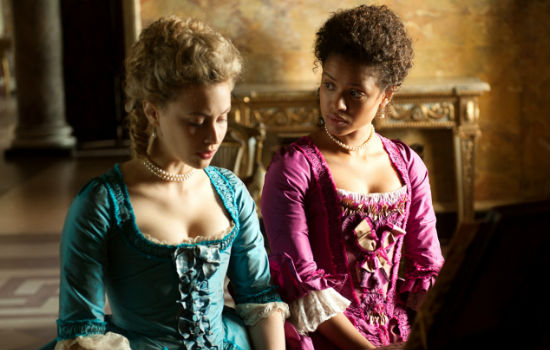 Dido, while treated equally is almost every other respect, is not allowed to eat meals with her family, a formal occasion where it is seen as improper to include a non-member of the family; she interprets this understandably as an issue of her race although Elizabeth, with whom she shares a bond more akin to that of a sister than a cousin, later informs it has far more to do with her illegitimacy than the colour of her skin.
Whatever the cause, it's an aberration in an otherwise idyllic childhood but one which comes to preoccupy her as she grows up, inherits her father's fortune (sparing her the need to marry for money alone as is the case for Elizabeth) and comes of the age where marriage must be considered, since it quite obviously signifies her other-ness, the sense that she will never truly be considered a legitimate member of English society.
Her growing awareness that it was simply a quirk of fate than saved her from being a member of the slave underclass herself spurs her to take more of an interest in the case before her beloved Papa, one which pivots on whether the people being transported on ships like the Zorg, which threw its "cargo" aboard in order to make some fast money on an insurance claim, are people or chattels.
She is encouraged in this endeavour by John Davinier (Sam Reid), the local vicar's son, a man of firmly held but compassionate principle who is very much of the mind that every human being is created equal and that it is an affront to common decency to treat anyone as a commodity to be bought and sold.
While initially driven by entirely different motivations in taking up the fight – Davinier's stand is borne of principle,  Dido's of an understandably more personal nature – they come to a meeting of the mind (and the heart), and together work to convince the Earl that he must take a stand against the prevailing views of the today.
It's this mix of Pride and Prejudice and Amistad that works so well for the film with screenwriter Misan Sagway, inspired by a painting of the real Dido Elizabeth Belle and her sister/cousin Elizabeth, doing a masterful job of balancing the affairs of the heart set within a wider examination of English society with the social implications of the Earl's ruling which went on to have seismic effect on the course of Britain and her empire.
While Amma Asante's direction does falter a little at times, giving the film an almost locked down feeling when you can tell that Dido, awakening to her true place in the grand scheme of things as they stood then, realises she can't simply retreat back into her privileged life and do nothing, wants to burst right out of it, Belle is for the most part an engaging and intelligent, though highly fictionalised, look at this pivotal period in English history.