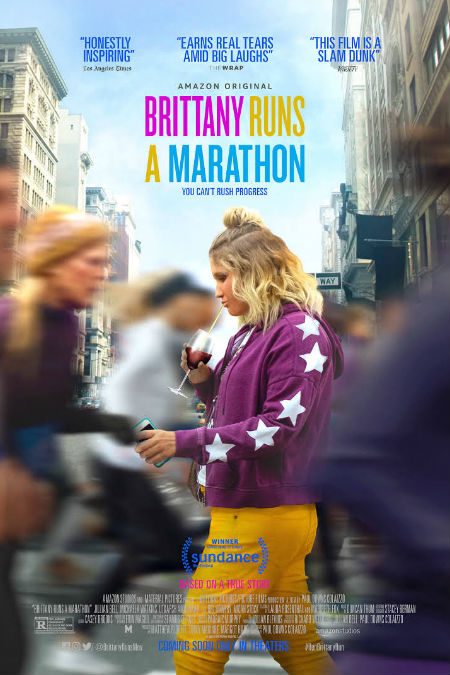 If you were to use the likes of Oprah and Tony Robbins are your guides, you would have to assume the world is awash in victorious people, staring down all manner of existential perils and emerging, self-realisation trophy in hand, on top every single damn time.
But as we know all too well, that's simply not the case with most of us clutching more hoped-for than actualised dreams in our sweaty little palms.
Among our number is, or rather was, one Brittany Forgler (Jillian Bell), a 28 year-old New Yorker, and titular star of Brittany Runs a Marathon, who realises one day, after a visit to a straight-talking doctor, that she is way fatter than she wants to be. (To be fair, he stresses health and well-being, she's the one who, rather humourously get strung up on notions of obesity.)
But far more than that, and this consequential realisation reflects the enduring fact that the reason we first get into something is usually just a cover for the real reasons percolating deep within and at that point unknown to us, it suddenly dawns on her that her life is a far cry from the one she envisaged when she first moved to New York from her hometown of Philadelphia.
In those first heady, exultant days, she had an internship at an advertising degree, a degree burning hot on her CV and the kinds of hopes and dreams we all have in our early twenties, you know the ones that dance and sing around us like something out of a musical, promising enduring happiness, peace and satisfaction.
Somewhere along the way though they, and we, forget that hopeful tune, and like Brittany you end up living in a small, cramped apartment with a roommate/bestie named Gretchen (Alice Lee) who's self-obsession is Instagram toxic, working at a community theatre where your heart's just not in it, and eating way more pretzels and thickshakes than are good for you.
Is there any way out of this kind of rut? Or are you doomed to slouching through life for the rest of your fat-augmented days?
Well, if you're Brittany, and let's face it we all are to some extent or another, you wake up one day, throw on your exercise gear, walk outside, get spooked and go back inside to find solace in the fridge.
Wait, no, that's not quite the inspiration we're looking for, though it is, like most of this wonderfully funny, heartfelt film which gets the balance of hope, humour and dejection pretty much right most of the time, real and grounded, a reflection of the deer-in-the-headlights dynamic that can grip us in the first moments after the heady rush of transformative adrenaline hits the cold harshness of reality.
Played with a gloriously nuanced mix of humour and emotionally-naked humanity by Jillian Bell, Brittany takes that initial fright, puts it to one side, and with the encouragement of her neighbour Catherine (Michaela Watkins), with whom she has a frenemy type relationship, at least at first, Brittany takes on New York, and her woefully-realised fitness and life goals and goes for broke.
Starting one autumn, and going through an entire year from New York Marathon to New York Marathon, Brittany Runs a Marathon serves a tale that is far more realistically aspirational than anything the Oprahs and Robbins of this world could conjure up.
Primarily because Brittany's journey, borne of highs and lows, salads and burgers, inner demons alternately pushing people away and bringing them close, is one we can all relate to.
As she grows closer to Catherine, whose life is nowhere near as perfect as Brittant imagined, and she begins running with her and new found running mate Seth (Micah Stock) who wants to be fit for his husband and sons, and comes to realise there might be more than annoyance underpinning her growing friendship with housesitting coworker Jern (Utkarsh Ambudkar), and takes those long dormant ideas and equally as long shelved ideas of what her life could be, things change for her in ways both inspirational and disappointing.
Told with a reassuring mix of "Go get 'em!" bravura and the kind of sage wisdom that acknowledges that real-life fairytales come equipped with more than a few hiccups and bumps in the road, Brittany Runs a Marathon is an unalloyed joy, a film that speaks beautifully but groundedly, and with great good humour, about change, tenacity, self-belief and the imperfection of hope.
It has a few weak moments – Brittany's push-pull relationship with those close to her does feel real, mirroring the way we can self-sabotage despite our best intentions, but it does feel overplayed at times as do some of the narrative contrivances such as the unexpected arrival back of the couple Brittany and Jern have been housesitting for to find their employees living there – but overall, Brittany Runs a Marathon is tight, well-told, neatly-balancing the idea that lives are redeemable (not in a religious sense; just able to be saved from banality and inertia) while being frank about the fact that despite all our efforts, results may not be exactly as advertised.
Sure, it's funny, stuffed full of witty oneliners and visually mirth-filled scenes such as she and Seth struggling up a hill, but it is also seriously real, no more so than when Brittany, after an uncharacteristically-harsh takedown of someone, is taken lovingly to task by her older brother-in-law (and effective step-dad Demetrius (Lil Rel Howery) who confronts her about the fact that her recent transformation is ultimately about the weight.
Deep down Brittany knows this, but it takes Demetrius throwing the cold, hard truth in her face for her to realise that much of her motivation has been about trying to confront, and best, a host of inner demons which manifest of all kinds of self-destructive ways.
It's a sobering scene but such is the quality of the writing and direction by Paul Downs Colaizzo, who magnificently pulls double duty) that scenes this confronting and yet lovingly realised sit happily along far more lighthearted, jocular moments.
That's largely because Brittany Runs a Marathon, based on the life experiences of one of the writer and director's friends, feels real and possible, an inspirational tale grounded in the messy realities of life which acknowledges the obstacles that lie in our path and our likely less-than-ideal execution but which dares our, in the best way possible, to get some life transforming a go.
After all, like Brittany, who knows where it may take you?