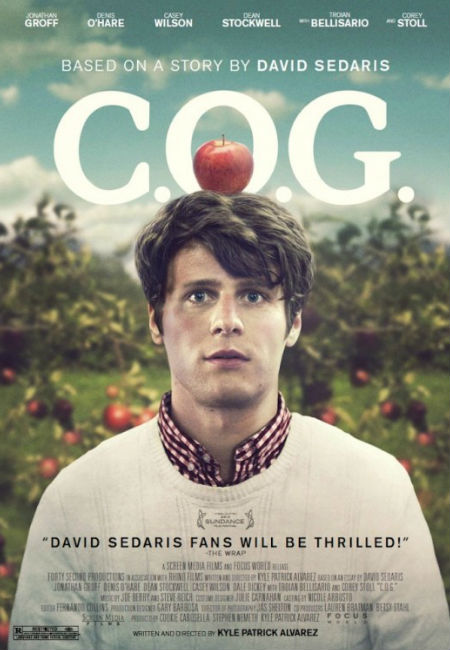 C. O. G. is a curiously lifeless film.
It's a particularly odd outcome when you consider it is based on one of noted essayist David Sedaris' boisterously witty and incisive biographical pieces, which sparkle with verve and a thousand and one ideas and opinions.
With material that emotionally and intellectually fecund, it's odd that director Kyle Patrick Alvarez wasn't able to fashion a film that could occasionally pull itself out of neutral.
It never really moves beyond ambivalent observation with even the most lively of characters such as factory worker and dildo collector Curly (Corey Stoll), born-again PTSD-suffering war vet Jon (Denis O'Hare) and dourly sardonic apple farmer Hobbs ( Dean Stockwell) failing to grab the screen in a story that never quite seems to know where it is going and why, and what it wants to say about those transitional periods in life we all go through.
It's not without redeeming features of course with lead Jonathan Groff (Glee, Looking) in fine form as a directionless grad student looking to "try something different" after the end of his college studies and a falling out with his "liberal" parents, most likely related to his just publicly acknowledged homosexuality.
While it is never explicitly stated, Groff's character, who goes by the name Samuel throughout the film, seems to be fresh from a coming out of sorts, awash in the turbulent emotional backwash that creates and uncertain of where he should head now he has acknowledged a fairly fundamental truth about himself.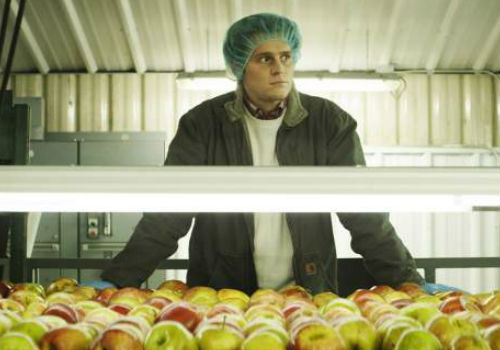 Acting on a suggestion by free spirited, and ultimately unsupportive best friend Jennifer (Troian Bellisario), Samuel/David travels via bus, with an assortment of hilariously inappropriate fellow passengers to keep him company, to Oregon for a Grapes of Wrath experience, the idea being that time with an entirely different, lower end spectrum of society will be good for their upper middle class jaded souls.
Bailed on by Jennifer early on, and bereft of other options, an often patronising Samuel decides to stick it out, brashly confident that he can withstand whatever comes his way, based purely on his limited life experience to date.
But his sometimes brash, perky approach to life is tested repeatedly by fellow workers on the apple farm run by Hobbs, the apple processing factory where he meets Curly, a man who promises friendship and possibly more, eager Christian proselytiser Jon who talks the talk but struggles with the walk, and yes even cows.
He quickly comes to realise that there is no such thing as an escape route from life, that wherever you go you are still facing the same issues and character deficits that best you at your departure point and that the people he encounters in rural small town Oregon are struggling just as much to make sense of life as he is.
It's not quite the bucolic epiphany and holiday from reality he is expecting and as each new opportunity to keep that delusional expectation alive comes to nothing, you can see his confident sense that life in a new locale beckons with untold possibilities far better than the ones at home taking an almost constant beating.
To his credit he perseveres, a persistence of character that is more than a baptism of fire for his psyche that anything else, all of which should make for a movie alive with dramatic outworkings.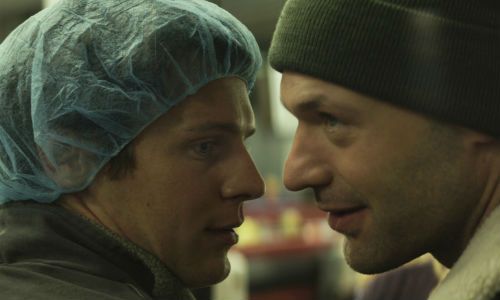 That is unfortunately not the case.
Rather it limps along, dotted with some awkwardly amusing scenes – his escape out of Curly's bathroom window is handled with some quite industrious slapstick and Stockwell's Hobbs pretty much steals the scenes he is in – but failing to ever really ignite.
Part of the problem despite the fine performance by Groff, is the character of Samuel himself.
He never really transcends his initial emotional standoffishness, remaining at hands off distance with pretty much everyone he comes across.
This renders his interactions with a cast of fairly lively characters rather muted and colourless, a problem when the film in which they're intrinsically a part is failing to spark in any meaningful narrative sense.
Strangely given the great life changes Samuel is going through, so profoundly disorienting that the avowed atheist even converts to Christianity at one point, C. O. G. fails to capitalise on their exploration, content to amble along with half-realised, if alternately amusing or disturbing, vignettes of life on the rural road less travelled.
It is not so much a bad movie as a half-realised rather drab one, a statement on life that never really moves beyond the superficial or the trite, ultimately ending in a rather lacklustre denouement that pleases nobody, least of all Samuel and which is unlikely to have the characteristically adaptation-averse Sedaris signing on the dotted line again with Hollywood anytime soon.