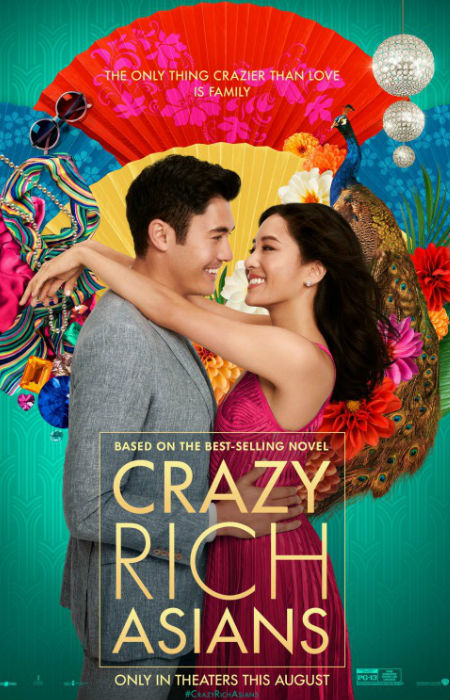 At this stage in the mostly rich and august history of cinema, you could be forgiven for wondering if there is anything new under the genre sun.
Specifically, if romantic comedies, traditionally one of Hollywood's favoured genre sons, has anything new to contribute to a long line of member films stretching all the back to the start of cinema.
If you had doubts that it was possible to throw anything new into the meet-cute mix, let me present you with Crazy Rich Asians, directed by Jon. M Chu and based on the book of the same name by Kevin Kwan, which apart from the visually obvious, goes a long way to bring new life and vitality into a genre that has fallen on rather trope-ridden hard times of late.
That the film accomplishes this miracle of cinematic resuscitation using many of the hallowed hallmarks of its predecessors says much about how much fresh perspective screenwriters Adele Lim and Peter Chiarelli bring to the film.
There is, of course, the obvious difference to just about every film, let alone romantic comedies, that come out of all-too-often whitewashed Hollywood – the cast is entirely Asian, the first time this has happened since The Joy Luck Club in 1993.
That it has taken Hollywood 25 years to tell another story that places Asian stories, actors and sensibilities at the centre of a film, and not simply an adjunct to it, is a discussion for another time, but suffice to say, Crazy Rich Asians is a hearty endorsement of the justifiably much-advanced idea that Hollywood needs to expand the pallet of its storytelling, and do so without delay.
It helps naturally that this is a very well made film that ticks all the romantic comedy boxes and then some, offering up a tale as old as cinematic time which still manages to beguile the senses, thrill the heart and reassure us that even though Shakespeare was bang on when he said that the path of true love never did run smooth, that it is still very much worth pursuing.
That we get to see it pursued and with gusto by characters well outside of the well-trod Hollywood mainstream is a joyous bonus, especially when Singapore, or at least the Crazy Rich Asians side of it, and its fabulously wealthy inhabitants are given endless moments to shine.
And yes, if you are suspecting that Singapore could run the film on and on for eternity as a luscious postcard love letter for the country, you would be entirely right.
From the opening drives through the streets of the small but wealthy South East Asian country through to the nightlife in the street hawker epicentres to the metallic tree sculptures of Gardens by the Bay and the dazzling opulence of Marina Bay Sands, Crazy Rich Asians make breathtakingly impressive use of its surroundings where, of course, not everyone is wealthy but where those who are, and Asia is home to one of he highest number of billionaires on the planet, make a spectacularly full-on show of it.
It's into this bubble of richness and privilege – just how privileged is made clear when we see the mansion of the Young family whose massive home sits nestled in a jungle of trees, a stark contrast to the concrete and metal skyscraper world of many of the country's inhabitants – steps Rachel Chu (Constance Wu), a professor of economics at New York University, unaware that her boyfriend of one year, Nick Young (Henry Golding) is the favoured son and presumptive heir to a fantastically big fortune.
It had been all but assumed that Nick would return to Singapore the mantle of head of the family business from his father but his relationship with Rachel has delayed that drawing the glacial ire of mother Eleanor (Michelle Yeoh) who adores and dotes on her son but who treats anyone with whom he becomes involved who has not been officially endorsed as acceptable (the parameters are fiendishly narrow and exacting) as almost an enemy of the state.
A recipient of the same type of treatment by her mother-in-law Shang Su Yi (Lisa Lu), and Nick's grandmother or amah, who rules the family with an iron fist in a fabulously well-detailed velvet glove, she and an initially-overwhelmed Rachel are soon at loggerheads, a development which powers the great rift which traditionally always sets up the final act of any romantic comedy.
Rachel, the daughter of a single mother Kerry Chu (Tan Kheng Hua), is not alone in her titanic struggle with Nick's often fractious and idiosyncratically-wealthy family. (Nick is there staunchly throughout and the chemistry between Golding and Wu is one of the movie's many abundant delights.)
Her old uni friend, and one of the VIPs of the entire film, Goh Peik Lin (Awkwafina) is a riot as her supportive bestie, riding to the rescue on more than one occasion, the carrier of not just aid and unconditional love but some of the sassiest, best-delivered lines in the film; Crazy Rich Asians is full to the brim with gloriously well-realised characters but Peik Lin is an delightfully outlandish joy who sparkles in every scene in which she's in. (Props too to "the rainbow sheep of the family", Oliver (Nick Santos) who is fabulously lavish and deliciously funny in his performance.)
Also on her side is Nick's cousin Astrid (Gemma Chan) who is seen by all and sundry in Singapore's very small world as an effortless style icon but who is, unlike some of the people in Nick's orbit who try to scare Rachel off by painting "gold digging bitch" on the window of her hotel room, grounded, down-to-earth and all too aware of the great problematic chasms that can exist between those born in to the labyrinthine world of immense wealth and those who like her husband Michael (Pierre Png), and Rachel, end up having to navigate its many blessings and pitfalls.
The cast of characters is expansive and pleasingly well-handled given the size of the ensemble with Jon M. Chu rightly keeping the focus on the fact this is a love story between a capable strong young woman (happily she always more than holds her own) and a self-assured but grounded young man who know they love each other and who, as is the way with all romantic comedies, will end up together come what may (no spoiler there; if you're ever watched a romantic comedy, and if not, why not, then you know the drill).
Crazy Rich Asians succeeds on a multiplicity of levels from taut, fun, expertly-paced narrative to evocatively well-wrought characters to lavish cinematography and a uniquely-catchy soundtrack, a film that rightly wears it Asianness as a badge of honour but which also recognises, among the glitteringly bright confection of its setting, the universality of love and it's power to move mountains, even entrenched old-moneyed ones who appear to have forgotten what it is to find that special someone who puts everyone else, long-set expectations included, into life-altering, world-changing, perspective.