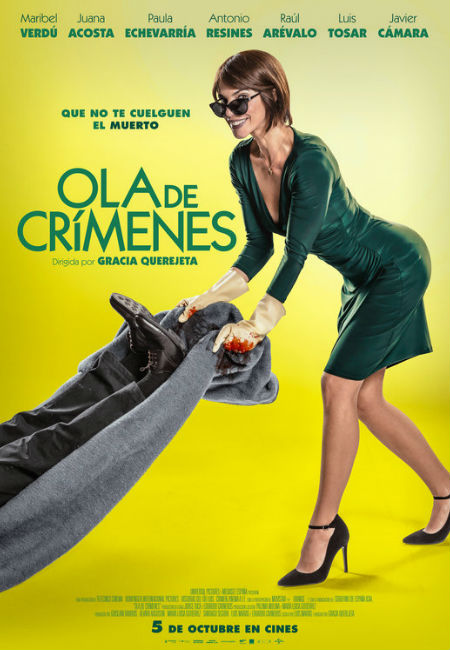 Justice, court-mandated means of redress aside, is a fairly rare commodity.
Everyone wants it, not that many people get it, and if they do, it's far less satisfying or comprehensive than they expect.
Which is why Crime Wave (Ola de crímenes), directed with gleeful vivacity by Gracia Querejeta, is such a tonic for the soul.
Not only does it offer justice aplenty but it has a fine time getting there, with the road to the levelling of injustice mired in hilarious, and surprisingly heartfelt, complications.
That's the key to its appeal.
Not only does it generate all kinds of farcical hijinks as Leyre (Maribel Verdú) does her panicked best to cover up a murderous crime of impromptu passion by her son Asier (Asier Rikarte), who everyone agrees is a little odd – he's not, of course, but he's certainly not cosily resident in the mainstream of public opinion – but it does so with a degree of humanity and understanding that you might not necessarily expect to pop up in a comedy film.
In others words, it has substance to go along with the laughs, a necessary mix if the comedy is to amuse in the short-term, and Crime Wave most certainly does, and if it is to appeal in the longterm.
The jury, no pun intended, is still out on its status as a comedic classic, but the film is funny, very, very funny, something not usually associated with murder, mayhem and criminal, accidental or otherwise (Crime Wave has both) nut which feels completely at home in a story that doesn't put a foot wrong.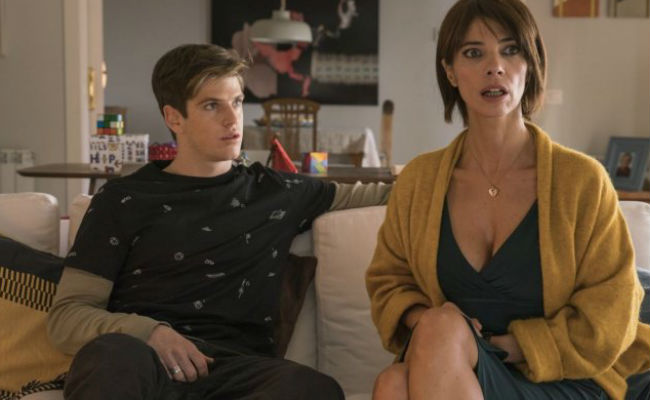 The reason why this is remarkable is that comedies that trade on an ever-escalating layering of narrative twists-and-turns either end up falling far too short, their farcical potential spent before its realised, or overshoot, a riotous amalgam of verbal and visual silliness that's all spinning wheels and very little meaningful effect.
Crime Wave lands pleasingly somewhere in the middle, starting out small, and building and building until an ending which is highly improbable but so happily satisfying that you won't begrudge it for a second.
Along the way, we are treated to Leyre, a mother who's grappling with the aftereffects of a messy divorce, a toxic ex (Cosme, played by Luis Tozar), who is as virulently nasty to his son as he is to his spurned wife, Cosme's wife and her ex-best friend (or was she ever?) Vanesa (Paula Echevarría) and lawyer (Juana Acosta) whose ethics are so far down the toilet it's doubtful you could find a plumber capable of summoning them back.
Throw in drug dealers, the amorous approaches of her son's only friend Julen (Miguel Bernardeau), who pretty but not bright and three years older than his bestie, a desperate illegal immigrant in Evelyn (Montse Pla) who'll reluctantly do whatever she must to stay in Spain, and who is Leyre's archly-critical incapacitated mother's carer, and a taxi driver who is a frustrated, and as it turns out, shitty actor (Raúl Arévalo) and you have the recipe for a criminally-funny (it had to be said at some point; best we get it over and done with now) movie that never ceases to delight.
This gloriously well-put together hotpotch of ingredients is framed by Leyre's confessions to the local priest, played with ever-more amusing exasperation and panic by Javier Cámara, who finds himself asked by the accidental crime wave-generator to absolve her many, many sins.
That he does is more a product of his ever-escalating desire to be as far away from Leyre and her outlandish tale as possible, all too aware that it's a precarious house of heavy–duty cards that could come tumbling down upon him.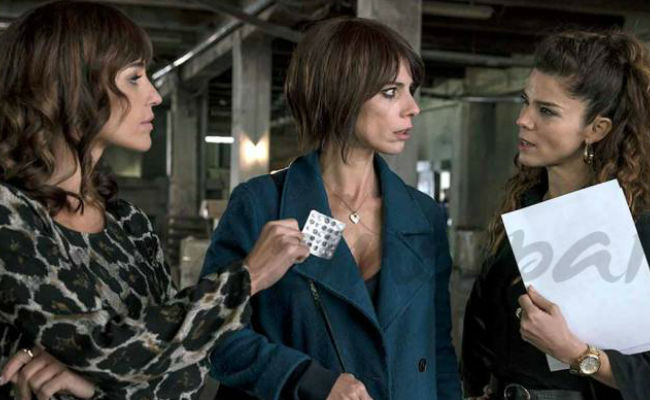 That they don't is testament to a film so finely-crafted that no matter how hilariously over-the-top it gets, each narrative piece is adroitly and unerringly placed in front of the other, with the result being a farce that amuses to the point of gentle hilarity but which, even more crucially leaves you emotionally-engaged in the fate of the characters.
In particular, with Leyre and Asier, a united front against a cruel and unjust world, who have spent years at the mercy of an abusive husband and father who finally pushes one of them too far.
This renders the first crime as a very serious affair indeed, and while the sequence of events that follows is damn funny, we are never allowed to forget the meaningful basis on which it is built.
In other words, Crime Wave manages to mean something, and strike an emotional chord, even as it ramps up the level of "where the hell do we hide the body and where's Cosme's phone?" hilarity.
That willingness to invest broad comedy with some deeply-affecting bite extends even to the policemen in the film, Andoni (Antonio Resines) and Juantxu (Raúl Peña) whose investigations of widening breadcrumbs of criminal intent and the growing pile of bodies, is more serious, and touching, that you might expect of a film of this ilk.
Thus do humanity and hilarity sit comfortably side–by-side, infusing Crime Wave with a solid core upon which all manner of farcical delights are hung to devastatingly laugh-inducing, and justice-delivering, effect.