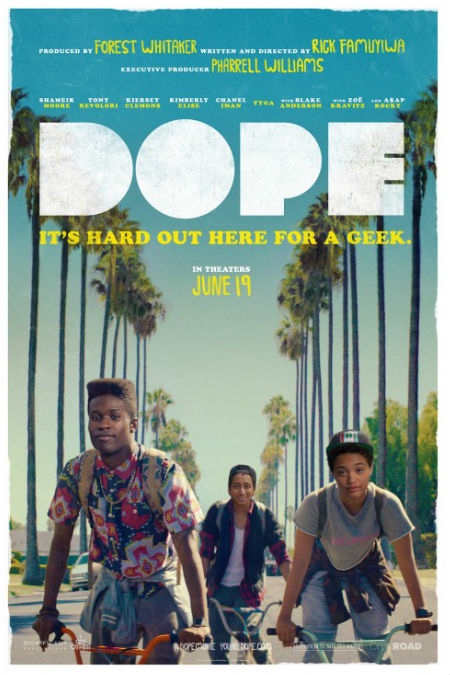 Malcolm Adekanbi (Shameik Moore) is a young man who likes to defy expectations.
And in writer/director Rick Famuyiwa's Dope, a hit at this year's Sundance Film Festival, Malcolm and his geeky besties, Jib (Tony Revolori) and Diggy (Kiersey Clemons) certainly have quite a few expectations to defy.
For one thing, they live in a tough neighbourhood in Ingelwood, California known as "The Bottoms", an area riven by violence, drug crime and a sense that escape is all but impossible.
Even Mr Bailey (Bruce Beatty), Malcolm's guidance counsellor at the high school he attends, openly mocks his student's intention to attend Harvard, all but saying that people from "The Bottoms" simply can't aim that high.
Malcolm, of course, is unfazed by this sort of talk; he's been hearing it all his life, mostly from his own black community who label his aspiration to attend college and to attain the high grades necessary to get there, as "white shit".
It's all delivered with satirical intent, with Danny Glover humourously tossed onto the same list, but the message nonetheless sticks – people of Malcolm's race and socio-economic status shouldn't aspire the sorts of lives that good grades and college can bring.
It's like water off a duck's back for the '90s hip-hop culture-obsessed, fiercely intelligence, capable and emotionally-empathetic young man, who believes with a passion bordering on the evangelical that not only is the ambition to better yourself a good thing but that it's entirely within his grasp.
It's a message he delivers quietly but firmly to Nakia (Zoë Kravitz), an older girl studying hard to obtain her GED and the object of his affections, who wonders more than once if it's worth all the effort.
In Malcolm's world, that's not even a question that needs asking.
It is however, as Fumiyiwa makes clear with both deftly-used humour and searing social commentary, far easier said than done.
Defying expectations is one thing; navigating your way through circumstances beyond your control is quite another.
And Fumiyiwa gives Malcolm and his stalwart friends a sage lesson in this stark reality of life when an invitation from local drug kingpin Dom (A$AP Rocky) to attend his birthday party, an invitation the squeaky clean Malcolm only accepts because Nakia, whom Dom fancies, agrees to attend, lands Malcolm in a whole world of trouble.
Saddled unwittingly with a cache of drugs in his backpack, and threatened with physical harm by "The Bottoms" boy made good (or bad, depending on your perspective) Austin Jacoby (Roger Guenveur Smith) if he doesn't sell all the drugs quickly and return the money to its rightful owner – it's worth noting that Jacoby, a Harvard alum, is Malcolm's ticket to his dream college – Malcolm initially is overwhelmed by the sense that the tropes of Inglewood he sought so hard to avoid have now ensnared him.
But he's a bright boy, and after a few naive missteps, works out what he needs to do to avoid becoming a victim of a situation he never wanted to be in in the first place.
His solution to a very thorny problem, one redolent with all the cliched expectations he's spent a lifetime avoiding, is entirely in keeping with his approach to life, which is to never accept that where you are, and what you've handed, is the end of the story.
What makes "Dope" such a pleasure to watch is the way it speaks with the authority of someone who has lived this world and come out the other side, ambition and goals intact.
Fumiyiwa previously covered Inglewood and its dream-sapping surrounds in 1999's The Wood, and while Dope doesn't have quite the intense impact as its predecessor, it nonetheless explores with authenticity, charm, and a wry knowing sense, what life is like when the odds are stacked against you, and you're not exactly surrounded by a Greek Chorus of unquestioning, unconditional support.
Granted Dope is a little uneven in its execution, veering between devastatingly bleak, and comically satirical, sometimes in the same scene, but mostly it nails what it sets out to do in amusingly thoughtful, intelligent way.
Malcolm's story is not presented as some sort of facile triumphing over the odds; in fact he and his friends, who more than hold their own supporting their determined though sweetly nervous friend, come very close to losing it all on more than one occasion.
But armed with some well-selected '90s hip-hop tracks and some original tunes by executive producer Pharrell Williams, a grounded acknowledgement of the many curve balls life, especially one lived in a deprived like "The Bottoms", can throw at you, and finely-realised performances by all concerned (especially the very likable Moore as Malcolm), Dope isn't afraid to say that expectations aren't set in stone.
Rather they are mutable, and there to be defied, even against the most intransigent and seemingly unassailable of obstacles, if you have the vivacity, strength of will and determination to stand up to them.