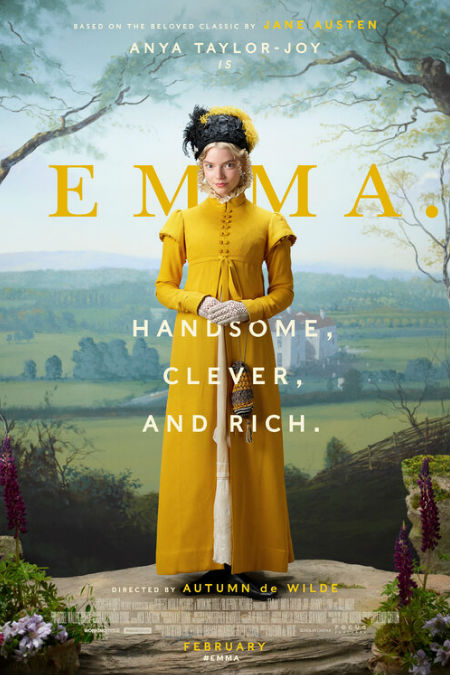 Nothing quite sparkles like a brilliantly-effected Jane Austen adaptation.
A captivatingly good writer who managed to combine romantic comedy with incisive social commentary, Austen's books are ripe for translation to the big and small screen, full of warmth, witty banter, arch parody and a cutting way with words that strikes a blow while simultaneously eliciting laughs aplenty.
That doesn't mean, of course that everyone gets its right; astonishingly good source material does not always make for an equally good adaptation.
But there are times when it not only begets a good adaptation but one which is luminously delightful, something to which the latest iteration of Emma, written by Eleanor Catton and directed by Autumn de Wilde, can most certainly lay witty claim.
Buoyed by a stellar performance by Anya Taylor-Joy as the titular heroine, Emma is a consummate, near-perfect joy from start to finish, replete with witty banter, romantic fun and games, social subterfuge and some rather potent life lessons, most particularly for the film's protagonist who discovers that she is, just possibly, not as expertly control of things as she believes.
Emma is not so much arrogant as simply completely and utterly sure of herself, raised by a doting father to be the perfect hostess, a skilled pianist and painter – though not without rivals as one scene between Emma and her supposed romantic rival Jane Fairfax (Amber Anderson) – and lady of the manor in the absence of her dead mother and married sister.
Caring to those she holds dear such as her cold draft-averse father Mr. Woodhouse (Bill Nighy in a deft comic turn) and best friend Harriet Smith (Mia Goth), who is of a lower class but accepted by Emma with alacrity (and more than one or two less than subtle though well-meaning reminders of her standing), discreetly scornful of those with whom she is not such as the aforementioned Miss Fairfax and the wife of the local vicar Mrs Elton (Tanya Reynolds) and barely tolerant of kind but socially inept people like Miss Bates (Miranda hart).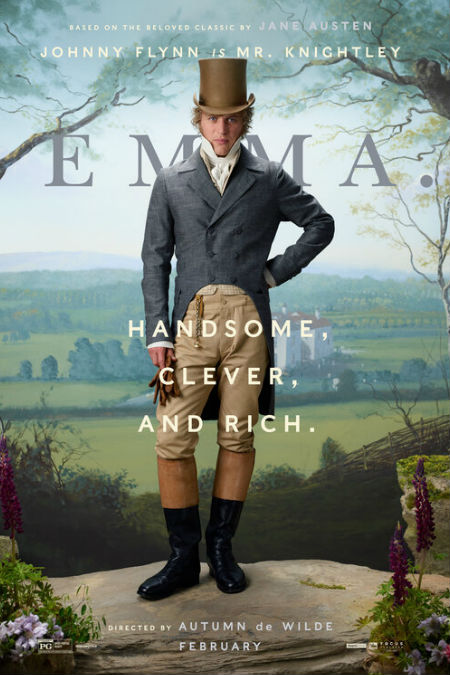 She is, quite naturally, the product of the rarefied world of Georgian England which accepted without question that certain people were inalienably gentlemen and women of good breeding, and others weren't.
Emma isn't deliberately cruel about asserting what she sees as an inarguable fact and while we may wince at her constant reiterating of the inflexibility of the agreed social order – the poor, merchants and farmers, among the groups seen as lacking class, haven't agreed to it but are stuck with it nonetheless – everyone else in her circle, and even those in its near orbit simply accept it as the way of the things.
It is only when Emma learns, through a series of upsetting events, that she is infallible and the world may not be as pleasingly hierarchical as she thought to be (and she by extension not as perfect as she thought), that she is able to open herself up to love true love, courtesy of her constant irritant and verbal sparring partner Mr Knightley (Johnny Flynn), true friendship with Harriet and Miss Bates and to a world in which she is actively engaged rather than operating on some sort of well-mannered rote.
Emma is a buoyantly effervescent, a confection of Austen's immortal lines that draws faithfully from its source material but with an originality and wit all its own, possessing a playfulness, warmth and romantic charm that you can't help fall in love with, much as Emma does with Mr Knightley.
Watching Emma, you come to appreciate how Austen effectively invented the modern romantic comedy.
While her intent was to parody the social conventions of the day, particularly in regards to love and marriage, and not to tell a lighthearted romantic tale per se, her stories are master classes in the messy and complicated business of love.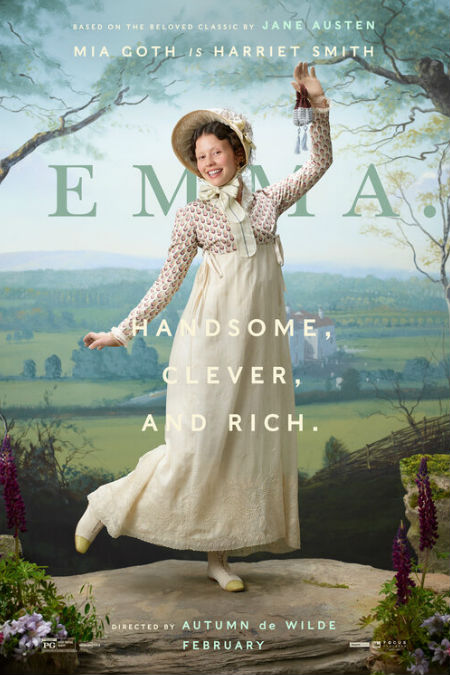 The inherent hilarity of the piece is that Emma, who has no wish to get married but remain on the family's estate of Hartfield near the village of Highbury with her father, fancies herself as a consummate and highly-successful matchmaker.
She has an ego-boosting stream of successful pairings to her credit including that of her governess, whom she regards more as a mother than a servant – even something as warmhearted as that is invariably laced with hierarchical admissions – and is convinced that, at the tender age of 21, that she is well suited to not only continuing this run of success but taking her assumed place in English society.
Watching that unvarnished view of the world come gloriously unstuck is a delicious pleasure, not because we want to witness Emma's downfall – not only is the character far too nuanced to be treated in such a fashion but Taylor-Joy's layered performance makes even more most unlikable seem grounded and understandably human – but because by being so humbled, Emma's good and kind qualities and they are there in profusion, are finally allowed to fully see the light of day, pulled out from under the suffocating weight of social convention.
What appear to be career-ending mishaps (for Emma her position in society is a career and one to which she is ideally suited) such as her ill-thought out admonishing of Miss Bates at a picnic or her inelegant handling of Harriet's romantic prospects, are actually the very making of her.
She learns that while civility and gentility have a place, so do compassion, selfless friendship and openness of heart.
Emma is an absolute delight, an adaptation of Austen's fourth published novel, that resonates with themes of love, class, marriage and the perils of unyielding social convention with a protagonist who we should, by all rights, not particularly warm to, replete with universally well-judged performances, dialogue beyond compare, a narrative that ticks all the boxes but doesn't feel stodgy or weighty doing so, music drawn from classical, folk and original sources (Isobel Waller-Bridge and David Schweitzer excel in this regard) and a generous and warm spirit.
It barely puts a foot wrong, unlike Emma herself, who comes to understand that there is a great deal in life for us to learn and that while we may think we know it all and have everything under control, that there is much to be gained from acknowledging that we don't and that perhaps we have a great way to go before we do (assuming, of course, we ever get there at all).