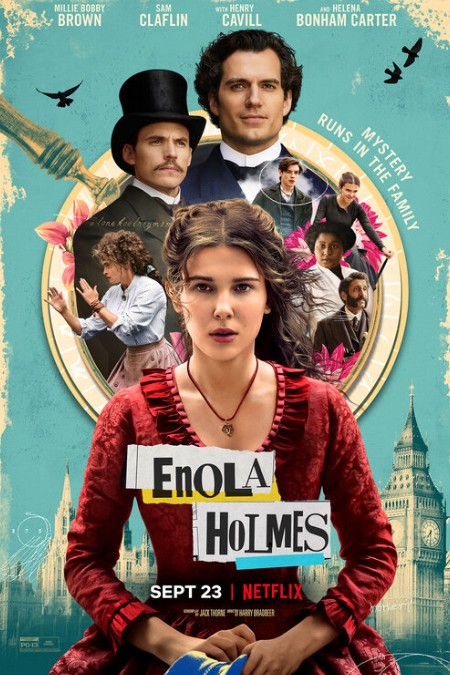 It is a rare and wonderful thing indeed to walk away from a film feeling as if the world is a little brighter for having seen it.
But that is precisely what happens to you as take in the convention-busting delights of Enola Holmes, newly-arrived on Netflix and based on The Enola Holmes Mysteries: The Case of the Missing Marquess by Nancy Springer.
Centred on the titular 16-year-old sister of Sherlock Holmes, Enola Holmes is proof positive that it is eminently possible to make a film that is progressive and inspiring without being saccharinely intense or messagey to a clunky and awkward degree.
In fact, if anything, the film is riotously unburdened and unconstrained, an effervescently zestful celebration of what happens when someone not only is brave enough to face down the stultifying conventions of period in which they live, many of which have no basis in fact or necessity, but does it with intelligence, wit, style and insightfulness well beyond their years.
Portrayed with garrulous but affecting abandon by Millie Bobby Brown (Stranger Things), Enola Holmes is every bit a match for her older, celebrated brother, Sherlock (Henry Cavill), raised by her joyously unconventional Suffragist mother Eudoria (Helena Bonham Carter in sparkling form) to be anything but a proper lady of the day.
Unlike most of peers, who are primed by the likes of prim-and-proper Miss Harrison (Fiona Shaw) to be cooking, cleaning, well-deported baby machines for successful men, Enola ("alone" backwards so she says though it turns out, her name is not as grim as it first appears) is schooled in sports such as Jujitsu, history, science and possessed of a fierce intellect and passion for carving her own thoroughly unique path through life.
She is the antithesis of the Victorian world around her which stresses piety, adherence to shared values and a conservatism bordering on the sclerotic, something that doesn't unduly trouble her in the first part of Enola Holmes where she is safe in the cosily dishevelled world of the ramshackle country home she shares with her mother and Mrs. Lane (Claire Rushbrook), the family's housekeeper.
Hers is an idyllically chaotic world, which bears no resemblance to the studiously organised and rigidly observed lives of her eldest brother Mycroft (Sam Claflin) and middle child, the undisputed star of the family, Sherlock.
But within this cocoon she is loved and safe and challenged and completely at ease; until, alas, one day, or rather in the depths of one night, Eudoria disappears and it is left to Enola and her nascent detective skills to track down her mother's whereabouts.
Such is her confidence in her ability to handle whatever comes her way – in Brown's more than capable hands, this sense of innate self-belief comes across as upliftingly energising rather than than unbearable overweening – that it takes her almost no time to rally from the initial shock and emotional discombobulation and set apart, money in hand, to find her mother.
Fearing for her safety and wellbeing, Mrs. Lane alerts Mycroft, a civil servant on the rise whose is most concerned with propriety and good social standing, and Sherlock, who is far more relaxed than his uptight brother, to the disappearance of mother and daughter, both of whom set out with some urgency to save their little sister.
But that is the great charm and unalloyed joy of Enola Holmes – our plucky, intelligent, gutsy protagonist needs saving not one bit, and is actually the one who, more than not, does the saving of others such as Viscount Tewkesbury (Louis Partridge) who is on the run from his own less-than-ideal set of circumstances which involve onerous responsibilities and a murderous pursuer who mysteriously seems to want him out of the way.
What starts out as a simple errand to find her mother becomes infinitely more than that as quick-witted Enola discovers that there is a great deal more going on than a disappeared mother and an heir to a fabulously rich estate who may be key to ushering in, via a new Act, the kind of progressive age of which Eudoria and Enola are passionately longing for.
As Enola Holmes pivots with gleeful vibrancy from a lost mum plot to a saving the Viscount and perhaps British society into the bargain, Enola is the undisputed star of this warmly-executed and warm-moving adventure through the changing world of Victorian England.
What makes Enola Holmes so vividly watchable is not simply Brown's lavishly energetic and cheeky portrayal of a young woman who has been raised well and is better placed to take on the world around her than many of her contemporaries who are only ready for a world that is fast disappearing, but the fact that it manages to cram so much into its deliciously intense narrative without once feeling overstuffed.
Pivoting with an alacrity that reflects the quicksilver machinations of Enola's highly-polished and observant mind, the equal of her brother Sherlock who is delighted with his sister's prowess, growing closer to her throughout the film in ways that are heartwarming and delightful, Enola Holmes goes many places, thematically, narratively and geographically while remaining sinuous and fast-moving at every turn.
Replete with fourth wall busting breathless commentary by Enola, who is a passionate extrovert possessed of intelligence, capability and a bravery well beyond her years, Enola Holmes is a feminist statement par excellence that never once feels annoyingly preachy.
So effortlessly, though not without emotional and physical cost, does Enola execute on her impulsive decisions to find her mother, save the Viscount (who, though he and Enola do have romantic feelings for each other, is never her saviour, a refreshing change of pace from the idea that romance solves everything) and best her brothers (to Mycroft's stuffy horror and Sherlock's beguiling amusement) that you are swept happily along on the giddy race to the story's finish line which is both everything you expect and yet, nothing at all.
She may be a Victorian young lady but Enola is very much a heroine for our times, a brilliantly likeable young lady who fears no one and nothing, who stands up for herself and is the equal of any man – though should that be the measure for any woman? Enola makes the case that it should not, most emphatically and with delicious zeal – and who also feels very human, someone who needs a hug from her loving mum every bit as much as the next person.
It is hard to overstate what a transcendent delight Enola Holmes is – vivaciously in your face in the very best of ways, possessed of dazzlingly good performances, vividly-etched characters and dialogue that zings with endless enthusiastic zest, it is exactly the kind of film that the emotionally exhausted hellscape of 2020 needs, a reminder that there is power and truth in forging your own path, and that while no one said it would be easy, you are infinitely better than staying with the other sheep.
That is, of course, something that Enola, who becomes your new favourite fictional person ever, would never consent to, and we can only hope that the hoped-for five sequels (there are more books in the series, thankfully) do eventuate and we can spend a great deal more time spending time with a character who is the new flagbearer for staying true to who you are and never letting anyone put you in a box to which you don't and will never belong.