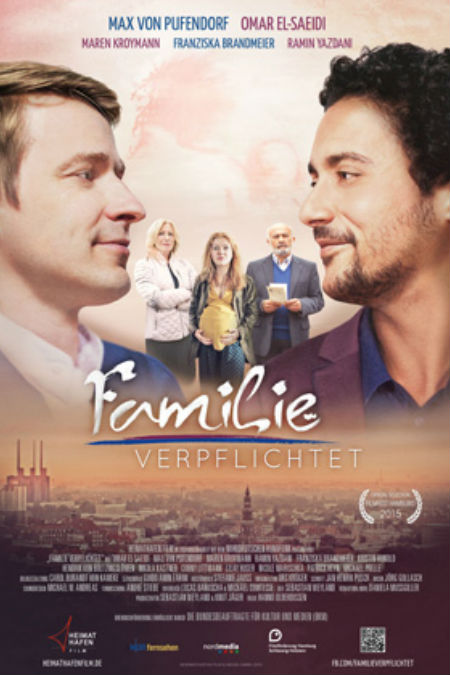 "Oh! What A Tangled Web We Weave When First We Practice To Deceive"
Those immortal words by Sir Walter Scott in his poem "Marmion" are full of portentous implications if your neck deep in a drama of Shakespearian proportions; but if you're in a high farce Germany comedy about the changing landscape of modern relationships? Ah then then they become grist for the comedy mill.
Familie Verpflichtet or Family Commitments, directed by Hanno Olderdissen, draws richly from all those pent-up comedic possibilities, dishing up a highly-amusing, often laugh out loud funny take on the perils of secrets, cover-ups, and the hilarity when truth is inserted, with nervous clumsiness, into this deceptive mix.
It does this by mixing together some very modern sensibilities with some ancient, long-calcified attitudes, providing proof once again that the old adage that the more things change, the more they stay the same isn't just sage wisdom but ripe with humorous observations.
David Silbermann (Maximilian von Pufendorf), an aspirationally-wealthy, out young Jewish art gallery owner is deeply in love his closeted Muslim partner, Khaled Aledrissi (Omar El-Saidi), a Phys. Ed teacher who is close to passing his teaching exams.
It's all romantically idyllic and thus emboldened and inspired, and caring not that his Islamophobic mother Lea (Maren Kroymann) does not like Khaled not the prospect of a union between the charming young man and her son, David attempts to propose marriage.
A simple enough idea, and a deeply romantic idea, that founders when Khaled's father, a single dad, Faisal (Ramin Yazdani) who has raised him and his sister Ajna (Kristin Hunold), comes to visit, interrupting not only the proposal but any smooth transition to a life of wedded bliss.
While there was little prospect of an interrupted journey to the altar for David and Khaled, the truncated proposal becomes emblematic of deeper problems within the relationship which is assailed on all sides by a host of complicating factors.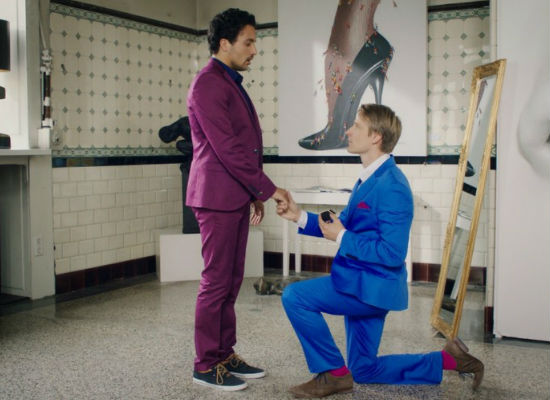 Chief among them and the progenitor of a number of other issues, which are, in the hands of the adept screenplay by Felix Mennen, Michael Comtesse and Sebastian Weyland, as hilarious as they are exasperating for the characters caught in their web, is Khaled's well-understandable timidity about coming out.
His reticence makes sense when you see his large, extended family in action.
While Khaled's father is warmly loving and supportive, he maintains some strict ideas, in common with people like his hardline pretty much everything-phobic sister Alba (Lilay Huser), about what is and isn't appropriate for a young Muslim man. (His position, you suspect, as an arbiter of old-fashioned morality is driven by familial pressure than deep-seated belief; against all advice he married a Sunni woman, Hayat, shocking his Shiite family.)
One of which is that being a luti or gay man is an affront to traditional values and not to be tolerated; there is one scene where much merriment ensues when he and his friends and family members discuss an acquaintance whose third son was found with a German man.
In the face of those kinds of attitudes Khaled recoils, but when a young Jewish woman, Sarah Finkelstein (Franziska Brandmeier) turns up at the door of the happy not-yet-engaged couple with news that she is pregnant with David's child, the product of a drunken, MDMA-fuelled one night stand at a conference in Berlin the year before, the cat is well and truly set among the pigeons and a whole host of decisions have to be made.
Will they keep the child or adopt it out? If they keep the child, what does mean for their relationship, one that is teetering on the brink in some senses as Khaled grapples with David's accidental heterosexual infidelity, and David tries to work out how to keep his gallery solvent, one dependent on a creatively-stymied, sex-mad gay painter Nils (Hendrik von Bültzingslöwen) who is mooching off him … and will Lea even allow her grandson to be sent away from the family?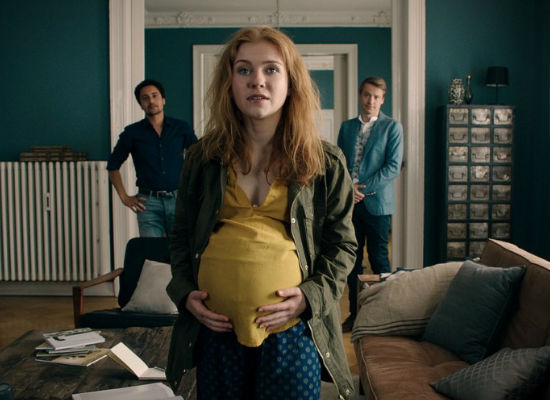 If all that's not complicated enough, Family Commitments, which raises some fairly serious, topical issues without much substantial commentary – not a great sin since that is not always the nature of the farcical beast, with this film in particular happy to play for laughs rather than contemplative chortles – throws in a myriad other complications including the good old mixed messages idea, with Faisal, art buyer Mr Maier (Corny Littman) and Khaled's employers including the sexually predatory and highly-camp headmistress, Frau Löffler (Nicole Marischka), all getting the complete wrong end of the stick.
While the film does occasionally go a little too far over the top, it mostly succeeds, to highly-voluble audience amusement, in hitting its marks, buoyed by the chemistry between von Pufendorf and El-Saidi, and winning performances from secondary characters such as art gallery employee, Petra (Nikola Kastner), and a sense, clearly expressed, that life can be ridiculously, inherently messy.
Not so amusing for the people in the midst of all the shenanigans, upon which rests the future of a relationship, careers, a child's attachment to his biological family and the rapprochement, should it even be possible, between archly-opposed Jewish and  Muslim families, but for those of us looking on?
Richly hilarious, the power of its comedic observation bolstered by finely-wrought characters who are tropes yes but beautifully-developed ones, and a narrative that doesn't forget to include a decent helping of emotional resonance with its farcical moments, of which there are many, ever-escalating, examples, Family Commitments leaves you with a lot to think about as gently bickering grandparents, Faisal and Lea, provide one final comedic gem in a credits scene.
It's proof once again that if you want to not so much examine as raise some weighty, socially-important issues without putting peoples' backs up before the discussion has even begun, that comedy is the way to do it, pretty much every time.