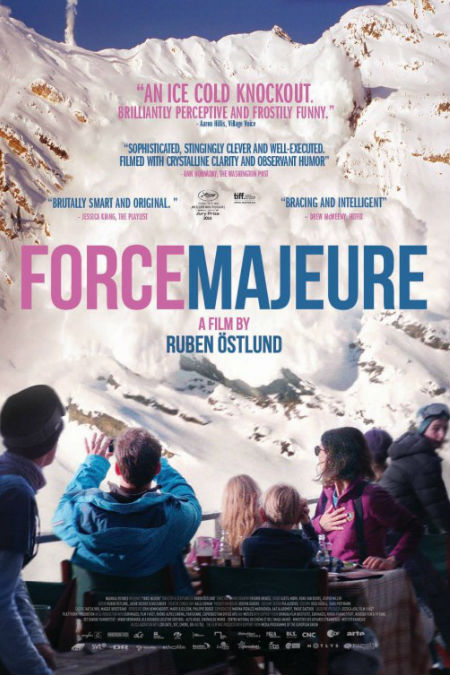 The brutal shattering of long held perceptions is at the heart of oft Cannes-feted director Ruben Östlund's latest provocative work, Force majeure, a film which takes a forensic look at the aftereffects of a runaway avalanche on the hitherto picture perfect marriage of workaholic Tomas (Johannes Bah Kuhnke) and his subconsciously resentful wife Ebba (Lisa Loven Kongsli).
Away for five precious days of family time with their pre-teen children Vera (Clara Wettergren) and Harry (Vincent Wettergren), the Swedes are the epitome of Ikea-catalogue perfection – laughing, smiling, kitted out in the latest ski gear and staying at an immaculate ski resort that seems to cling precariously to the plateau it occupies high in the Swiss Alps.
No doubt if you had asked Tomas or Ebba on their first idyllic day of skiing – the film is divided into five parts each corresponding to a day of their holidays – about the state of the relationship both would have described it in unequivocally glowing, healthy terms (although there are visible cracks in this tightly-controlled self-delusion such as when Ebba over-sharingly tells a fellow Swede she meets at reception that "We're here because Tomas works too much; he's going to dedicate five days to his family.")
Things change entirely, and not for the better, on the second day when one of the resort's regular "controlled avalanches" – an oxymoron surely Östlund seems to suggest since who can really successfully coerce Mother Nature to do their will? – appears to go awry, sending a wall of snow cascading down onto the terrace restaurant where the till-then jovial family is having lunch.
In the face of this growing threat, some people panic and leave immediately; others such as Tomas pull out their phones to record the event, confident the resort's authorities are fully in control of the situation.
But as the avalanche careens ever closer to the perilously-placed tourists, Tomas, ups and runs, seemingly ignoring Harry's desperate cries of "Daddy! Daddy!", leaving Ebba to grab both the children who, proving too heavy to carry away, are forced to hide with her under the table in the hope it will provide sufficient protection.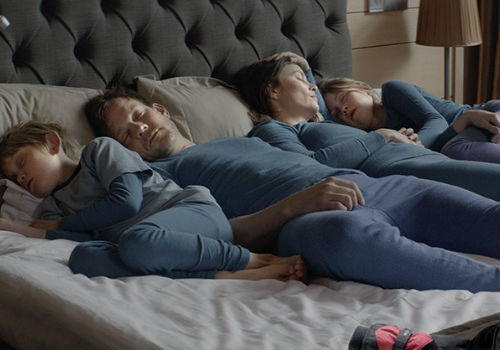 In the end, no harm comes to them and the avalanche is revealed to have stopped some distance from the restaurant, sending only what is called "avalanche smoke" their way, a ghostly white but harmless apparition which soon clears like the fog is appears to be.
But the damage is done and Tomas and Ebba's relationship isn't quite the same in the aftermath, previously unseen, or rather more likely unacknowledged fissures in their once "perfect" coupling rending their union wide asunder, breaking the all-smiling surface in spectacular fashion.
Not that this is acknowledged, much less discussed immediately though, with Ebba instead growing sullen and irritable, and Tomas defensive and initially unwilling to admit fault – the children, instructively, are the only ones to actually vent their feelings though they aren't treated seriously by their parents because to do so would mean owning up to that fact that something is wrong – neither able to admit to themselves or to each other, at least at first, that their perceptions of each other and of the relationship have been proved a lie in one heart-stopping moment.
As the days unfold, the contagion of mistrust and self-doubt swirling in and around Ebba and Tomas spreads to Tomas's newly-divorced best friend Mats (Kristofer Hivju) and his new 20 year old girlfriend Fanni (Fanni Metelius), with the latter couple's relationship coming under temporary strain when Ebba drunkenly shares what happened on the terrace with them, leading Fanni to imply then outright suggest that Mats would likely act just as Tomas did, given modern men, in her opinion, aren't as likely to be heroic as their forebears.
Force Majeure is an emotionally, stark unadorned film that explores this modern concept of masculinity, as well as the fissures wending their way through Ebba and Tomas's relationship with a subtle perceptiveness that sometimes explodes into caterwauling pain – witness Tomas's tearful breakdown in the hallway one night that Ebba is powerless to curtail – but sticks for the most part to expression through deathly quiet interludes between the couple, discreet tilts of the shoulder or eyes that quietly indicate all is not well in the relationship.
Even the benign nightly act of brushing their teeth carries with ominous intent, reflecting the unspoken drift that has occurred between the two since the traumatic incident.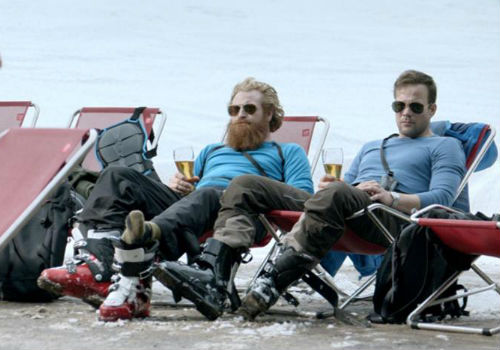 Each day's scenes are separated by long, evocative shots across the snowfields and the resort, the chillingly-quiet pans across the visually impressive scenes interrupted only by the staccato blasts of the avalanche-clearing guns, and short, sharp bursts of Vivaldi's Four Seasons, which expresses the fury which is bubbling away under the surface of Tomas and Ebba's wounded marriage but which, until the penultimate day of skiing, is not expressed in any meaningful way.
Ebba, who has invested a great deal of her identity, time and effort into the marriage and is deeply shaken by the sense it may have all been for nought – this is demonstrated most sharply in an conversation she has over wine with a newly-made holiday friend, a woman who admits she has affairs while on vacation without her husband's knowledge; Ebba is confronted by this, amazed that anyone could treat their marriage in so casual a fashion – is the one who expresses her pain first but in typical Östlund fashion, in the most public and socially-awkward of ways, over dinner with friends.
Tomas only follows some days later but by then you have to wonder if permanent damage has been done and if there any chance of reconciliation at all?
Force Majeure then is a masterfully-nuanced exploration in modern gender roles and relational dynamics, a film unafraid to pose a series of emotionally-confronting, hard-hitting questions to devastating effect.
It's only significant flaw is the over-long ending which lends both Tomas and Mats a rather contrived chance to re-assert their masculinity, to atone for their sins (which in Mats case are hypothetical only) but which only serves really to finish what has been a searing, insightful examination of flaws inherent in all of us, alone or in a relationship, in a rather limp and too neat way.
Even so, it is a minor misstep in a film that compellingly explores the vast gulf exists between perception and reality in all of us, and in our relationships, leaving us wondering if there would be some meeting of the two if we were to find ourselves in a similar situation one day?