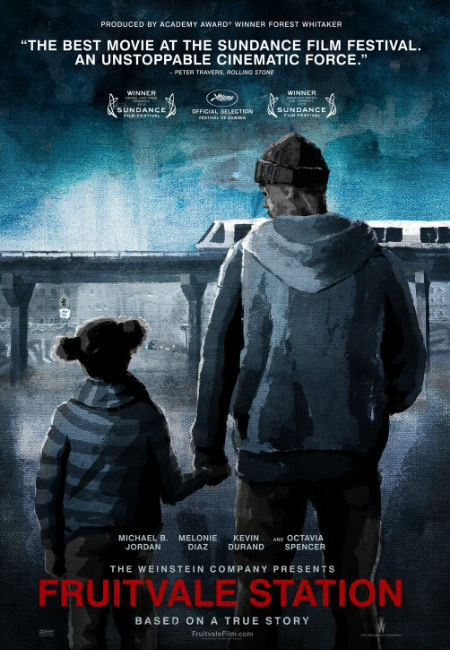 It is hard to walk away from a film like Fruitvale Station, written and directed by Ryan Coogler in a confrontingly realistic docudrama style (which garnered him two major awards at this year's Sundance Film Festival), without being profoundly affected.
Detailing the tragic miscarriage of justice which occurred in the early hours of New Year's Day 2009 when 22 year old Oscar Grant III (Michael B. Jordan) was fatally injured by a gunshot from officer Johannes Mehserle after he and some friends were pulled off a San Francisco BART train at Fruitvale Station by the transport system's police force following reports of a fight onboard, Fruitvale Station cannot help but provoke a deeply meaningful reaction.
It manages this without being brazenly manipulative or wantonly ramping up unnecessary emotional cues.
There's no need to resort to such cheap narrative devices given how the events of that tragic night tell their own powerfully unadorned story, with the movie wisely beginning with actual footage of the incident captured on a number of a mobile phones by fellow passengers, shocked at the brutality they were witnessing.
This grainy but revealing footage establishes immediately that we are dealing with the life of a real person, a man caught on the wrong side of America's often unforgiving economic divide who is nevertheless trying in his own imperfect way to forge a path through life that doesn't involve dealing drugs or another stint in prison.
He is not presented to us as a perfect man, prone as he is to rash explosions of anger and occasional infidelities, but a flawed, genuinely likeable and energetic guy who adores his daughter Tatiana (Ariana Neal), is trying to make his relationship with his girlfriend Sophina (Melonie Diaz) work in the aftermath of a brief affair, and who has more than successfully healed any lingering estrangement with his mother Wanda Johnson (Octavia Spencer who also co-produced the film) whose birthday he poignantly celebrates in the last 24 hours of his life that forms the centrepiece of the film.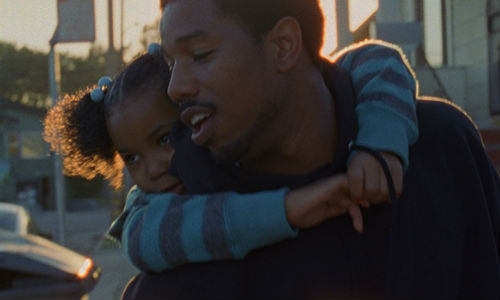 Coogler's wise decision to portray Grant not as a saint, an object of hagiographic intent because of the horrifying circumstances of his death, but rather as normal guy who has made a mix of good and bad decisions like anyone else, amplifies the tragedy of his impending death which we know is lurking around the corner and cannot be avoided despite Grant's determination to make the best life he can (a nod to Oprah who the women in his life venerate for her televisual wisdom).
There is no lessening of the mounting tension because we know already where this almost perfect last day of his life is leading; rather as we witness his two steps forward, three steps back final 24 hours, the events of which are framed with a series of distressingly everyday text messages writ large on the screen, the sense of suffocating inevitability, of the inescapable certainty of his fate weighs heavily on your heart and soul in ways almost impossible to articulate.
You mourn the loss of his life even before he loses it, witness to his well-intentioned attempts to overcome the many obstacles in his path, wishing that the tragic circumstances of his death could somehow impossibly play out differently.
Apart from standout performances by Michael B. Jordan (who more than deserves the Oscar buzz swirling around him), Melonie Diaz and Octavia Spencer, and a script that frames the events of his last day on earth in unflinchingly realistic though often heartwarmingly simple terms, what strikes you most deeply about Fruitvale Station is the way in which his family reacts to his death.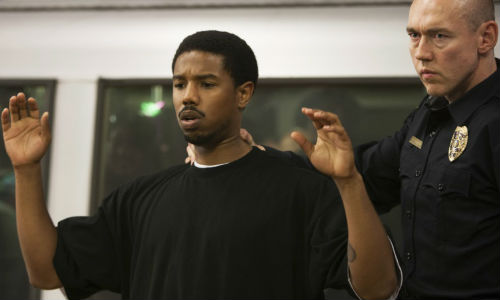 Angry and grief-stricken yes, as you would expect them to be, but lead by Oscar's mother Wanda, who begs the nurse at the hospital to takes her to see Oscar's body to let her "hold my baby; he doesn't like to be alone" in one of the most wrenching scenes I have ever seen in any film, they emphasise even as they wait for word on Grant's fate, that one brutal act doesn't necessarily have to trigger an equally emotionally violent reaction.
Their continuing willingness to, in the words of the deeply religious Wanda who chooses prayer over vitriol, "hold up" Oscar is demonstrated by the silent footage that concludes the film which shows the family (including a tearful Tatiana), friends and caring strangers gathered to remember Oscar's death on New Year's Day this year.
It is an astonishingly graceful reaction to an utterly unnecessary and tragic death which cannot be justified and resulted in a sentence of manslaughter for the officer who pulled the trigger, and testament to the fact even in a society where equality has been advanced but not yet fully achieved, and much remains to be done, that there are people of noble purpose and spirit committed to seeing that justice and fairness will eventually prevail.
It is sadly too late for Oscar Grant III, and more latterly Trayvon Martin, but Fruitvale Station with its powerfully understated narrative and realistic depiction of the lives lost to inequality and brutality, is both a fitting memorial and a call to action for justice-minded people everywhere to ensure that the events of the film do not play out in such a tragic fashion again.