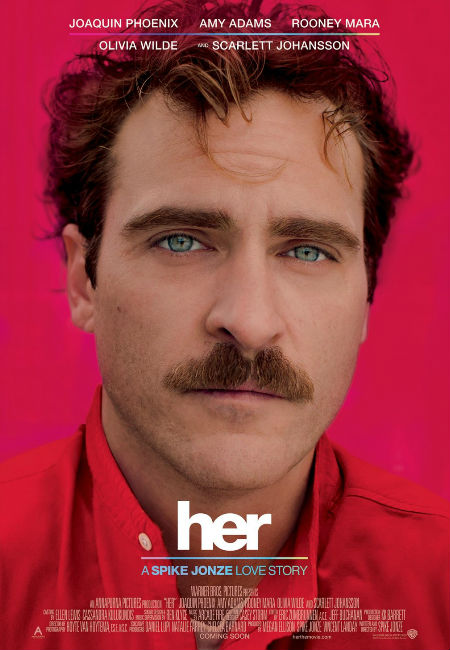 John Donne is rightly famous for observing that "no man is an island, entire of itself", a sentiment with which a separated and soon-to-be-divorced Theodore Twombly ( played with engaging vulnerability and sweetness by Joaquim Phoenix), the protagonist in director Spike Jonze's latest film, her, might well agree.
Adrift and alone, moody where he was once the boisterous life of the party,  Theodore is reminded every day in his job at Handwritten Greeting Letters, a company whose sole purpose is to create "personal" messages for people to busy to write their own, that he is alone.
Very much alone.
Adept at creating immensely, warm rich greetings for parents to send to sons or for one lover to send to another – the movie in fact opens with Theodore reciting one of these emotionally-heartfelt evocations of commitment, luring you into thinking he is talking to a (late revealed non-existent) significant other when in fact he is simply creating ersatz intimacy for others – he is unable to find a way out of the corrosive loneliness eating away at his own life.
Lost in his holographic video games (which include, rather amusingly, a foul mouthed character voiced by Spike Jonze) that fill his lounge room, his only real contact is his neighbour and old college friend Amy (Amy Adams) and her rather righteous husband Charlie (Matt Letscher), and occasional end of day chats with the company receptionist Paul (Chris Pratt).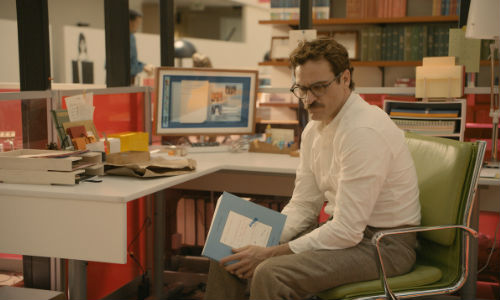 It is a bleak, detached existence complemented by the drab overtones of a subdued dreamily-lit near future LA (Hoyt van Hoytema's cinematography is superb in every respect) where high waisted pants are in vogue, India and China await regulatory approval for their "merger" and tabloid news is as tawdry as ever.
So much the same and yet one thing is markedly different.
Humanity is increasingly sequestering itself away in virtual relationships, with a whole industry growing up around human/operating system relationships, with unpaid surrogates stepping in to take on the role of the virtual partner, as needed, in these unorthodox couplings.
Of course Theodore's intent in this brave new over connected and yet blatantly disconnected world – a scene where he is sitting on the steps of a railway station and every single last person is lost in conversations on their virtual devices is quite telling – is not to join the ranks of the emotionally avant garde but simply to get an operating system to sort out his life and get it moving.
But things quickly move beyond simply tidying up files, and catching up on backlogged correspondence when Samantha (Scarlett Johansson who beautifully imbues the unseen Operating System (OS) persona with real, curious humanity) proves herself to be far more than an electronic personal assistant.
Her quest to become as human as possible, and its inevitable effect on an emotionally adrift Theodore who, unknowingly at first, is on a quest of his own to work out what went wrong in his marriage to childhood friend Catherine (Rooney Mara), forms the centre of Jonze's remarkable tale.
While the idea of a person forming a deep and abiding relationship with an OS may seem far-fetched and over the top, Jonze, who also wrote the script, cleverly embeds it in humanity's thoroughly understandable and intrinsic need to be as connected with others as possible.
Hence the idea of Theodore forming a deep, profound emotional, and yes sexual, relationship with Samantha looks less and less ludicrous by the second as the burgeoning relationship sets both of them on a course to real growth, true intimacy and hitherto unexperienced levels of connection.
For Samantha of course it is all excitingly new, and it becomes obvious quite quickly that she, along with the other OS in the film – Amy embarks on a close friendship of sorts with her OS as the movie progresses – are possibly growing beyond the limitations of their initially thrilling relationships with their human users.
What is refreshing about the movie is that it posits these highly unorthodox relationships in the context of everyone's desperate need to feel as if they matter, as if their lives have some purpose and that someone will notice if their not around or not in contact.
It becomes immaterial to Theordore, until some unexpected kinks in the relationship crop up later in her, where this sense of being comes from as long as it is there.
That he is falls in love with Samantha is palpable and true but it is what drives this increasingly entanglement with his ever more human OS that is the heart of the story.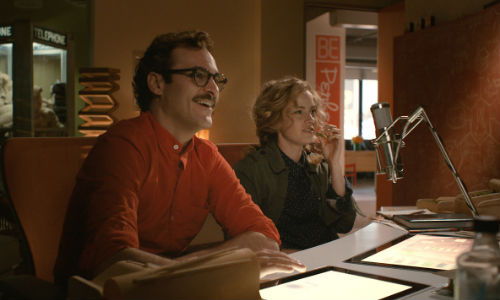 As events transpire though he is forced to confront the fact that he might just want all the trimmings of a relationship with none of the responsibilities or real commitment, a sobering realisation that has profound meaning for him when the course of his relationship with Samantha doesn't progress quite as he imagined it would.
The real joy of her is the fact that Spike Jonse has masterfully crafted a cautionary tale about the danger of living in the virtual world and foregoing the flawed delights of the real world that isn't a heavy handed polemic or grindingly pious entreaty about losing connectedness with the real people around you.
Rather it is at heart a soulful and thought-provoking tale of what it means to be human, in all its frustratingly messy, misstepped and quirky glory, and why connections matter so much.
her also encourages you to think long and hard about the kinds of connections you have and whether you are as present in them as you should be.
In the age of Siri, where we are increasingly being encouraged to live our lives online, it is a timely and nuanced reminder that relationships, real meaningful and rewarding relationships take a great deal of time and effort and can't simply be solved by the push of a button or the initiation of a virtual companion, no matter how lonely or disconnected you may be.