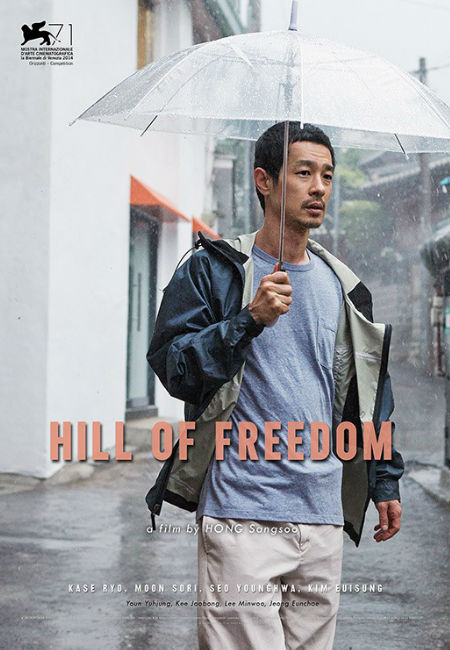 A very wise, enduringly articulate man by the name of William Shakespeare once observed that "the true course of love never did run smooth".
Given he took in his last breath some 400 years ago, it's highly doubtful he had Hill of Freedom, noted Korean director Hong Sang-soo's 16th feature film (though at 67 minutes it barely qualifies as such), in mind when he penned those words, but the wryly insightful sentiment is as applicable to this tale of love most complicated as it was, and still is, in A Midsummer Night's Dream.
Part of the complicated nature of love in this film ensues from the fractured non-linear narrative style Hong employs to tell the tale of lovelorn Japanese teacher, a suitably morose throughout Mori (Rye Kase) who returns to Seoul on a whim after an absence of two years to track down his one time language school colleague Kwon (Seo Young-hwa) who rejected his initial marriage proposal.
Unable to get over his own personal tale of love gone wrong, Mori is determined to finally win over the elusive Kwon over but his two week holiday in Seoul quickly morphs from a gallantly Romeo-esque to epically woo his lost love into a series of frustrating near misses, unexpected friendships, a desultory fling and the finding of a lost dog.
Not quite what the Mills and Boon doctors ordered, and Mori is suitably dejected, accepting on one of the final days of his stay to leave the undated letters he has written to Kwon over the course of fruitless stay at the college where they once both worked in the hope she will collect them there.
As luck, at long last, would have it, Kwon calls into the college, takes the letters in hand and begins to obsessively read them over one long afternoon in a cafe she loves, Jiyugaoka (Hill of Freedom), ironically a place that Mori has frequented while in Seoul as it sits near the guesthouse he is staying in.
The only problem with Kwon's binge letter reading is that she drops the bundle of Mori's missives on her way out of the college, throwing them into a confused jumble of non-chronological musings, leaving viewers with the tale of Mori and Kwon's will-they won't-they quest for love told from the order in which the latter reads the former's words.
While this might seem a daring and offbeat innovative conceit, idly suited to telling the messy course of love that may or may not play out as Mori would like it to, it ultimately results in a disjointed storyline where it's well nigh impossible to identify with any of the characters, their predicaments or their emotional engagements with each other.
You're left busily writing notes in your mind trying to connect the dots instead of losing yourself in Mori and Kwon's rather underwhelming tale which frankly is about as uninvolving as a love story can get.
Romeo and Juliet they most definitely are not, even if Mori's decision to fly to Seoul on a mission of love sweet love is sweetly inspiring on some level.
One thing that this most unorthodox of narrative flourishes does accomplish is to underline that love in the real world, where "friendship" with the puppy dog-friendly but desperately pushy nephew (Sang-won, played by Kim Eui-sung) of the proprietor of the guesthouse (Gu-ok, played by Youn Yuh-jung) where Mori is staying consumes almost much time as the pursuit of unrequited love itself, is marked by ennui and tedium, as banal as it is hopeful and excitable.
Mori starts out curiously upbeat about his prospects, daring to believe that convincing Kwon to love him for all time will be as easy as finding her at her home or her place of work and proposing once again.
But as he is drawn into a short fling with cafe owner Young-sun (Moon So-ri), and ends up on drunken nights out with a pennyless Sang-won, the director makes it clear through largely superficial conversations in English between the main characters and the use of flat, subdued lighting, that there is more disappointment and inanity than epic pronouncements of the sort of true love diehard romantics might have in mind.
In that respect, Hong succeeds in his mission to illustrate how easy it is for vaulting intent and searing hope to give way to nagging despair and pointless undertakings, that the prospect of sustaining love can all too often give away to the banality of day to day unfulfilling loveless life.
However all these profound, rather bleak sentiments, in which is hidden an unexpectedly upbeat ending, is almost lost in the awkward conversations, chopped up retelling of events and Mori's increasingly dour demeanour.
Shakespeare was right on the money when he observed that the road between the idea of love and its blooming realisation is rocky indeed, but I doubt even he thought it could turn out to be as emotionally disengaging and ultimately disappointing as Hill of Freedom.