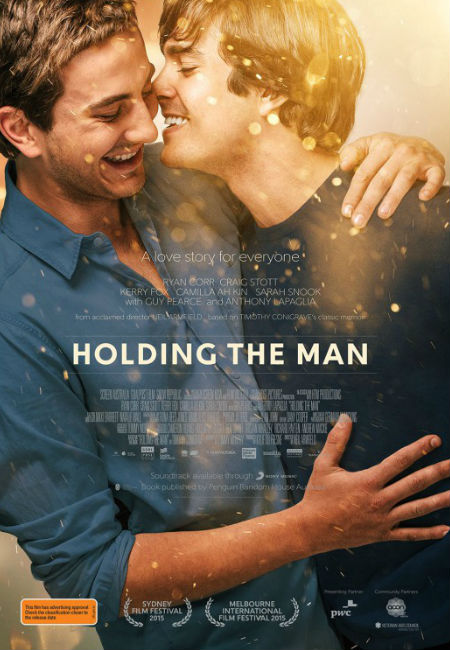 History, it has been often be observed, is written by the victors.
Or at the very least, by those who manage to outlast everyone else around them.
However, in the case of Tim Conigrave (Ryan Corr), the author of posthumously-published iconic memoir Holding the Man, now a deeply-moving film by noted Australian theatre director Neil Armfield from a script by Tommy Murphy, this truism has been profoundly upturned.
Rather than write himself in the best possible light, which could have been a temptation for a man who survived his partner, both of whom died from AIDS-related complications in the early '90s, by a number of years, Conigrave chooses instead to tell a warts-and-all story of love in all its tender, passionate and fallible glory.
With a title drawn from a prohibitive rule in Aussie football sport AFL, a reference in part possibly to the fierce act of loving someone whom society decrees you should not, Holding the Man is Conigrave's brave recounting of his enduring though flawed love affair with John Caleo (Craig Stott), whom he met when they were at the same Catholic college together in the mid-1970s.
The striking thing about this profoundly-meaningful memoir is that's unafraid to admit it's heartbreakingly possible to hurt someone deeply, almost irreparably, even when you love them with all your heart.
In that respect, and in so many other ways, Conigrave is unflinchingly honest, an honesty which carries through into Murphy's finely-tuned script which moves back and forth between defining events in the mens' lives with ease, willingly admitting that love is never as perfectly-realised as you envisage it will be at the outset.
In that respect, it's a quintessential love story full of desire, adoration, lust, excitement, expectation and disappointment; in other words, the full spectrum of emotions that come into play when anyone falls in love.
And given the way the love affair meet its untimely end, heartbreak and loss, particularly for Conigrave who must watch on in anguished regret as quiet, devoted John, the love of his life succumbs to AIDS, a victim of his more avuncular, restless partner's short-lived need to briefly sow his wild oats away for a short, later much-regretted time.
As a film documenting the love story between two men whose relationship came to fruition on the cusp of the AIDS crisis, Holding the Man is also a time capsule of the period, as much as record of social history as it is an intimate portrayal of a romance that survived more than its fair share of adversity.
Armfield and Murphy do a superb job of holding these two aspects in tension, never letting one subsume the other; in fact, while we are left in no doubt how agonisingly destructive the height of the AIDS crisis was for the gay community in general, the focus remains resolutely and rightly on Tim and John's attempt's to weather and navigate this most diabolical of storms.
That they don't, at least physically, is made abundantly clear from the start of the film when a grieving Tim, sequestered in Italy after Bob's lingering death, where he is writing his memoir, rushes to a pay phone to call high school friend Pepe Trevor (Sarah Snook), desperate to know where John sat in relation to him at the dinner party where they first kissed.
Simply and breathlessly executed, this scene, along with a number of others throughout the film, such as one towards the end where a critically-ill John comes home for and they make love for what turns out to be the last time, illustrates with minimal dialogue but an abundance of emotion, how much love, and sadly, its gnawing absence, can powerfully affect and define a person.
Tim understandably is frantic to remember every single detail of the time he and John spent together, fearing that forgetting anything will diminish it in some way, an eventuality he simply can't countenance.
It's a sensation that anyone who has ever loved, and then had to grieve its loss will be able to identify with, a universality that carries through to the conflicts that emerge with parents initially reluctant to accept their sons are gay – Anthony Lapaglia as John's father Bob is a standout in this regard – the push-and-pull of monogamy vs openness, the travails of long distance relationships and a host of other relationship issues.
It's not that Armfield and Murphy downplay the gay angle; that would be well nigh impossible and a disservice to a story that is resolutely and unapologetically about love between two passionately-devoted men; rather they seek, quite adroitly and with great sensitivity, to highlight throughout this most personal and unique of stories, that falling in love is the same for everyone, regardless of gender or sexuality.
That the same high and lows, sweet ecstasies and bitter disappointments are the same for everyone, a particularly important theme given the current debate over same sex marriage in Australia.
Holding the Man benefits from deftly used moments of offbeat Aussie humour, lighter and more flippant towards the start and darker towards the end, near-perfect, utterly believable chemistry between Corr and Scott, and judicious, evocative use of music from the '70s, '80s and early '90s, which lend added authenticity to the faithfully-recreated scenes.
Its greatest strength though is the unabashedly honest portrayal of Tim and John's much-cherished love story, and the way in which this is presented in the most heartfelt and sentimental of ways, without once dipping into mawkishness, reminding us, if we needed it, that love really is just love after all, no matter who you are.