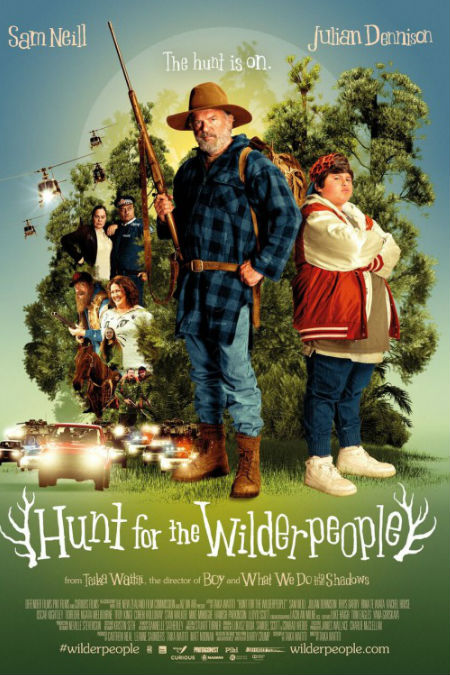 The need to belong is a fairly basic human imperative; it informs our drive to make friends, join clubs, fall in love and be a part of a family, among many other things.
And it is the beating heart and soul of quite possibly one of the most wonderful movies to come along in quite some time, Taika Waititi's Hunt For the Wilderpeople.
A film which has achieved the kind of watercooler status that few other movies in the modern era have managed, Hunt For the Wilderpeople celebrates with riotously mirthful and heartfelt honesty what it is like to find a place to belong and the lengths you sometimes have to go to hang onto it.
In the case of the energetically honest protagonist, Ricky Baker (Julian Dennison) who has yet to find an unedited line of thought of which he's a fan, it's quite a battle indeed.
Dropped off at the remote farm of the vociferously ebullient Bella (Rima Te Wiata) and her far more taciturn, almost perpetually grumpy partner Hector (Sam Neill), Ricky is almost immediately he has found a place where he most assuredly does not belong.
In the first of many joyously appealing visual gags, Ricky reluctantly leaves the police car under the hyper-vigilant eye of social worker Paula (Rachel House). who sees herself as occupying a far bigger and more glorified pond that she actually does, walks around the small weatherboard house with flaking paint that is his new home and, without a word being uttered, gets back in the car and closes the door.
It speaks volume about Ricky's driving need to preemptively head any and all potential disappointment, in a life littered by failed foster placements, group homes and a potential dumping into the juvenile system, none of which are places he ever truly felt at home.
But Bella, a woman of upbeat sensibilities who refuses to take no of any kind for an answer, cajoles him out of the car, aided or hindered depending on where you stand by Paula's humourously over the top stick-waving "encouragement", and embarks on a PR campaign, buttressed  by hot water bottles, birthday cakes and even a celebratory theme song, to win Ricky over.
It takes time, not helped in the slightest by Hector aka Hec refusing to having anything of substance to do with Ricky who, used to such knock backs, simply says "cool" and moves on, but eventually straight-talking Ricky, who consistently and hilariously tells it like it is with an unstinting honesty borne of years of having little to lose, and Paula find an accommodation and an understanding that this small, remote farm on the edge of "The Bush" – it is a character in and of itself and deserves the capitalisation – might be somewhere where it is worth belonging.
Of course life is no respecter of unsullied happy endings, and when tragedy strikes, Ricky finds himself back on the road to the foster care system and Paula's over-officious ministrations.
A series of events, all of which are triggered by Ricky embarking on a course of action for which little consequential thought had been entered into, lead to Ricky and Hec, the oddest of odd couples, spending months in The Bush, accidentally on the run from Paula, the police and some rather inept bushmen.
In some ways, this plays out much as you might expect, with the screenplay by Waititi, traversing the well-travelled opposites with nothing in common find they are family after all route, but it is so organically, authentically and with such emotional sensitivity and good humour, that it doesn't feel like some tired left over movie-of-the-week formula.
If anything, it utterly reinvigorates it, underscoring that the reason this kind of narrative trope feels so well-worn and over-used is that it's been done to death with little regard for the way in which real people would interact in this situation.
Granted, it's often gloriously over-the-top and more than a little silly (in the best possible way), but at its heart, Hunt For the Wilderpeople never loses sight for a second of the fact that, visual gags and hilarious oneliners aside, it is a moving story of two people needing to find a connection.
They may not know they need to, and at the start of their odyssey through The Bush, most certainly don't want to, but a connection is what they want deep down and what they end up gaining, unexpected allies against a world that hasn't, to this point at least, offered them much in the way of belonging.
Hunt For the Wilderpeople is quite simply a delight – a gorgeously clever balance of occasionally surrealistic quirk, razor-sharp dialogue by turns insightful, heartfelt and laugh-out-loud humorous, vibrant characterisation and an authentic sense of heart.
Where other films may tilt the balance too far one way or the other, ending up either too quirkily humourous and losing the emotional heft, or too serious to the point where any humour is expunged, the balance is always in evidence throughout the film which moves effortlessly between its two core elements, never letting either one swap its essential partner.
All of which gives us a film that leaves you laughing, crying and giving thanks to the cinematic gods that Waititi crafted a stellar screenplay (based on the book Wild Pork and Watercress by Barry Crump) and found actors as supremely talented as Neill, House and Dennison particularly, to invest their respective characters with a perfectly judged blend of humour and pathos.
It's eminently easy to see why Hunt For the Wilderpeople has been so successful quite apart from how beautifully it has been put together – it speaks deeply and meaningfully to the need all of us have to belong and to matter to someone while acknowledging that life can be a real bugger at times and can foul things up in ways we might never have imagined.
It's parting words though are that happy endings and finding someone you can make a home with are possible – just not with the people you expected, and often after the kind of journeys that might make you wonder if you'll ever reach the finish line.
That Ricky and Hec do, and that we are there to see it happen in all its delightful glory, is one of the supreme cinematic treats of the year, proof that even in our cynical age that the loftier, more optimistic aspects of the human spirit, gleefully and sensitively expressed, can still be a profoundly (and humoruously) affecting experience.