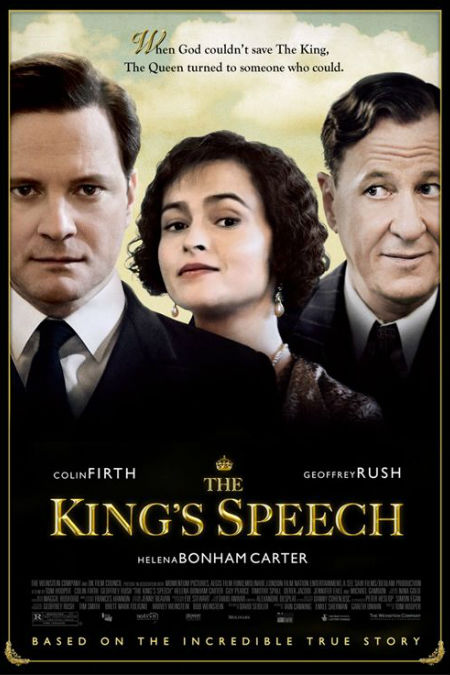 What a marvelous movie.

I had heard all the hype, read all the glowing reviews, and with actors of the calibre of Colin Firth, Geoffrey Rush and Helena Bonham Carter (playing, with great believability, a 'normal' character, for once; not that I don't like her weird oddball characters which are superb but she was becoming typecast and this was a refreshing change of pace) playing the main figures, it had to be good right? Still I approached the movie worried that all the talk of people giving it standing ovations meant it was doomed to be like Jurassic Park, which was all hot air hype when I saw it at the cinema, taking me years before I enjoyed it sans the hype.

Thankfully, the movie is superb.
It has wit, humour, gravitas, an excellent eye and ear for history, and believable drama all finely calibrated to tell the story of a man imprisoned by a very dysfunctional family's expectations, and then placed in a role he had never really expected would be his. Colin Firth is moving as a man trained to do the right thing but struggling with how to do once the moment of glory caught him in its spotlight, Geoffrey Rush's larrikin Aussie, was refreshingly down to earth, and heartfelt without being twee, and Helena's Queen Mum was a joy as the supportive, loving wife who would do anything for the man she loved. It may not be the best movie ever, but it is a brilliantly executed one, suffused with intelligent drama, heart and soul in spades, and a refreshingly warts and all look at a momentous time in history, centred on the struggles of very real people grappling with events beyond their expectations.

Well worth seeing.