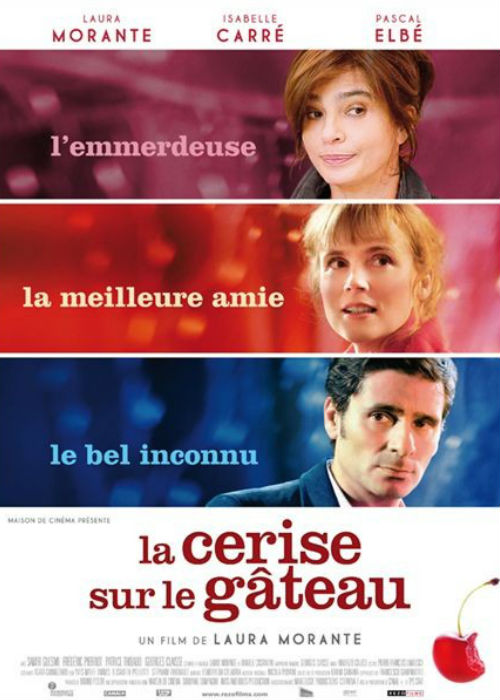 Love, they say, is a many-splendoured thing.
An admirable, impossibly romantic sentiment for most but not one shared by The Cherry on the Cake (la cerise sue le gâteau), a French romantic comedy that seems to regard love as more of a source of ongoing anxiety and complaint than anything else.
When we first meet Amanda (Laura Morante, who also co-write and made her acting debut with the film) she is in full flight, detailing a litany of grievances about her boyfriend Bertand (Patrice Thebaud) to her long-suffering but endlessly patient best friend Florence (Isabelle Carré, who is a sheer delight throughout) on a whirlwind shopping trip through the boutiques of Paris.
Diagnosed by all and sundry (with little medical diagnosis to back them up mind you) with "androphobia" ( a real psychological condition, apparently, that is defined as an abnormal fear of men), Amanda has a reputation for falling in love before finding anything, and it would seem from her complaints to Florence, everything, wrong with the man she is supposedly in love with.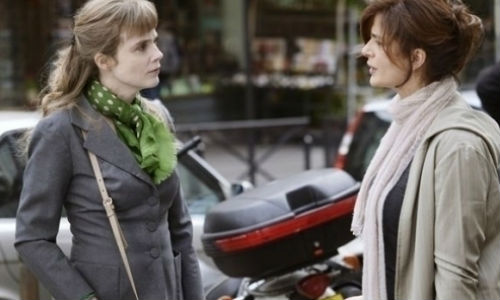 To be fair to Amanda, who is not a wholly sympathetic character spending much of the film with her face scrunched into a scowl, her current partner Bertrand is a thoughtless, unobservant man who after 12 months with her is blissfully unaware of her dislike for "gassy" drinks like champagne, or her decision to quit smoking at New Year's (hence his gift of a Dupont cigarette lighter is not at all apropos).
Even so, Amanda would not be easy to be in a relationship with, setting the bar of acceptable behaviour so high you would need to be a man of Olympian abilities to even come close to reaching it.
And, naturally, Bertrand, never does.
At the same time as Amanda is finding fault with her lover's every word and deed, sad-eyed but handsome Antoine (Pascal Elbé) is suffering through the dying days of his failed marriage and with the help of his often-exasperated psychiatrist, who does more talking than his patient, trying to understand why he is so unhappy in life.
Not that he seems to be putting much effort into his treatment preferring, it seems, morose reflections on life to active engagement with it.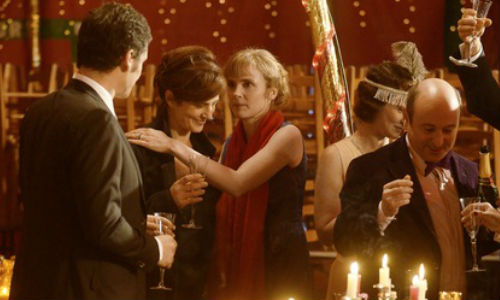 These two deeply unhappy-in-love, and one suspects in life, people meet at a glittering, intimate New Year's Eve event organised by Florence who tells Amanda that everyone coming along is with someone, bar one single gay man (Maxime, Florence and Antoine's co-worker, played by Samir Guesmi, who at the last minute can't make the party).
Abandoned by his wife at the last minute, a suddenly-unaccompanied Antoine is mistaken for Maxime, who Amanda has never met, and faced with the choice of sitting next to a lecherous married man or the stoically reserved "gay" Antoine, Amanda naturally chooses the latter non-threatening option.
Naturally, of course, the two hit it off superbly, enjoying a wonderful start to the new year together and only parting when Amanda reluctantly leaves to join Bertrand at his home.
After bumping into each other at a bar one night, they begin seeing each other all the time, with Antoine increasingly falling for Amanda who, still operating under the false impression that Antoine is gay, simply treats him as nothing more than a very close best friend.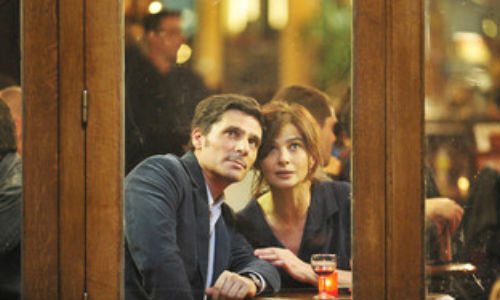 Why this farcical situation persists for so long is largely due to Antoine and Amanda's friends who conspire to keep Antoine's heterosexuality from Amanda, who is apparently unable to recognise a straight man when she sees him, in the hopes that she would grow so close to Antoine that she won't be tempted cut and run from him when she learns the truth.
It all sounds like a recipe for one of those riotous high camp farces the French do so well, and while the film is amusing and charming with some wonderfully crisp one-liners and funny scenes – Florence's conversations with her husband Hubert (Frédéric Pierrot) are a particular highlight – it fails to capitalise on this promising premise.
Rarely moving out of neutral, it is a rather tame affair, moving along with restraint rather than unbridled emotional chaos, almost as if Morante and her cowriter Daniele Constantini seem unsure of how to exploit a situation that is surely ripe with over-the-top comic possibilities.
While a few scenes try to make the most of this comedy of mis-assumptions – a visit to a gay nightclub where a clearly uncomfortable Antoine ends up locked in an awkward embrace with an amorous suitor while Amanda watches on in amusement works well to a point – they fail to fire as you would expect and leave the entire comedy-of-errors limping along with no real payoff.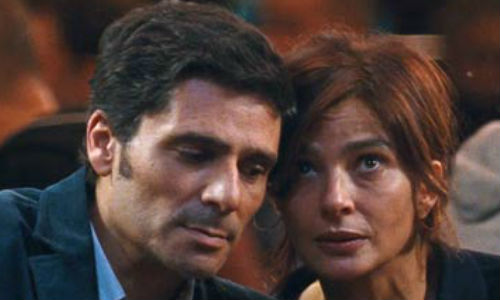 Amanda too verges on annoying more than neurotically-amusing, while Antoine, appealing though he is a sweet hangdog kind-of-way, verges on the pathologically morose and incapable of engaging with anyone in a meaningful way, let alone falling in love.
Despite those drawbacks, Cherry on the Cake does have a reasonable amount of appeal.
It is light and frothy and looks beautiful, shot in all sorts of appealing hues that render Paris as far more romantic than the characters who populate this particular version of it, and there are quite a few laughs to be had and secondary characters who bring much needed light and laughter to the film, and frankly despite it deficiencies, I actually enjoyed it.
But once the lights go up, you are left wanting more, caring very little by the end that Amanda does indeed fly, as rom-com law dictates, into Antoine's waiting arms (after, of course, the obligatory falling out when Amanda learns the truth about Antoine, and her friends' deception).
Like much of the rest of the film, it seems rushed and half-baked, leaving you feeling a little underwhelmed (although the final scene has one delicious, beautifully revealed gem that is worth the price of admission alone).
Yes love is reputedly a many-splendoured thing but if you use Cherry on the Cake  and the romantic travails of Amanda and Antoine as your reference point, you may well be forgiven for wondering why.