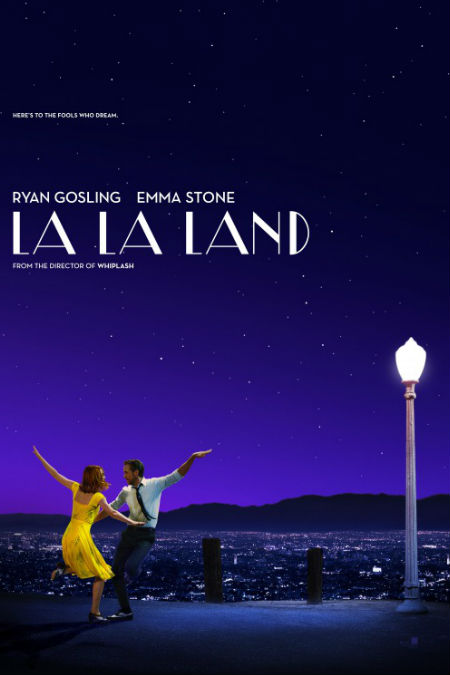 Ask most people what springs to mind when you mention musicals and you'll likely be peppered with words like "romantic", "fairytale", "escapist" and "otherworldly".
And it'a true that a lot of musicals do tend to live up to these word pictures, evoking a magical sense of wonder at the world that is often at odds with the banal reality of life.
But the really good musicals, the truly iconic ones, and La La Land is most definitely one of them, move beyond the luminous romanticism that is their bread and butter and examine life in all its multifaceted glory and disappointment, seeking to understand and explain the human condition even as their characters sing, dance and emote their way through a pleasing mix of songs and the spoken word.
La La Land, written and directed by Damien Chazelle and using the memorably gorgeous music of Justin Hurwitz, very much inhabits the grit and the grandeur, happy to evoke the beautiful retro feel of the golden age of Hollywood musicals but with an eye also on what happens after "And they all lived happily (and musically) ever after …"
Focusing on two up-and-comers in Los Angeles, a city of dreams which does not dispense their realisation with an equal hand to everyone, the film is all about passion – for your art, for other people and for life and whether it's possible to have them all inhabit the same short lifespan.
The answer would seem to be possibly not but the film never truly rules it out, giving aspiring actress Mia Dolan (Emma Stone) who grinds through soul-destroying audition after energy-sapping audition on her quest for the legendary big break, and Sebastian Wilder (Ryan Gosling), a jazz purist who dreams of having his own jazz club one day in an age when the musical genre is not as popular as it once was, every chance to have it all, and then some.
After all isn't that what musicals promise – grabbing hold of the impossible, the daring and the dreamily magical and making them your own?
La La Land, armed with an impossibly exquisite musical score that wafts in and around every scene, sometimes subtly, other times gloriously bombastically, certainly gives the impression that it will grant every wish going.
The opening scene, which features people in eye-catchingly bright primary colours singing and dancing next to and on top of cars on a freeway, establishes that even the most ordinary of things, such as being caught in a traffic jam, can be magical in the right circumstances or with the right mindset.
Of course, that magic can't last forever and it's not too long before honking horns and upraised fingers replace merriment and synchronised song but for one brief perfect moment you believe anything and everything is impossible.
It's a spirit that continues on into the film when Mia, who has already encountered Sebastian in less than ideal circumstances wonders into the jazz club where he is being forced by the owner Bill (J. K. Simmons) to play conventional arrangements of Christmas carols against his artistic will, to hear Sebastian free forming on a jazz piece that hits her to the core.
It's a meeting of hearts and minds but it's some time until the two characters, who enjoy a chemistry on par with Astaire and Rogers and other great musical pairings from the classic Hollywood that Chazelle clearly draws inspiration from, come together as the couple we know they are destined to be.
Effervescent, free spirited Mia, who decides to stage a one-woman play which will either make or break her and rigidly focused, uncompromising Sebastian are very much a golden couple, two people hunting for their big break, that they can pursue alone and together.
But when Sebastian accepts a job with the jazz fusion band The Messengers fronted by an old high school friend  Keith (John Legend), which involves him suspending his dream in return for a paycheck in addition to extensive touring which takes him far from home, you begin to wonder if Mia and Sebastian can survive this inimical mix of heady aspiration and in-your-face reality.
No reveals on that front of course, but La La Land goes to a great amount of trouble to make you believe that if anyone can make it work, it's these two starry-eyed people.
From dates that have them dancing atop and through the starlit sky of the Griffith Observatory to a dance sequence on one of the hills that ring Los Angeles, a view that both admit is not the best – although cinematographer Linus Sandgren does a brilliant job of giving grace, beauty and possibility to a city known more for concrete than the ideal backdrop for a musical – the film seems destined to give both Mia and Sebastian their wildest, most heartfelt dreams, and each other.
But life is fickle, cruel and far too limited to accommodate everything so even in the realm of deliciously hopeful possibility that exists through much of La La Land, you're never entirely sure if all their wishes will come true or just some of them.
It's this balance of wonder and romantic hopefulness inherent in musicals generally, and a more jaundiced, realistic view of the world that gives La La Land, which is never short of sparkling soaring joyful escapism, it's grounded yet enchanted air (one so rarefied you feel like skipping out of the cinema).
Together with Stone and Gosling's ability to utterly and gloriously their characters, singing, dancing and emoting like there's no tomorrow, it gives La La Land a muscularity than many musicals lack despite their best efforts.
This is magic with bite, a film with one eye on the endless wonders of the world and another on the sobering realities of life that never puts a foot or a note wrong, daring us to go live out our dreams while gently reminding us that, no matter how passionately we pursue them, that they may not play out quite as we expect.