Life is not a kind master on many levels.
But perhaps it takes its greatest toll on the close relationships which define us and give us a sense of time and place and belonging, no matter how hard we fight to keep them fresh and vital.
Nick and Meg Burrows (Jim Broadbent and Lindsay Duncan), back in Paris for an intended romantic weekend to celebrate their 30th wedding anniversary – they honeymooned in the city all those many years ago – are exhausted from the effort of keeping the flame of love alive.
Though they still clearly hold deep affection for each other, and maybe even some echoes of love, the romance has long since departed, consumed by the business of simply living.
When Meg asks Nick after yet another of the tetchy mini verbal wars, many studded with amusing wisecracks and observations, that define their weekend away, where it all went wrong, he matter of factly remarks "Life happened".
Worn down by his job as a Professor of Philosophy at a lower grade university in Birmingham (he once taught at Cambridge), and a son who seems unable to progress to true, well-functioning adulthood, the bon vivant Nick of years past has retreated into an ever tinier, and well policed world defined by the presence of his wife Meg, his home and a dwindling number of hobbies and interests.
He admits to Meg at one point that he has a "looming sense of abandonment" and is terrified that his wife, demonstrably tired of keeping her eager to break the boundaries world within the orbit of Nick's beaten down ambitions, will walk away one day, reducing his world still further.
Meg, for her part, does flirt with the idea of leaving Nick to his own devices, frustrated that he needs her as much as he does, and annoyed that instead of planning epic adventures into the unknown, that he is circling the wagons and anxiously checking that no one breaches the walls of his well-secured life.
No where is this better illustrated than when they arrive at the hotel they stayed in years earlier to find it's not quite as romantic as they remember it.
Declaring it all "too beige" for her changed tastes, Meg races out of the hotel, Nick desperately in tow, and jumping in the first taxi at hand, sends them on a whirlwind race around Paris to find a hotel that fits with her ready to explode need for some unplanned fun and romance.
Nick, of course is deeply unsettled by all this, and though he tries to keep up with his wife newly emerging lust for a more exciting life, its clear he simply wants things to conform to his now limited vistas and stop acting with so much unpredictability.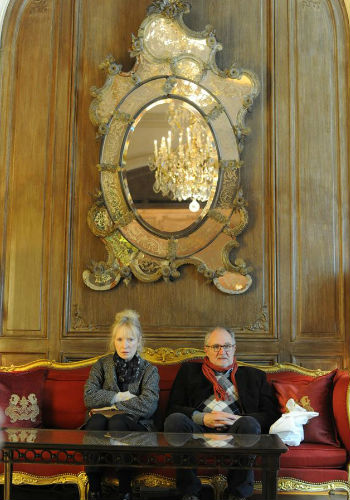 Director Roger Michell (Notting Hill), the feel good idelaist, and screenwriter Hanif Kureishi, the more cynical of the two long standing friends, have perfectly captured the yin and yang of untended long standing relationships, whether marital or not, where, in the words of one of Nick's students who finds and greets them enthusiastically as they wander bickering through the streets of Paris, your friend or partner can "see straight through you."
The thrill of discovery is long gone, any sense of novelty replaced by ennui and life has settled into such a deep groove of repeated experiences that it's almost impossible to see over the edge into anything that might reinvigorate the moribund bond.
It's clear that both Nick and Meg, whose dialogue flows with the pulse and highs and lows of real everyday conversation, want to find a way through to a renewed state of coupled being but Meg particularly is defeated, uncertain of the way to that fine and mystical place and increasingly wondering if its worth the effort.
She is also determined to have her fun, often at Nick's expense, not setting out to be deliberately cruel, simply tired of observing the stultifying rules of the polite, joy strangling behaviour that has come to define their marriage.
If that makes Le Week-end sound like a depressing slog through the muddied embers of a dying relationship, it's actually and surprisingly anything but.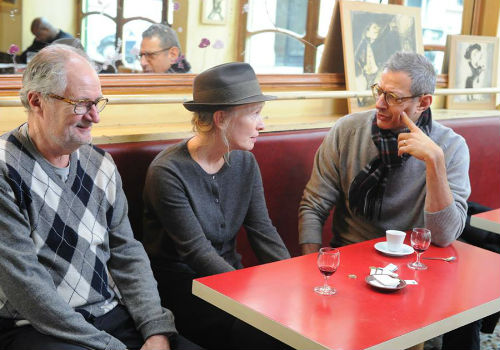 Both Broadbent and Duncan sparkly as a couple who retain enough empathy and sense of intimacy that their conversations, fraught though they often are, are just as likely to be punctuated by laughter as accusation, a shared joy at the absurdities of life as accusing words exchanged in simmering anger.
There is tension aplenty certainty but as Meg admits after a highly charged and intensely amusing night out at Morgan's perfectly appointed Parisian apartment that he shares with his new much younger wife, who still believes in fairytale romance with all the trimmings, she still likes her Nick.
It's that admission that sets the couple on the road to some sort of rapprochement, with Paris, a city of which great romantic expectations are often held working its magic, although not in the way either of them expected.
Quite where the road leads isn't certain, although it looks hopeful, but it's the road they take in 48 sometimes funny, sometimes highly charged and desperate hours marked by the iconic tourist landmarks of Paris,and all the culinary and cultural trappings you expect to see in a film such as this, that charms and delights despite the weighty subject matter.
Yes life might be a difficult, sometimes cruel master, but it does not hold all the cards, as Nick and Meg discover to their unexpected and life changing delight.