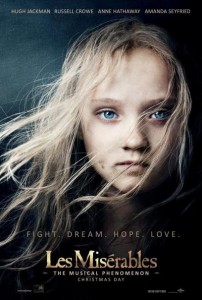 In a world where suffering accosts us around just about every corner, Les Miserables is a reminder that hope is possible, though it must be tenaciously clung to, in even the most dire of circumstances.
The graphic realism of Academy-Award winning director Tom Hooper's impressive screen adaptation of the hit Broadway musical (based, of course, on Victor Hugo's moving 19th century novel) though, may have you wondering how anyone manages to remain hopeful when the odds are stacked so heavily against them.
But remain hopeful they do, even when adversity, willful enemies and soul-destroying despair are their constant companions.
And it is the evocation of these slim tendrils of hope that are realised most profoundly in this gripping big-screen adaptation of the musical.
And the person who brings them to life with a fierce passion born of a desperate fight for survival is Anna Hathaway, whose all-too-brief Oscar-worthy performance as the blighted Fantine is arguably the highlight of a movie filled to the brim with mostly stellar portrayals.
As she sings "I Dreamed a Dream" amidst the detritus of another tawdry sexual encounter with a callous man in the bowels of one of the many ships lining the docks of Montreuil-sur-Mer, her voice breaking along with her heart, you can't help but be convinced you are witnessing the death of any lingering hope she may have had.
But then Jean Valjean (Hugh Jackman), aka Monsieur Madeleine reformed criminal and mayor of the town, and himself the recipient of great mercy by Bishop Myriel of Digne (played by Colm Wilkinson, who was the original Jean Valjean in the Broadway and West End productions of the musical), and thus a renewal of hope, comes along and scoops up Fantine before that last sliver of faith in any sort of worthwhile future, no matter how short-lived, can be extinguished.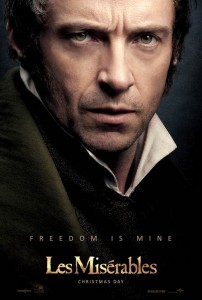 It is a powerful scene, redolent with Fantine's justifiable anger at being fired from one of Jean Valjean's factory which led to her bitterly despised life of prostitution, and Jean's almost unquenchable grief at being the one, however indirectly (it is his foreman who does the firing), responsible for her current situation.
But reparations are made, Fantine's final days are spent in a comfort denied her previously, and Jean Valjean's undertakes to care for her daughter Cosette (the product of a brief love affair with Felix Tholomyes some years before) whom he must rescue from the clutches of the Thenardiers (played with comic delight by Sacha Baren-Cohen and Helena Bonham-Carter), cruel, avaricious innkeepers, who see Cosette as cheap labour and nothing more.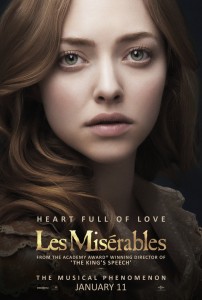 Along with their cruelty, they are also stupidly short-sighted, robbing each and every guest to their tavern of their valuables, and dignity while plying them with stupendously excessive amounts of alcohol.
It takes quite a bit of effort and money on Valjean's part to liberate a grateful Cosette from the Thenardiers' "care" – both Baron-Cohen and Bonham Carter strike the right balance between levity and ugly humanity, leavening what is, for much of the time, an unremittingly grim tale – but liberate her he does and she grows to call him "papa", and years later, fall in love with another hopeful figure, revolutionary Marius (Eddie Redmayne), who only survives his vigorous assault on the power of the newly resurrected monarchy thanks to the shepherding hand, again, of Jean Valjean.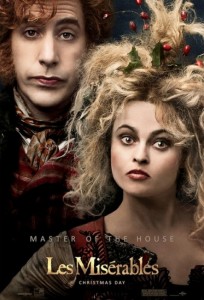 Standing in the way though of Valjean's tenacious attempts to keep the flame of hope alive for both himself and those who loves, is Inspector Javert (Russell Crowe) who is driven not so much by an innate sense of justice, as a need to avenge his shameful start in life as a child born to a prisoner.
Played with stoic fortitude, and touching vulnerability by Crowe – whose ability to convey the torture of his inner demons through his facial gestures alone is masterful – Inspector Javert is a man who is, it seems, determined to deny anyone else a second chance at a worthwhile, meaningful life, especially Jean Valjean who has succeeded despite Javert's best efforts to stop him.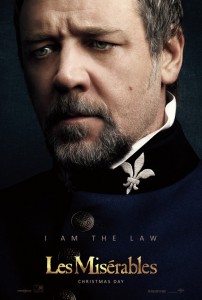 Crowe, along with everyone else in the cast, powerfully conveys the sense of people grappling with the endless cruelty of life's inequities, which visit all regardless of class or assets (though the poor outwardly suffered far more greatly of course), and their often desperate attempts to hold on to some semblance of hope, if only to keep the insanity of despair at bay.
And given this is a musical, their singing (which was all done live during filming), for the most part matches the emotionally-powerful acting.
Alongside Hathaway's Fantine, both Samantha Barks as Eponine (the Thenardier's daughter, who by some miracle emerges as a woman of great character, possessed by an unrequited love for Marius who has eyes only for Cosette) and Eddie Redmayne as Marius sing with all the passion and pain you would expect, bringing their characters powerfully to life.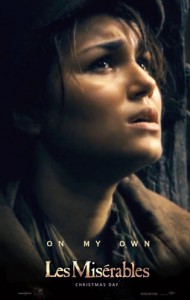 Alas, not everyone is as fortunate.
Hugh Jackman as Jean Valjean and Russell Crowe, fine, evocative actors both, fail to truly invest their singing with this same passion and pain.
Jackman fares better, matching the agonies and joys of his characters rise from criminal rags to imperiled riches with a voice that largely conveys what it needs to (though it does not possess the emotional resonance of Hathaway's or Barks' voices).
Crowe however simply sings well, which while technically acceptable – he doesn't deliver one off key, in his defense – is not enough in a part that calls for the conveying of an inner torture so profound that when kindness is shown to him, he is unable to handle it in a way that he can live with (leading to one of the most gruesomely realistic scenes in the film).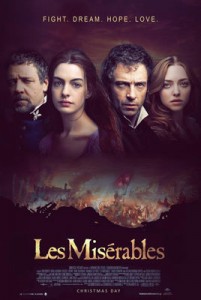 This lack of the sort of vocal prowess that these parts frankly call for, uncovers one of the other few shortcomings of Les Miserable, which is its preference for the operatic style of musical, which is where all the lines of dialogue are sung rather than spoken.
While it works well in some scenes – those involving Fantine, and the inn  scenes with the Thenardiers for instance – others scenes, particularly those involving Javert and Valjean, would have benefited from these talented actors being allowed to deliver the dialogue with the necessary spoken vigour.
Crowe especially, who brings to the character of Javert all of the gravitas you would expect an actor of his calibre to deliver, would have been allowed to shine in all his glory if the dialogue has been spoken, not sung.
But these shortfalls aside, Les Miserables is a rich, emotionally-charged adaption of the hit musical, marrying theatricality and gripping realism to great effect, and conveying all the sadness and pain, and the desperate hopeful longing of those who should have long given up the fight, that will barely leave a dry eye on the house.