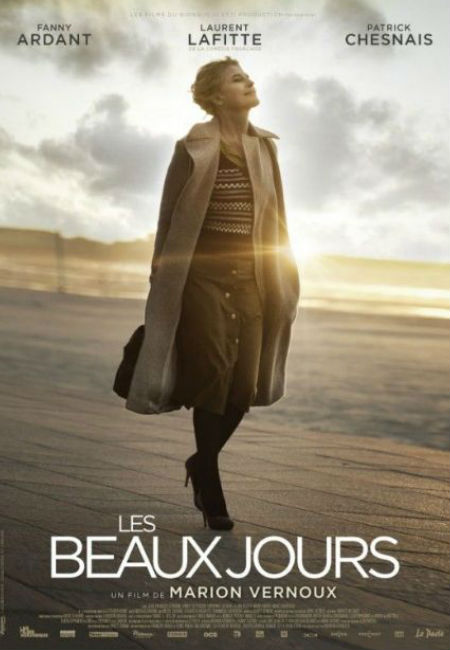 Engrossing drama is not always made up of epic moments or tectonic shifts in sentiment.
In the case of Marion's Vernoux's engaging slice of life film Les Beaux Jours (Bright Days Ahead), it's composed of a series of quiet, if momentously important, events in the life of Caroline (Fanny Ardant), a 60 year old recently retired dentist, adrift in life and depressed after the death of her best friend Anne five months earlier.
Her daughters are convinced that all she needs is a new hobby or two, such as yoga or pottery, to pull her free from a funk that sees the previously assured host serving pizza at dinner parties and listlessly following her grandson through their "sacred" Wednesday afternoons together despite loving life as a grandmother.
So feeling impotent, and you have to suspect looking for a guilt-cleansing solution that involves as little disruption to their busy lives as possible, they purchase Caroline a trial offer at a seniors club Bright Days Ahead, where she will apparently find some sort of salvation among computer classes, wine tasting and windswept landscape appreciation classes.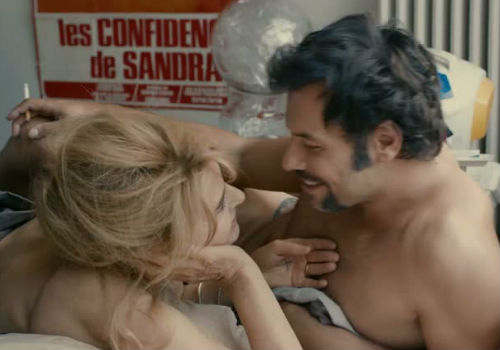 Her affectionate, if distracted husband (and fellow dentist) Philippe (Patrick Chesnais), who is as exhausted by the march of time as Caroline but too busy to fully acknowledge it, dismisses the idea as an ineffectual remedy to Caroline's ennui, but wanting to keep her daughters happy, the still glamourous wife and mother goes along to see if salvation can be found emoting in a class of amateur thespians.
It turns out it can't, at least not for Caroline who is vaguely of something, anything to lift the fog of mourning and rudderless living that consumes her, again not in any dramatic way but in a slow leaching of joy in the increasingly banal day to day business of living.
But as she takes course after course, and becomes friends against all her expectations with the eclectic and delightful idiosyncratic crew of seniors also in search of some sort of form to their days, she meets handsome playboy Julien (Laurent Lafitte de la Comédie Française), computer class tutor and a man who has yet to meet a woman at the club he doesn't want to bed.
Knowing exactly what it is she is signing up to, Caroline embarks on a less than discreet affair with the "good for nothing" (his words) Lucien, who seems as rudderless as her in many ways, even taking him to a restaurant that she and her blithely unaware husband habitually frequent.
It's hard to tell if Caroline wants to get caught or not but she doesn't go to great lengths to hide her indiscretions, even leaving a dinner party at one point to tend to her depressed friend Jocelyne (Marie Rivière), a fellow Les Beaux Jours habitué, who is genuinely not handling her husband's infidelity all that well.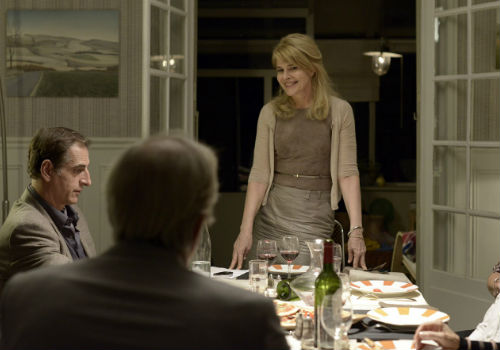 Caroline all but guiltily looks over her shoulder as she's leaving, desperate for something new and diversionary but not quite sure what she should be doing it.
That she attains a certain measure of happiness is beyond doubt but she soon begins to wonder if it really what she wants and what she might lose in the process.
What makes Les Beaux Jours such a quietly satisfying film is that Vernoux doesn't attempt to mould these great existential questions into some overwrought melodrama to be addressed in screaming matches, overly articulated arguments and spectacular rupturing of relationships.
Rather she allows them to play out much as they would in real life with clumsy missteps, guilty dalliances and awkward conversations the order of the day.
Lucien is neither portrayed as a feckless Lothario or an Adonis come to sweep her off onto a white horse that they will ride off into the proverbial sunset together, nor is husband Philippe a powerless cuckold devoid of love for his wife, uncaring and unfeeling.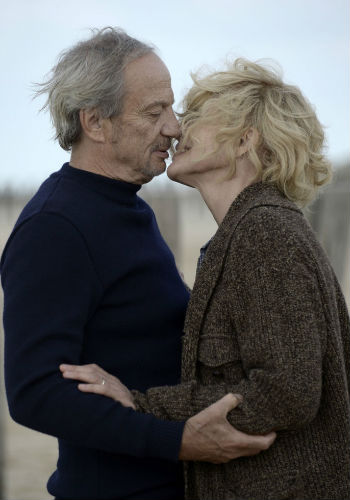 In fact it's the way that Vernoux portrays Caroline's husband that is emblematic of the film as a whole.
She takes great care not to render him as a character worthy of being discarded, which would be tempting as it would automatically makes Lucien, whether he deserved to be in this light or not, as some kind of noble man taking Caroline away from all her troubles or woes.
Philippe is in fact rendered as a wholly sympathetic everyman, lost in life in his own way, but too career-focused or unwilling to see it, a man who loves his wife and wants more from his increasingly sunset-hued existence but like Caroline, unsure what that is.
The relationship between Caroline and Philippe is a loving and robust, if fallow one, stronger than it appears, and it's against this bedrock of strong emotional bonds, that the affair and its eventual reveal plays out, without any of the sudsy melodrama lesser directorial hands would be tempted to add to it.
There's no doubt some will see this unassuming drama as underplayed or not fully realised but that would be missing the point.
The point of Les Beaux Jours is that comings and goings of life, no matter how impacting they may be, are never as dramatic as we think they're going to be, and that the truly meaningful moments can fall quietly into the humdrum of life and play themselves out even as we eat, sleep and wonder what the hell it is we want to do with our lives.