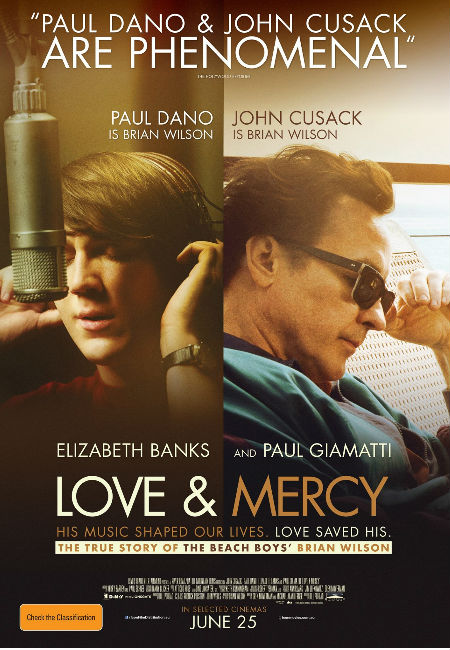 In the best of all possible worlds, biopics should be the most personal and affecting of film genres.
After all, they tell the story, either whole or in part, of some extraordinary person's life – their highs and lows, triumphs and defeats, an exemplar of humanity writ large for us to marvel at, to weep for, to be cautioned or inspired by.
And yet all too often, consumed with connecting the chronological dots far more than showing us the real person (or as close as a recreation can get us) who lived in those moments, biopics fall short, pale imitations of the life itself, stripped of all the things that made that life so affecting, so deeply personal, a series of events with no real power to move us or instruct us.
Thankfully there are some stellar exceptions like Bill Pohlad's Love & Mercy, an imaginative, insightful and emotionally-evocative recounting of two seminal periods in the life of Brian Wilson, the undeniable creative genius behind The Beach Boys.
Played by Paul Dano and John Cusack, who bring us the Brian Wilson of the 1960s and 1980s respectively, two periods when one of the most creatively fecund people who has ever worked in modern popular music was at his zenith and his nadir respectively, Love & Mercy effortlessly grants us insight into the man himself in ways far more nuanced and clever than most biopics ever manage.
Working off a finely-wrought screenplay by Michael Alan Lerner and Oren Moverman, the film sensibly concentrates on just these two periods in Wilson's life, both of which illuminate the man far more than the personality, the wounded individual struggling to be allowed to live life on his own terms rather than the celebrity of legend.
Allowing for the fact that as in any biopic some creative liberties were taken with both people and events – drama, even of the most authentic kind, is not averse to rearranging the emotional and chronological chess pieces of someone's life if it suits its purpose – Love & Mercy does a fine job of allowing us some small glimpse into the soul of a man who only ever really wanted to be able to tell someone, someone who didn't want anything from him, that he loved them and to know they loved him back.
That may sound fantastically hokey, a theme more suited to a weepy movie of the week playing on daytime TV than a resolutely nuanced biopic but in the hands of Bill Pohlad, who told the Los Angeles Times in 2011 that "What we want to do is let you experience the story in a personal way", it works and works brilliantly.
The Brian Wilson we see, both in the lead-up to the recording of Pet Sounds in 1966, now regarded as one of the most important albums to ever be released, and in the disastrously fallow period that followed in the 1980s when the mental illness and drug abuse that plagued him at the height of the Beach Boys had taken their toll.
Keeping a foot in both decades, between which the film successfully switches throughout without any sense of jarred narrative, Love & Mercy keeps us focused on a man who simply wanted to be left alone to do his thing, but who was instead pushed and pulled in various directions by a slew of people, some who did so innocently, others manipulatively, all of whom wanting something from him.
Chief among them were Wilson's abusive father Murry (Bill Camp), who as most famously fired by the band as their manager, and the rest of the Beach Boys themselves, Wilson's younger brothers Dennis (Kenny Wormald) and Carl (Brett Davern), cousin Mike Love (Jake Abel) and high school friend Al Jardine (Graham Rogers) who simply wanted to keep being as successful as they had been in the band's 1962-1965 heyday.

Pressure from Mike Love aside, who, like pretty much everyone else missed the then unknown telltale signs of creeping mental illness in the Beach Boys' chief composer, Wilson was constantly urged to keep creating sunny surfing songs when all he was moving beyond to far more intricate, introspective forms of musical expression, one that culminated in Pet Sounds and many years later in 2004m SMiLE.
Years later though with the Beach Boys largely a famous relic of a bygone past, and under the domineering control of therapist Dr. Eugene Landy (Paul Giamatti in full unhinged tyrant mode), who kept Wilson heavily over-medicated and micro-managed to a deeply troubling degree, he was as imprisoned as ever and no closer to any real kind of freedom of creative expression.
Enter Cadillac salesperson Melinda Ledbetter, an unassuming woman who wasn't even aware she was talking to the musical heart and soul of the Beach Boys when Wilson wandered into the dealership one day to buy a car.
Declaring to Melinda via a hastily scribbled note on her business card that he was "Lonely, Scared. Frightened.", Wilson very quickly opened himself up to Melinda who found herself falling for a man revered by many but never really in control of his own destiny.
The brilliance of Love & Mercy is that it doesn't attempt to set Wilson as some kind of blighted saint; simply as a extraordinarily gifted musician and fallible man who had to battle abuse, a troubled childhood, mental illness and his mistreatment by others to finally get to the point where he was able to live life on his terms.
That it does so without cloying sentimentality, histrionics or melodrama and leaves us feeling as we know the man behind the myth, at least in very small part, stamps it as one of the most literate and affecting of biopics to come down the cinematic pike in some time.