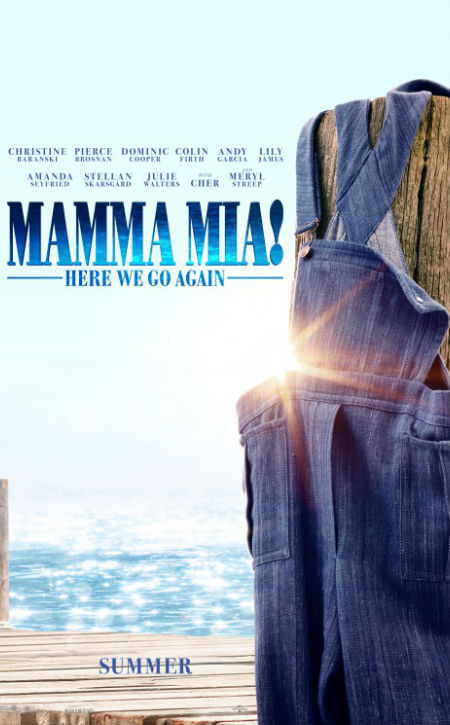 Like most brilliantly-executed pop songs, the songs of ABBA have always possessed a beguilingly lyrical storytelling quality.
There is the angst of remembered lost love in "Our Last Summer", the exuberant romantic  victory of "Waterloo" and the warning about players in love in "Angeleyes", and a thousand other tales of love found, lost and mired somewhere distressingly in the anxiety-plague middle ("Should I Laugh or Cry").
So it made perfect sense in 2008 that the sublimely-infectious songs of Benny Andersson & Björn Ulvaeus, sung with exquisitely-beautiful harmonic and emotional resonance by the immeasurably talented Agnetha Fältskog and Anni-Frid Lyngstad found their way into a musical, aptly named Mamma Mia! after one of ABBA's most joyously upbeat, and well-known songs.
Unless you have been living under a rock constructed on Volvo spare parts and IKEA castoffs, you would no doubt be aware that this musical, sporting a screenplay by Catherine Johnson, has gone on to great success around the world, a fixture on stages everywhere and a deserved candidate for a sequel.
Which it now has in the luminously catchy form of Mamma Mia! Here We Go Again – Exhibit A of where a lyric penned 40 plus years ago has made a damn fine title – that rare case of a sequel going on to eclipse its parent.
This is not to say that the first film wasn't highly enjoyable; it arguably is, or millions of people around the world would not have flocked to it, or continue to do so.
But where Mamma Mia! felt a little too forced, in movie form at least – the stage versions seem to be more limbre and artistically athletic in a way the first film never quite managed – its follow-up is a quintessential musical to its very song-filled marrow, all frothy ups and downs, comedic quips and introspective musings, set to some of ABBA's biggest hits ("Waterloo", "Dancing Queen", "Fernando" and "I Have a Dream" and many of their lesser lights ("Name of the Game", "One of Us" and "Kisses of Fire"), which are by no means poorer songs (far from it) but rather not as well-known, if at all, by those outside the still-enthusiastic, ardently-supportive ABBA fan base.
As with all musicals, of course, the storyline is brief and insubstantial, a servant to the songs which is as it should be; the genius is that Ol Parker's screenplay, to a story by Catherine Johnson, Richard Curtis and yes, Ol Parker – he also expertly directed the film with a winsomely light touch but keen understanding of epic, meaningful set pieces – never feels slight and underserved.
This is because the songs and the spoken scenes between feel like they're part of a vibrant, heartfelt organic whole, a sensation aided and abetted by the willingness of Andersson and Ulvaeus, who both make enjoyable cameos, to tweak the lyrics, or wholesale change them in parts to serve the narrative.
It means that there's no sense, as there was with the first film, that the narrative has been built up around the songs, an artifice where the songs tale is very much wagging the dog; in Mamma Mia! Here We Go Again by contrast, it feels like the songs and the screenplay were written at the same time, two parts of a simultanously whole creation that were always meant to go together.
Fans rusted-on and recent know this is not the case, of course, with the songs having been recorded and released during ABBA's first active phase in 1972 to 1982, but if you were oblivious of this fact, and treated the sequel on its merits as a musical alone, it feels like Andersson and Ulvaeus sat down with Ol Parker for a few months in 2017 and collectively wove their considerable magic.
That's how joyously rich and warmly transportive the film feels; you can't help but walk out of the cinema, ears ringing with the most finely-crafted of pop candy, heart buoyed by love remembered, mourned and re-established and your soul renewed by the sense that life might be a contrary nasty beast at times but it can be tamed, or at least mollified somewhat by music, love and a profound sense of belonging.
And honestly, isn't that what we all want from a musical? To feel renewed, bouyant and affirmed in our sometimes futile-feeling sense that life has so much more possibility than the doomsayers and lost souls of the world would care to admit?
There are particular scenes in the film, which splits its time between the modern day where Donna (Meryl Streep)'s daughter Sophie (Amanda Seyfried) is working to turn her mother's villa on the Greek island of  Kalokairi into a high-end boutique getaway, and 25 years earlier when a wanderlust-filled, life-expectant Donna (played by Lily James with blissful abandon) meets the three men who could be Sophie's dad (Harry, played by Colin Firth now, Hugh Skinner then, and Bill, played by Stellan Skarsgård now and Josh Dyland then, and Sam, played by Pierce Brosnan now and Jeremy Irvine then), which are prime contributors to this delicious sense of post-cinematic bliss.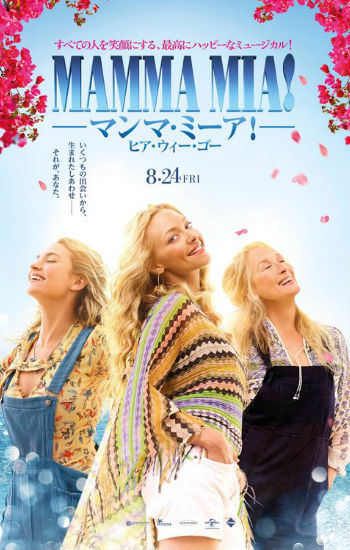 The opening where a young Donna turns her college valedictory speech into a epically-choreographed celebration of tertiary romance ("When I Kissed the Teacher") is the perfect kick-off to Mamma Mia! Here We Go Again, the closing credits with everyone, old and young, joining in a rousingly infectious rendition of "Super Trouper", and the arrival of the boats, and much needed guests and partygoers to Kalokairi, to the quintessential pop perfection of "Dancing Queen" (if you're going to arrive anywhere in style, this is the song to do it too) are all examples of how far the sequel has come from its still very-good predecessor.
So too is the scene involving the use of "My Love My Life", the details of which shall go unremarked upon in the interests of spoiler avoidance, which is a exquisitely-beautiful song by any measure but is given even more affecting fragility and life truth by its just-so placing in the film's final act.
Not only does the storyline and choreography seem more fluid and expressive, but the film balances the old and the new to maximum effect, enriching what we already know about the characters including Donna's besties, Tanya (Christine Baranski now, Jessica Keena Wynn then) and Rosie (Julie Walters now, Alexa Davies then) while adding more layers including the appearance of Sophie's once-negligent grandmother Ruby (Cher, who knocks it out of the park with "Fernando" and "Super Trouper") and the return of Sky (Dominic Cooper) to his wife's side.
It may sound like there's a lot going on and yet there is and there isn't; pleasingly the story never feels too over or underdone with each time period, each couple and each circle of friends given their time breathe and express themselves and contribute to the energising feelgood spirit of one of the best musicals to emerge in recent times.
The triumph of Mamma Mia! Here We Go Again from its giddily-possible start to its happily-ever-after finish, and through its mix of zippy oneliners, insightfully introspective observations and heartachingly moving and bouyantly-lighthearted scenes, is that takes the innate storytelling prowess and singability of ABBA's superlatively-good catalogue of pop classics and makes them feel part of an even greater whole, as if they were always meant to be there, and maybe they were if you follow young Donna's optimism to its fulfilling possible end point, in the process gifting us an affirmation of the importance of life, music, love and belonging in everyone's life, no matter who they are, where they've come from or where they finally call home.