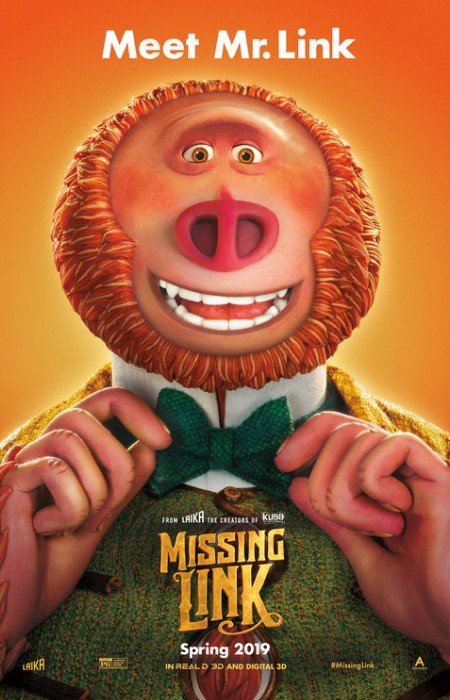 Among the great animation houses of our time, there are four nearest and dearest to this reviewer's heart – Pixar, Aardman Animations, Studio Ghibli and Laika, who have gifted us with the inestimable delights of Coraline, ParaNorman, The Boxtrolls, Kubo and the Two Strings, and most recently, Missing Link.
Laika, an American studio based in Oregon which specialises in stop-motion animation, has shown a real talent for imbuing its carefully-crafted animated wonders with real humanity and an emotional resonance so pronounced that its' well nigh impossible not to be moved by their thoughtful, densely-rich stories.
While there has been a reaosnable amount of humour woven into its tales, which often tend to the quirky and the offbeat, they haven't ever produced an entire feature where comedy came right to the fore.
Until now, of course; Monster Link is a marked departure for the animation studio, elevating humour, both verbal and physical right to the centre of proceedings, a change of tack that miraculously doesn't diminish its trademark thoughtfulness and ruminative spirit though they are, by narrative necessity, far less prominent than in previous efforts.
The good news is that they acquit their comedy centric project with aplomb, offering a very funny film that doesn't thematically lobotomise itself to raise a laugh.
Much of that can be sheeted home to the lead character, Mr Susan Link (Zach Galifianakis), a sweetly naive Bigfoot in mid-1860s frontier north-west America who turns out to be much more than the sum total of his legendary parts.
He is, to the great surprise of ambitious British adventurer Sir Lionel Frost (Hugh Jackman), able to speak perfect English, play chess and wear clothing should circumstances demand it.
He is also delightfully, heartwarmingly very funny, a Sasquatch who takes everything literally, who has the best of intentions but not always the most skilled execution, and who simply wants to find his relatives, the Yetis of the Himalayas.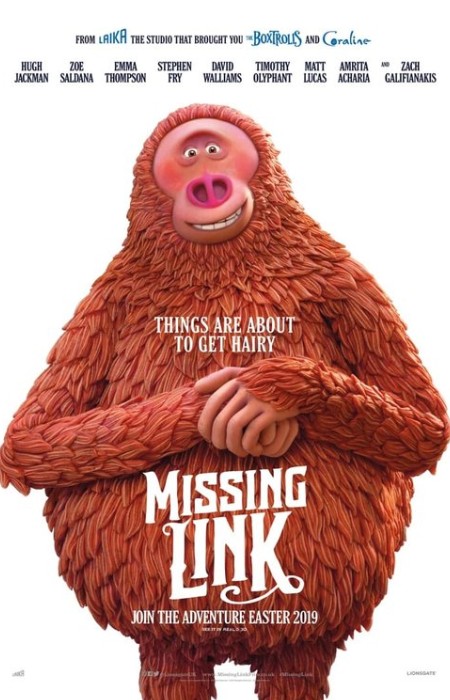 After Frost and Susan meet – the way in which a male Bigfoot got a woman's name is a delight in and of itself – thanks to a letter sent by a mysterious person who claims to know that Sasquatch are real, it takes take much to convince the adventurer to head to the mountains at the top of the world in search of yet another great discovery, the kind that will surely earn him admittance to the hallowed surrounds of the "Society of Great Man", headed by arch-conservative Lord Piggot-Dunceby (Stephen Fry) who, among other things, believes electricity to be a progressive social evil.
The idea is that Susan will find his long sought after relatives, Frost will find his fame and validation and all will be well.
But, naturally enough, that's not quite how it works out with Lord Piggott-Dunceby going all out to thwart the fulfillment of Susan and Lionel's oddly convergent hopes and dreams, who are joined partway through their grand jaunt around the world by feisty, independent Adelina Fortnight (Zoe Saldana).
It is, in many ways a by-the-dots story that doesn't look out of place in a market crowded with similar big, epic animation tales.
But here is where Laika do a pleasing job of setting themselves apart from the pack.
For a start they invest a great deal of time, while keeping the story humming along nicely thank you, in defining their core characters and even investing the secondary ones with enough personality that they stand out even if they only appear in a scene or two.
This means that the narrative ends up being propelled by the characters as much as it is by the need to get from point A to point B, a richness that elevates the story far beyond just another race to an important, transformative finish line.
This care and attention to meaningful, fully-formed characterisation means that many of the developments later on the film come with far greater resonance than they otherwise would have if the characters had simply existed to keep the plot ticking along at an audience-pleasing pace.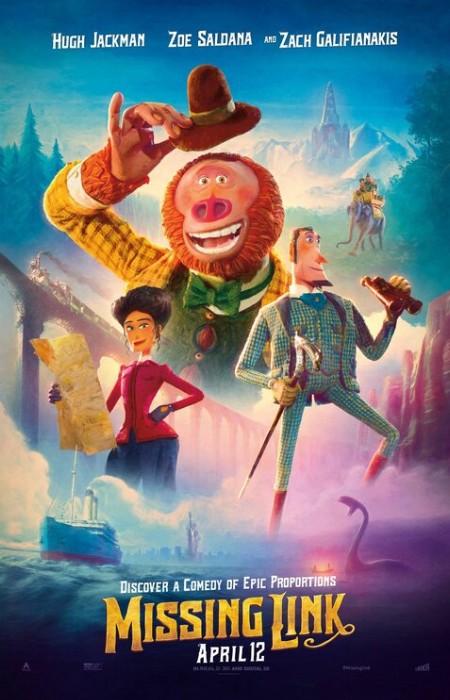 Helping things along too is the fact that Laika doesn't forgot it head or its heart when it goes straight for the funny bone.
Missing Link tackles some fairly serious topics in its running time including colonialism, cultural theft and feared genocide, social isolation and the corrosive lack of belonging that afflicts so many people.
It's clear from the word go that Lionel and Susan need each other, and see them both realise it, particularly Lionel, is one of the film's great joys.
This mix of heart-and-soul and thoughtfulness works beautifully, infusing even the more madcap, slapstick-heavy scenes with a pleasing fullness of storytelling purpose that makes the fairly straighforward plot sing with a complexity of emotion and the sort of ruminative mindfulness that many animated films don't possess.
The great joy of Missing Link is that it is simply a lot of fun.
Even as Lionel and Susan come to realise they are the answer to each other's greatest needs and that their friendship is the anchor in life they have both been searching for, there's a whole lot of fun to be head.
Whether it's Susan's misguided attempts to defend Lionel and Adelina with less than accomplished results, or the scrabble to survive great peril in the snowy heights of the Himalayas, the film goes all out with cheerful gusto, a penchant for snappy, witty dialogue and a talent for scenes that are encompass physical comedy and verbal hijinks with equal boisterous vivacity.
While it may not have the contemplative sensibilities of The Boxtrolls or Kubo and the Two Strings, Missing Link is a gem of animated tale, as pleasing for the head and the heart as it does for the funny bone, proof that when you are as gifted a studio as Laika, it is more than possible to change gears and still produce a film that stands head and shoulders above many of its contemporaries.