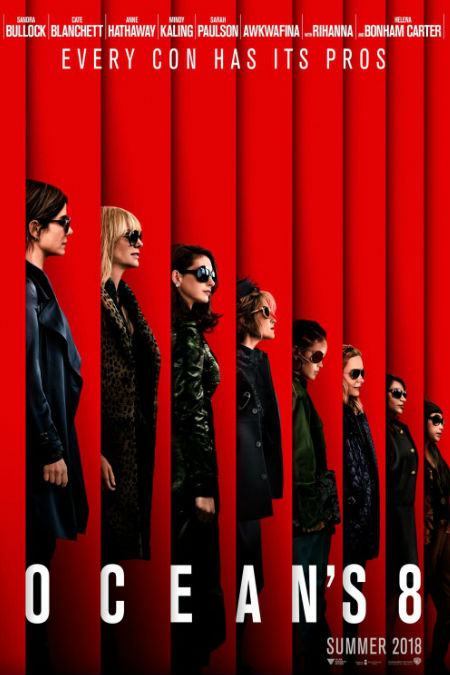 In an age where TV is enjoying a streaming-assisted new golden age, and the accessibility of arthouse, indie and foreign films is but a mouse click away, it can be tempting to demand that every movie possess a complex, emotionally-involved narrative.
Those are rewarding films to watch but the reality is that there are many times when all you want is some good, expertly-made escapist entertainment that doesn't come equipped with Michael Bay's levels of explosive inanity.
Ocean's 8, or Ocean's Eight, depending on whether you're heeding the promotional material or the opening credits of the film respectively, is then just what the get-away-from-it-all doctor ordered – a bright, fun, heist film that has just enough plot to keep the wheels turning and some standout performances from a dream cast to keep it humming along nicely.
It's not a complicated film but then none of the films in the Ocean's franchise, are; instead, we have a bright-and-breezy film that is happy to exist in a stripped back narrative that essentially comes down to zesty, lighthearted set-up, tense but successful execution and justice-for-all final act.
For those looking for some deep agenda, none will be found; what will come up in the viewing wash though is a film that understands that seeing people triumph against the odds, even people who are technically on the wrong side of the law, is a wholly satisfying way to spend some time in a world palpably bereft of the kind of pure justice many of us long for.
From the get-go, the characters that will propel this wholly-satisfying excursion into a world where risks are rewarded handsomely, justice pays no heed to the rich, the powerful or the downright sleazy – I'm talking about you Claude Becker (Richard Armitage) after you did your partner wrong – and the impossible magically materialises into the scintillatingly possible, are a delight.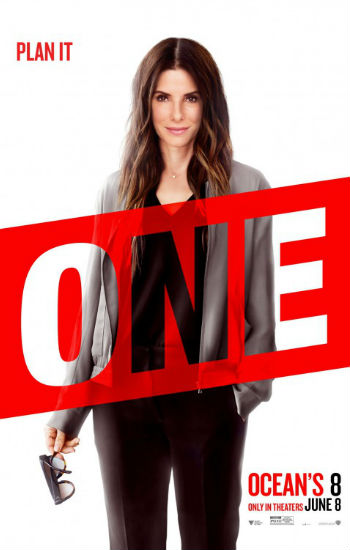 Debbie Ocean (Sandra Bullock), newly-released from prison after an Oscar-worthy performance at her parole hearing that gets an admiring review from the prison officer checking her out of her home of five years, is sassy, confident and determined to successfully prosecute the theft of a lavish Cartier diamond necklace known as the Toussaint from the Met Gala.
Her planning, aided by time in solitary and a mind partly-focused on revenge against Becker, is meticulous and her enthusiasm so profound that she convinces old partner-in-crime Lou (Cate Blanchett), a club owner more dedicated to watering down vodka in the club she owns than committing jail-worthy crimes, to come along for the ride.
The repartee between these two characters is witty, fast and feels wholly like the kind of conversation that would take place between two people who know each other well, have each other's backs and are more like sisters than close friends.
Their friendship, which is instrumental in convincing five other women to join their crew – the rationale for an all-women crew? Men get noticed, women don't, a meta piece of gender-commentary that is delivered without polemic solemnity but rather a knowing look and snappy delivery – is a delight from start to finish, the bedrock for the entire undertaking and the template for the larger team once it's assembled.
And what a team it is!
In quick succession, they bring on almost has-been designer Rose Weil (Helena Bonham in all her post-punk idiosyncratic glory) jewelry designer Amita (Mindy Kaling), suburban mum/stolen goods fencer Tammy (Sarah Paulson), genius hacker Nine Ball aka Leslie (Rihanna) and street thief Constance (Awkwafina), all of whom come with fully-formed personalities, undeniable skills and the ability to pull off a job so complicated and daring that it could go seriously wrong at any time.
It's the relationship between these seven women, and Daphne Kluger (Anna Hathaway in a movie-stealing performance as a self-involved movie star that is hilariously on-point) who is the face of the Met Gala and who unwittingly ends up central to the heist's success, that powers the breezy escapism of Ocean's Eight.
Passing the Bechdel Test with flying colours, the film is testament to the fact that a film almost wholly populated by female characters can, of course, carry itself onto box office success; any long-time cinemagoer with an open heart and mind,  will know this to be true but it seems, sadly, that Hollywood is often slow to pay the same attention to what should be, by any estimation, entirely self-evident.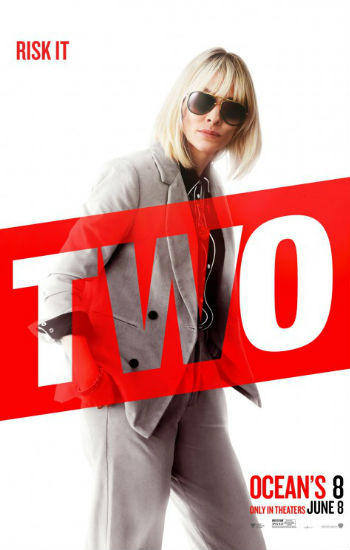 Not that Ocean's Eight sets itself up as any kind of #metoo cinematic volley over the misogynistic bows of the cinema industry's slow-to-turn ships.
Rather the witty and accomplished script by Olivia Milch and Gary Ross (Who also directs with nimble sprightliness) eschews any kind of gender point scoring, focusing instead of simply showing how a bunch of likable, talented, accomplished go about committing the same kind of crime that made the earlier male-centric Ocean's instalments such a joy to watch.
Which is entirely as it should be.
And granted, you may not think that committing a grand felony is the best to show the undeniable equality between the sexes – although in one of the film's more witty moments, Debbie Ocean does suggest their pulling off this heist as an inspiration to all eight-year-old girls out there who dream of a criminal career – but it works in its own indirect way, proving, and again it's indictment on society at large that this has to be proved at all, that the imagined disparity between the sexes is entirely a figment of the addled minds of misogynists and patriarchal dinosaurs.
Still Ocean's Eight is a show, don't tell exercise, and at heart a fun heist film that turns clever, witty thievery into a wholly-pleasing, gorgeously-diverting equal opportunity piece of entertainment, one where men are only tangential to the proceedings (though amusingly so with James Corden's insurance investigator John Frazier a worthy, if under-developed foil for Debbie Ocean) and where the accent is on light-and-frothy diversionary fun with serious intent.