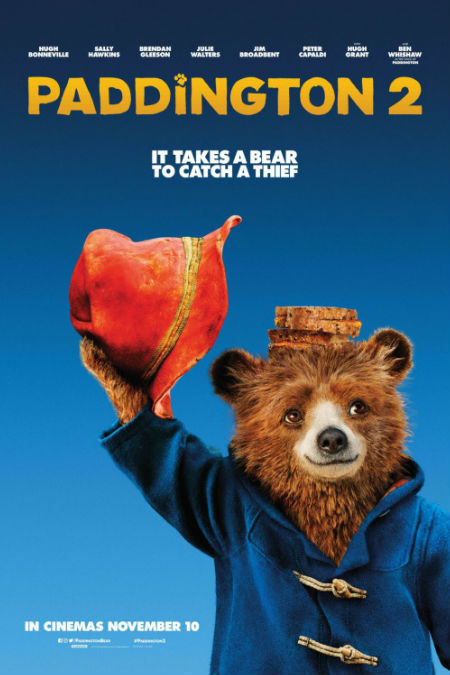 Sequels are, for the most part and for a thousand different reasons, the unloved siblings of modern cinema.
But Paddington 2, the sequel to 2014's Paddington based on the stories of Michael Bond who sadly passed away this year, bucks the trend in the most fulsome and heartwarming of ways by delivering up further adventures of everyone's favourite bear from "darkest Peru" (voiced once again by Ben Whishaw) that engender nothing but fervent praise and adoration.
Much of that lies with the beautifully faithful way that Paul King (who also directed the film) and Simon Farnaby bring Paddington to life once again on the big screen.
Capturing the spirit of the books perfectly, Paddington 2 offers up the world's foremost proponent of marmalade sandwiches as a spirited force of generosity of spirit and kindness who looks for the good in everyone as Mr Brown (Hugh Bonneville) reminds cantankerous neighbour Mr Curry (Peter Capaldi) and simply wants to buy the loveliest gift possible for his much-loved Aunt Lucy on her 100th birthday.
Without giving away too much, it's Paddington who ends up with the best gift possible as the universe pays him back in glorious kind for the way he has transformed the Browns's neighbourhood.
With Mr Brown in the throes of a middle-aged crisis thanks to missing a job promotion, Mrs Brown (Sally Hawkins) getting ready to swim the Channel after a summer illustrating books, and children Judy (Madeleine Harris) and Jonathan (Samuel Joslin) in various growing mild dramas of their own, you see Paddington hopping on the bike of one neighbour to whom he delivers breakfast, bringing another two neighbours together in love sweet love, helping his garbage man study for his tax license and ensuring another neighbour doesn't end up perpetually locked out of his house.
How profound an effect he has had on the people around him is illustrated when Paddington is wrongly imprisoned for a robbery he hasn't committed (of course) and in a brief but potently impacting It's a Wonderful Life-esque sequence, the neighbourhood descends into a benignly ramshackle comedy of opportunities and life blessings lost.
It's hardly catastrophically-awful since this is Paddington after all, but it is enough to remind how much the absence of the most goodhearted of bears affects everyone around him.
Particularly the Browns who, along with housekeeper Mrs Bird (Julie Walters who is handed one of the best lines in the film), can't imagine life without Paddington in their midst.
But live with it they must when Paddington spies a thief breaking into his good friend Mr Gruber's (Jim Broadbent) antiques shop and bravely heads in to stop him stealing the valuable book he has had put aside for Aunt Lucy's momentous birthday.
The bearded man, with "dazzling blue eyes", makes away with the book, a rare pop-up book of London by Madame Kozlova, who established a beautiful steam fair many years earlier where she was the star attraction, but disappears in a literal puff of smoke, leaving Paddington, who is in earnest pursuit atop a stray Irish Wolfhound he has befriended, to be collared by the police.
Sentenced to prison for 10 years by a judge with whom Paddington has an unfortunate past that involved marmalade and glued-on hair, the young bear inadvertently sets about transforming HMP Portobello into a place of fairy lights, bedtime stories and delicious food, not to mention pink prison uniforms, where he makes many new, eventually lifesaving friends.
It's fantastically-whimsical as is all of the film, replete with Wes Anderson-ish visual flourish that lend the entire film a rich, brilliantly-pastel glow that amplifies the rich narrative storytelling and humanity that percolate through every scene.
There is even a nod to Paddington's 1970s/80s animated TV iteration when the pop-up book springs to life, offering up a cardboard-cutout view of London and a gorgeously-affecting imagined reunion between Paddington and Aunt Lucy who finally makes it to London after so many years (in her nephew's mind, at least).
It's all gloriously, preposterously over the top, with coincidences flung about like a fallen mountain of marmalade-making ready oranges, but you don't begrudge a moment of it, so sweethearted and richly-adorned is Paddington 2 in just about respect.
Feel good the film may be but at no point does Paul King rest simply on creating a general, paper-thin air of happy bonhomie.
As with the books, Paddington 2 is substantially sweet, beautiful, funny and delightfully joyous, peppered with Paddington's inadvertent but nicely well-intentioned errors of judgement, possessed of a spirit that is deep, wide and life-transforming.
It's rare to walk away from a film feeling like your heart has been rendered utterly and completely glad but Paddington 2 manages that with an artfulness and cleverness that will leave you wishing every single children's film could be this well-made and filled with such goodnatured spirit.
Paddington 2 is even more impressive when you realise how little time the Browns and Paddington actually spend together in a film which has Paddington in prison changing the lives of Nuckels McGinty the cook (Brendan Gleeson) and his softhearted cohorts, and his adoptive family facing around to prove his innocence by demonstrating that Phoenix Buchanan (Hugh Grant is superbly comic form) is the real thief.
While they may not have physical proximity, they are indelibly and irrevocably connected by love and belonging, and while that may sound twee in the extreme, King and Farnaby (who reprises the role of Barry from the first film) make it feel real, connected and moving in the truest of ways.
This is not some treacly romp through emotions that feel as deep as a kids' wading pool; even amongst hilariously manic, over the top chase sequences, train chases and treasure hunts that take in all of London at its romanticised, poetically-lovely best, the spirit of Paddington shines through, as we reminded, in the middle of all the laughs and awww-worthy moments, that being kind and generous of spirit beats cold, hard, nasty and greedy any day.
(Oh and stay around for the credits; they are almost worth the price of admission alone.)