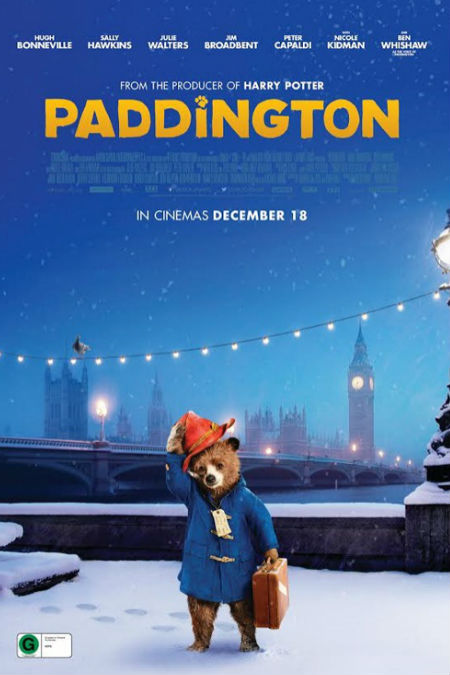 It's a distinctly odd feeling when you're about to see someone you once loved dearly for the first time in quite a number of years.
You're excited, of course, since this person once meant, and usually still means, even if in vividly-etched, rose-coloured memories, the world to you, and nervous, wondering if they are still that same person or if they've changed out of all recognition and if you'll then have anything still in common, the two quite different though often allied emotions competing for space as the moment of reunited truth draws near.
This unsettling melange of emotions always seems to be magnified a thousand times over when you are about to be re-acquainted with a book or TV character from your youth.
You're excited to see them again, naturally, often in a thoroughly different medium to the one in which you first encountered them but also a little afraid that the person now in charge of bringing them to life may not quite capture their spirit, the very thing that made them mean so much to you in the first place.
It is exactly how I felt walking into the cinema to see Paddington, wondering if he would be the innocent, klutzy though bright-as-a-button bear from darkest Peru now in London that made childhood nights so special, or a brash, all too modern creation, as unrecognisable as Yogi Bear was in his big screen debut in 2010 or Nicole Kidman's re-imagined Samantha Stephen was in 2005's Bewitched revival.
The answer, thankfully, for anyone entering the cinema holding a tub of popcorn and some Xanax to calm their nerves is that the Paddington we encounter in Paul King's film (he co-wrote the screenplay with Hamish McColl) is the very same one we remember from the pages of Michael Bond's sublimely wonderful books, with a few more flourishes and irreverent sight gags thrown in.
Paddington, then, to belabour the reunion analogy just a little bit more, is like meeting an old friend who is every bit as engaging, sweet, funny, clever and well-intentionally goofy as you remember but one who has updated just enough to not look out of place in the modern world.
Using a seamless blend of modern animation and live action that is so well realised you would swear that Paddington (voiced brilliantly well by Ben Whishaw) is as real as any of the Brown family who takes him in (which, shhh, of course, he is) – warmheartedly loopy childrens' book illustrator Mary (Sally Hawkins) and her sceptical, stuffy husband Henry (Hugh Bonneville), their children risk-taking, exuberant Jonathan (Samuel Joslin) and perpetually-embarrassed, archetypal teenage Judy (Madeleine Harris) and distant family member Mrs. Bird (Julie Walters) – the film succeeds superbly in bringing the tale of  the much-loved marmalade-loving, nay venerating, Peruvian bear to gloriously loveable life.
Paddington set its tale in motion with an expository old-fashioned newsreel-framed opening scene that is as touching and quirky as it is elegantly brief, in which goodhearted explorer Montgomery Clyde (Tim Downie), looking to make a name for himself with an expedition to darkest Peru, encounters Paddington's uncle Pastuzo (voiced by Michael Gambon) and aunt Lucy (Imelda Staunton) in the impenetrable forests and proceeds to teach them English and acquaint them with the finer points of British society such as the many words for rain and an enduring love for that breakfast staple, marmalade.
Thus many years later when tragic circumstances force Paddington to seek a new life elsewhere, the natural place to head is London where, armed with polite ways to start a conversation with just about anyone and an overly-confident sense that finding a new place to call home will be as simple as standing in Paddington station and waiting for one of the many legendarily hospitable Londoners to fold him into their family, he finds that the reality is quite different from the rosy cosy version presented to him by Montgomery Clyde, whose red hat Paddington wears with pride.
Fortunately Mary Brown, alone among a family hurrying home after a day at a profoundly dull museum of some kind, takes pity on Paddington, taking him home against Henry's protestations, the intention to give him a home for the night, help him find Mr. Clyde who naturally will be thrilled to give him a new home, and then move on with their lives without him, something we know won't actually ever happen once Paddington works his charm.
Paddington makes his presence felt in ways large and small, almost all accidental, pretty much immediately.
Though bright and capable and possessed of polite demeanour and an abundance of social graces, is none too used to the urban world of London, and the Browns soon find themselves coping with floods – the result of Paddington's hilarious use of "the facilities" – a fire, and the unwanted attentions of both curmudgeonly neighbour Mr. Curry (Peter Capaldi), who worries about all the bears and their "raucous all-night picnics" that Paddington may attract, and vampish taxidermist Millicent (Nicole Kidman) who is determined to add everyone's favourite Peruvian immigrant to her collection at the Natural History Museum.
The addition of Millicent's icy-blond villain, and thus a plot big enough to drive Paddington forward with gusto, doesn't detract at all from the essence of Michael Bond's creation, who remains every bit as innocently lovely and charmingly prepossessed as you remember him.
If anything, the Brown's attempts to keep Paddington safe from Millicent's clutches, which naturally unites and revives them as a family in ways none of them saw coming, give more power and emotional poignancy to Paddington's arrival in their lives, and underscore why this little blue duffle coat-wearing bear is such an adored part of so many peoples' lives.
Paddington is in fact an exemplar, along with The Muppets, of how you should bring an old deeply-cared about character into peoples' lives again (assuming he ever left, which is doubtful) – keep the essence intact and throw some modern humour, but not too much, and references into the mix without diluting it and ruining what it was that people loved in the first place.
This will be the film that perfectly introduces Michael Bond's iconic creation to a whole new generation who will discover, to their endless delight, that everyone should have a "marmalade day" and that a bear as charming as Paddington must, without question, be an indispensable part of anyone's life.