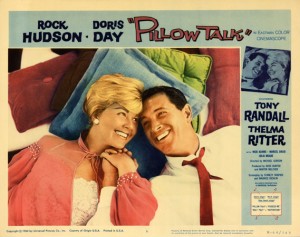 I am not usually a subscriber to the adage that "they don't make 'em like they used to" since I firmly believe that, while old movies/film/books are valuable parts of the pop culture canon, they are not the sum total of human creative expression, and are certainly not the end point in high quality, engaging entertainment.
But there is something about the delightful 1959 movie starring Doris Day and Rock Hudson as two people who share a telephone party line in the days before it became commonplace to have one per household, that makes me wonder if there isn't at least a small basis of truth to the statement.
Granted the movie has several advantages over many of the romantic comedies around today.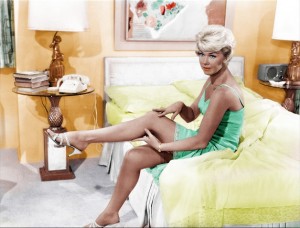 For a start, it stars the romantic comedy darling of her day, Doris Day as interior decorator Jan Morrow, who was one of the biggest stars in Hollywood from roughly the mid 50s to the mid 60s, and whose luminous smile and gift for comic delivery meant that even the most wooden lines of dialogue in her movies were delivered with perfection.
Not that there is a poorly written scene in this movie for either she or Rock Hudson, who plays songwriter and womaniser, and Jan Morrow's telephonic adversary Brad Allen, to struggle through. The script is taut, with nary a wasted or unnecessary scene, and every line of dialogue is integral to propelling the movie forward.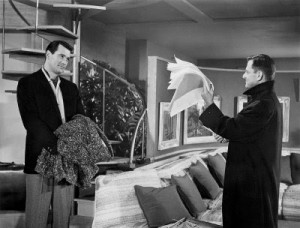 It also had a charismatically handsome leading man in Rock Hudson, who by the time of the film's release was one of Hollywood leading men after his career breakout hit, Magnificent Obsession, opposite Jane Wyman. He manages to take a man who could otherwise be seen as annoying Lothario and renders him sympathetic and even likeable, his dazzling smile hiding a multitude of sins.
And finally it has the comedically gifted Tony Randall, who sparkles in the film as Jan's millionaire client, Jonathan Forbes, who is desperately in love with the woman redecorating his office. Alas it is an unrequited love, and it is only when he speaks of his longing to best friend, Brad Allen – in one of those ridiculously neat coincidences that only the most exquisitely constructed romantic comedies can get away with – that Brad sets off in pursuit of the woman who up to that point was nothing more than a haranguing voice interrupting his phone calls with his bevy of one night stands.
(Mention too must be made of Jan's alcoholic maid, Alma, played by Thelma Ritter, who steals just about every scene she's in, including one in which she gets a distraught Brad rip-roaring drunk, when, desperate to win Jan over, seeks her counsel on the best way to do that.)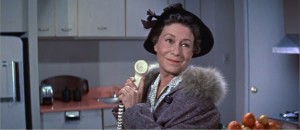 His pursuit of the beautiful, talented and impeccably dressed Jan Morrow – her outfits are a source of constant delight throughout the movie – is perfectly realised as he impersonates a Texan oilman who is the perfect gentleman and sweeps a lovelorn Jan off her feet. She is unaware of course what Brad looks like since she has never met him, and what ensues is a deliciously comic subterfuge by Brad who, despite his womanising ways, falls for the woman who if she knew who he really was, wouldn't want to have a bar of him.
It is not giving too much away of course to say that they do end up together – that is the raison d'être of these types of movies – but the way it all comes together provides laugh after intoxicatingly side-splitting laugh and you leave the theatre feeling like all is right with the world, and anything is possible.
Which is how a great romantic comedy should leave you.