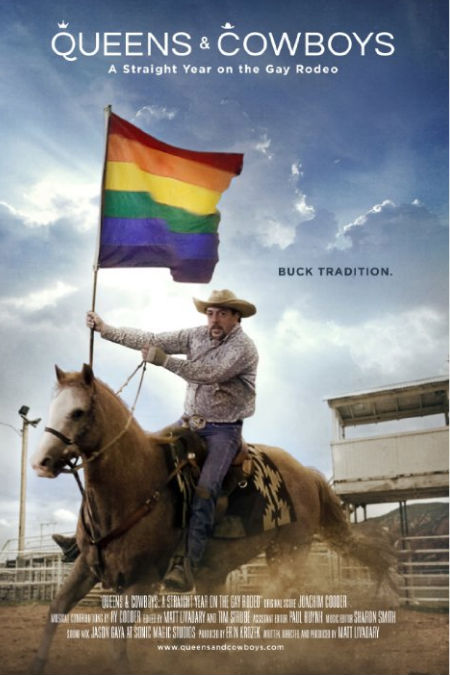 Food, water and shelter aside, one of the most basic needs a person can have is the one to belong.
Whether we are conscious of it or not, or even admit to its existence,  all of us are looking for a group of likeminded people we can call family, people who will support us,amuse us, comfort us, challenge us and be there for us in ways we may not have even thought of yet (and of course, vice versa).
It is the overriding theme that emerges quite powerfully in Matt Livadary's profoundly-moving and deeply-inspiring documentary film Queens and Cowboys, which tells the story of a year on the International Gay Rodeo Association (IGRA) circuit and the disparate group of men and women who are its living, breathing, beating soul.
To a person, they have all encountered prejudice and discrimination of one form or another at regular rodeo events in USA and Canada, withdrawing from a sport they loved in response, grievously convinced there was no real alternative where they could feel included, valued, and where most importantly, they could live out a passion so strong that they , in the words of one of the fascinating people featured, Wade Earp, they "… live and breathe cowboy."
That is, until they came across IGRA, an organisation that survives on the smell of an oily rag but nevertheless sends an impressive amount of money to the slew of charities via the funds raised by their rodeos.
Earp, who is as you might have guessed is a descendant of one of the most famous cowboys of them all, is emblematic of a cast of characters who, despite their financial challenges and health issues, never think of giving up doing what they love – "[You] get up, dust yourself off, and keep going" (Earp, a man who has a way with words and touching self-analysis, again) – or the eclectic group of volunteers, spectators and competitors who spend a great deal of their non-work waking hours following a series of rodeos that wind their way from Florida through the midWest to Calgary, Canada and California.
So compelling is this need to belong, participate and be a part of something bigger than themselves, that each of the five people featured go to inordinate lengths to make it to each and every rodeo.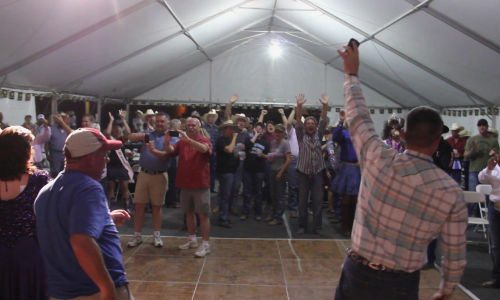 They all freely admit to a person that without the IGRA their lives wouldn't be as rich and fulfilled, or even, in the case of 26 year old Oklahoman native and rancher to his core, Chris Sherman, whether they would even be alive.
Livadary, who began the project almost by accident when research for a television show led him to IGRA, shows a remarkable gift for drawing out the stories of Earp, Sherman, transsexual Travis Gardner who believes "IGRA gave him the strength to be the man he always knew he was", doggedly determined lesbian bull rider Char Duran and Ty Tiegen, a talented cowgirl battling end-stage ovarian cancer, with touching humanity, vivacity and grace.
Each of these passionate, compelling characters come alive under Livadary's deft touch, their stories resonating with anyone who has ever battled to find a place to call home and a group of people to call family.
That each of them have done so on the gay rodeo circuit is powerfully and affectingly revealed in ways that will surprise you especially if you, like myself, have never found yourself attracted to the sport of rodeoing in any way, shape or form.
In fact, I will freely admit that were it not for a last minute invitation from a friend I might have never seen this film; after living through the struggles, joys and tenacity of Earp, Sherman Garner, Char and Tiegen, that would've have been to my great loss.
To a person, everyone at the screening I attended identified with and was drawn into the stories of the five impressive individuals Livadary features in Queens and Cowboys, cheering Earp once in his hitherto unsuccessful quest to become "All Around Cowboy" at the finals rodeo in Forth Worth, Texas (which finishes off the year of competition), willing Char to win her first bull riding buckle (this requires staying on the bucking animal for six seconds) and hoping Tiegen will win her greatest battle of all with the cancer consuming her body, but not delightfully, her sassy sense of humour or love of rodeo.
And in an almost Vaudevillian fashion, the audience booed the seemingly eternally successful, David Lenier, a consummately confident verging on arrogant man from San Diego who has grabbed the "All Around Cowboy" crown more often than he hasn't, and is intent on doing so again at the expense of Earp, the earnestly enthusiastic perennial runner-up for IGRA's highest award.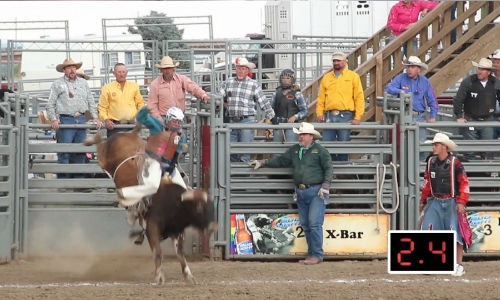 While Queens and Cowboys follows a reasonably typical documentary style, it is anything but ordinary in the stories it tells.
Delving into the back stories of its cast, and outlining how gay rodeo is still seen as some sort of illegitimate poor cousin by the vastly larger "straight" rodeo organisations, it is never less than utterly compelling, reminding us with every heart-stopping buck of the bull, every race against the clock that IGRA is not simply a run of events on a calendar.
It is life to each and every one of the people who are involved with it, a home away from home, that sustains them, gives them a reason to keep going and most importantly, allows them to still be a part of something that is central to their identity, an opportunity denied by the more mainstream rodeo competitions.
Far more than just a chance to compete though, IGRA is above all, a family, a place to belong and we see that profoundly expressed time and again as it supports, uplifts and encourages every single person in its ranks, and through its extensive roster of charitable donations, people who wouldn't know a barrel ride from a calf roping.
Queens and Cowboys is that most special of films – a sensitively-wrought, deeply human and effortlessly moving reveal of a vitally important world very few of us would have known existed otherwise, one which is vital and life-sustaining to the remarkable gay and lesbian cowboys who call it home.