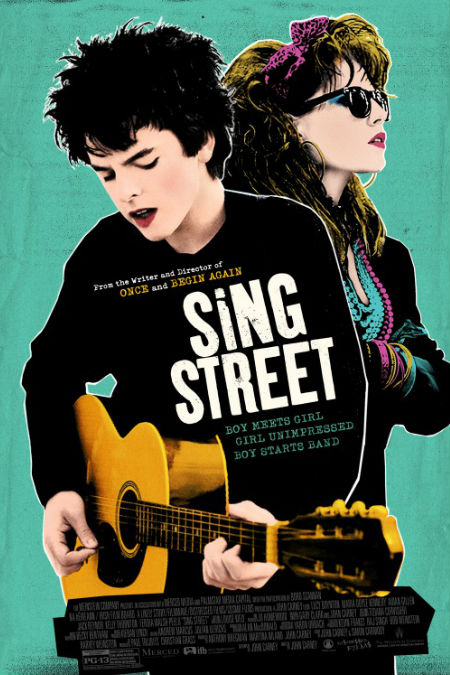 Love and music have long enjoyed a close and fruitful association with the former supplying the latter with everything from lyrical inspiration to the sort of luminous romanticism that has joined together countless musicians and their fans over millenia.
This nexus is on full display in 1980s-set Sing Street, John Carney's latest ode to the pivotal place music plays in our lives, in which a 15 year old boy Conor Lalor (Ferdia Walsh-Peelo) discovers how powerfully writing and singing can transform a person's life.
Not short of confidence, but battling the twin obstacles of a household fracturing under economic duress – his mother and father (Maria Doyle Kennedy and Aidan Gillen respectively) are close to breaking up as the film opens – and a new, cheaper state school which lacks the discipline and opportunities of his older more expensive private school, Conor has to re-invent his life, a challenge for anyone but particularly a teenager trying to find his place in the world.
The challenges are many including a physically (and possibly sexually) abusive headmaster Brother Baxter (Don Wycherley), and a bully named Barry (Ian Kenny) from a home of drug addicts, none of which faze Conor overly – save for one harrowing scene in a bathroom where Br. Brother brutally cleans make-up off Conor's face, leaving him understandably traumatised – especially when he meets the irrepressible Darren (Ben Carolan) whose boundless confidence and impish personality invigorates Conor's own.
Walking out of school with Darren one day after one of many strange encounters with Barry, Conor notices a glamorous 16 year old girl standing on the steps of the building across the road, an unlit cigarette in one hand and a look of steady, distant defiance on her hand.
Smitten almost immediately, Conor heads across the road, introduces himself and in a bid to convince this alluring "bad girl" Raphina (Lucy Boynton) that he's worth pursuing, assures her that he's in band and they need her to star in a video.
With modeling aspirations and a driving need to escape Ireland for the UK, in common with many Irish people of the time, Raphina is interested but you're never entirely sure if she will follow through on her assurances to Conor that she'll turn up for the filming of the video.
Even so, Conor is both thrilled to have met her and to have made a connection; the only problem? There is no band and if his hastily-concocted scenario is to have chance of successfully playing out, Conor and Darren, who appoints himself manager, must find a way to turn a musical lie into a gainful reality.
In short order, and with the help of Conor's stoner brother Brendan (Jack Raynor) whose record collection is as massive as his opinions on what constitutes good music are firmly set and damn near unchallengable, Conor finds his band members, including songwriting soulmate Eamon (Mark McKenna), and a gift for turning his deepest thoughts and observations into song, and the set is stage for love and music to once again changes lives for the better.
Well, that's how it plays out in Conor's head anyway; the reality is that boundless though his imagination is, that's it competing with parent-less Raphina's overriding need to escape to London, the dissolution of his own parents' marriage, and a growing sense that if he stays put in Dublin that he won't realise his dreams and could end up like Brendan who, though endlessly confident on the outside, is consumed by the regret of roads not taken and a sense that he is stuck forever where he is.
Where Sing Street excels is that it doesn't attempt to be some sort of frothily inspirational Disney-esque losers take all film.
It squarely acknowledges the sometimes grim realities of Conor's life and that while music provides a powerful, escapist antidote to the many problems affecting him, one that transforms him in countless ways as the film progresses, it can't solve everything.
Even so, it goes a hell of a long way to make a real difference to Conor's life giving him steadfast friends, Raphina's increasingly close if distracted attention, and some sort of trajectory away from the bleak prospects that lie before him.
Grounding the film too, which is redolent with '80s-influenced hits penned by Carney (who also wrote the screenplay) and others which are so damn listenable you will find yourself rushing out to buy the soundtrack, is the fact that it doesn't play Conor's situation for cheap, teenage laughs.
The band mates can actually sing and play music, their videos though amateurish come with some real artistic flair – thanks mainly to Conor's ripe imagination and a gift for articulating his ideas to his friends – and they are not presented as hapless, slapstick-inclined losers who win the girl and make the band work through a series of happy coincidences and dumb luck.
No, these are real characters in an all too real situation and it lends Sing Street, which is heartwarmingly inspirational on a thousand different emotionally-buoyant levels (despite its authentically austere narrative) a resonance that a more conventional teenage tale of love and music would simply not have achieved.
This is a joyous film that celebrates the fact that you can change your life, that escape both temporary and permanent is possible and that you can profoundly alter the trajectory of your life if you can harness your talent to hard work and determination and a willingness to take risks when they're required.
It's impact is profoundly enhanced by the fact that it doesn't employ lazy stereotypes nor does it assume cartoonish teenage tropes to score some cheap narrative points.
Sing Street is hard and realistic on one level, but not so much so that hope and dreams can't find a way in; sure we see Conor traumatised and crying at times, cowered by the new school or his parents' failing marriage, but we also see him confident, excited, in love with Raphina and his music, which are entwined from the very beginning of the film.
You cannot help but emerge from this film convinced that anything is possible, that even in the face of all kinds of life challenges that you can emerge with everything you've ever wanted in the palm of your hands.
Where Sing Street succeeds in the most delightful and heartwarming way possible is that it doesn't promise shortcuts or easy routes not some magic waving of the wand; to get where you want to go will take lots of effort but importantly it promises you can get there.
And with music and love inextricably linked from the word go, it's a reminder that every great life story needs an infectiously kickass soundtrack which Sing Street does in spades.
Carney's latest piece of musical movie-making magic may not necessarily change your life but it will convince you it can be done and that alone is worth the price of admission.