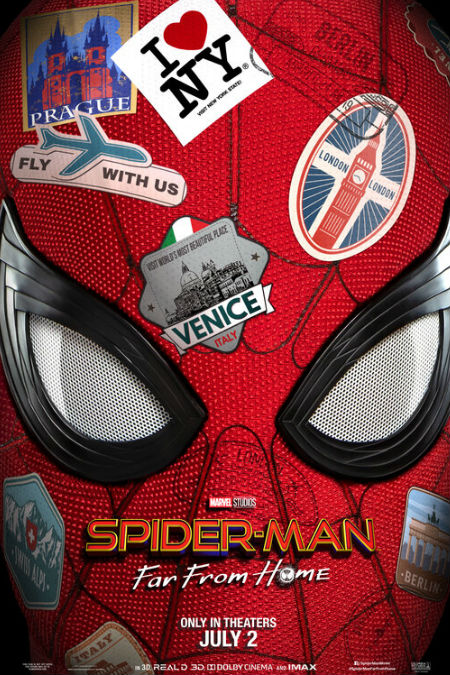 Ah, ain't it great to be young and in love?
Maybe, but don't run that particular line of dreamy romanticism by Peter Parker aka Spider-Man anytime soon.
Throughout Spider-Man: Far From Home, which marks Tom Holland's second standalone outing as the webbed superhero (he has, of course, appeared in a number of Avengers films), Pete's efforts to woo the hip and adorably snarky MJ (Zendaya) come a-cropper pretty much all the way through, save for one rather of-course-that-was-going-to-eventually-happen moment in the final act.
He has grand plans of sitting next to her on the plane, buying her a Black Widow glass necklace in Venice and declaring undying love to her at the top of the Eiffel Tower.
Sure, it's cliched but its heartwarmingly romantic too, and Peter's breathy anticipation is a joy to watch, capturing all the excitement of someone who hasn't yet encountered the march of time and its ability to screw with even the best laid of romantic plans.
Given Spider-Man: Far From Home runs for a perfectly-judged 129 minutes, you just know things aren't going to work out as envisaged but a great part of the charm of the film, apart from Chris McKenna and Erik Sommers' adroitly-executed screenplay, is watching Peter try everything in his considerably adorable powers to make it happen.
He is enthusiastic, lovestruck and determined, a performance bolstered by Holland's boy next door cuteness and squeaky excitement, and not even Nick Fury (Samuel L. Jackson) is going to stop him realising what are, naturally, the greatest and most romantic of plans conceived by man.
So committed is he to their execution that he effectively ghosts Fury, who later in the film laments the fact that post-Blip – it features, as you might expect, quite heavily, its ripples felt in the absence of Iron Man and the age disparity between the students at the Midtown School of Science and Technology – no one takes him seriously enough on account of missing out of five years of intel and superhero derring-do.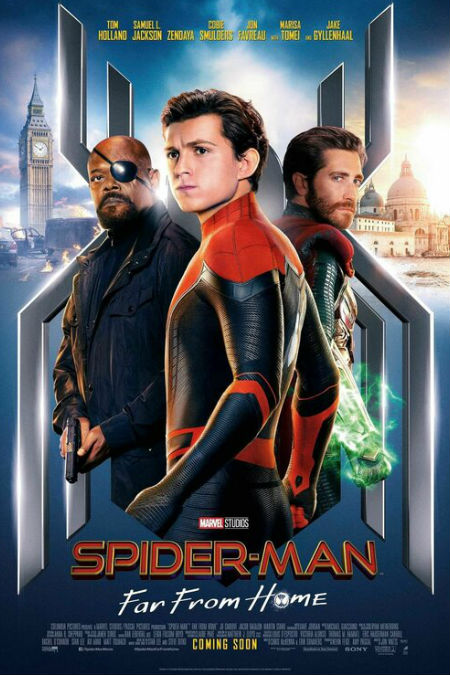 Happy (Jon Favreau), who may have a thing for Pete's Aunt May (Marisa Tomei in fine hip aunty form),warns him that ghosting Fury (or Maria Hill, played by Cobie Smulders, who is side-by-side with him all the way) is not something anyone does without consequences but hey, Pete is a teenager and in his mind he can get away it.
Newsflash! He can't … and doesn't.
In no time flat, Pete's school trip away to Europe, already compromised by his best friend Ned (Jacon Batalon) falling in love with Betty Brant (Angourie Rice) on the eight-hour flight to Venice, Italy, ruining the bachelors at play dynamic Ned had promised Peter, becomes a juggling act of appearing like a normal teenager and saving the world from a brand-new threat.
It's everything Peter didn't want, and though he acquieses with Fury's rather douchey demands – we find out later why Fury is not quite himself and it's clever piece of narrative dissembling – he isn't happy about it, reluctantly showing up to battle the Elementals which threaten Earth (with the help of alternate earth superhero, Mysterio (Jake Gyllenhaal) and lay waste to sizable chunks of Venice, Prague and London.
The thing that saves Spider-Man: Far From Home from feeling like an annoying sulky teenager shirks responsibility storyline is the way Holland invests Parker with an endearing lovability, one that comes with a strong sense of honour and duty, thanks to his badly-missed mentor Tony Stark aka Iron Man (Robert Downey Jr.) which is constantly at work, at least until a revealing final act, with his desire to just be a normal kid.
So well-written is the screenplay and so well-honed a performance does Holland deliver that this tug of war comes across not as recalcitrant teen refusing to grow up but as a very normal thing for anyone of that age to experience.
That Peter steps up to the plate is a given, but how and why he does it, particularly when the climax arrives, and it's revealed that things are not quite what they seemed, is beautifully handled, heartfelt and as authentic as you could wish for, proof positive, as was Avengers; Endgame, that superhero film can deliver some truly affecting storytelling.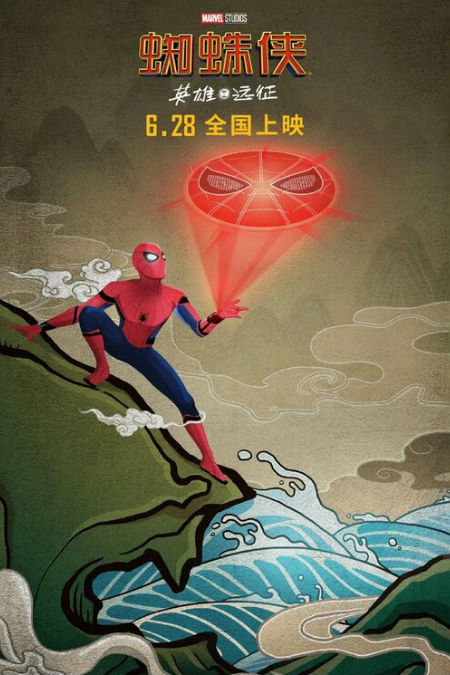 Another appealing aspect of Spider-Man: Far From Home is how damn funny it is.
From Tom's desperate attempts to carry on as if he is a normal teen in the face of anything but normal circumstances, to Ned and Betty's rapid love affair to the goody teachers in charge of the trip – five star comedic performances from both Martin Starr and J. B. Smoove who act pretty much everything that happens to them as reasonably normal even when it's cleearly not – and some ill-judged droid work by Peter when he receives Stark's E.D.I.T.H. AI glasses as a gift Spider-Man: Far From Home is the perfect laugh-inducing follow up to Endgame's rather sombre but moving tone.
If you were after some sort of cinematic superhero narrative cleanser, Spidey's second outing, now with added "Peter Tingle" – Aunt May's cute term for his spider senses which Peter hates but eventually accepts is in somewhat widespread (ish) use – is it, providing us with some gravity at the beginning courtesy of an In Memoriam segment (though it too is delightfully subverted) and Pete's obvious continued grieving for Stark but following it up with all kinds of comic wonderfulness wrapped in some epic, city-smashing, world-saving, bad guy-crushing action.
Spider-Man: Far From Home does naturally come with a mid-credits and post-credits scene, one of which sets up the third outing with dramatic chutzpah and the one providing some more comic levity just before you exit the cinema, each a adept follow-up to a movie that barely puts a foot, or a web sling, wrong, establishing Peter Parker aka Spider-Man as one of the most well-rounded, lovable and capable superheroes currently at work (and at romantic play … eventually) in the Marvel Cinematic Universe.