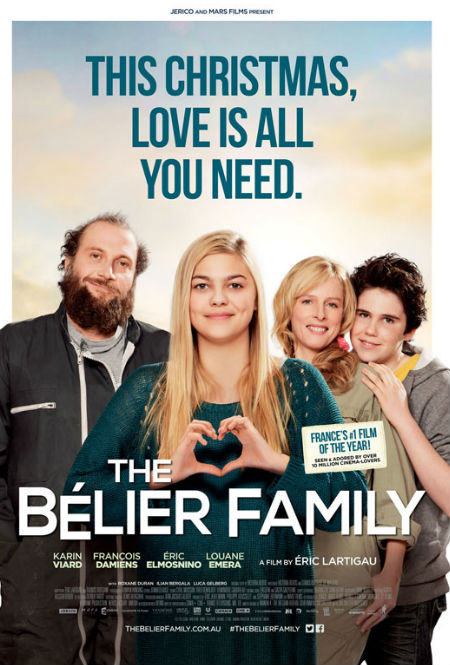 Moving on, even when a glittering prospect beckons, is never easy.
It's complicated a thousand fold when the decision to take a particular road in life affects not just you but a host of people around you.
It's the situation that 16 year old Paula Bélier (Louane Emera), the only hearing person in an otherwise deaf French farming family, finds herself in when her relatively uncomplicated life is thrown into promising turmoil by the chance to study at a prestigious singing school in Paris.
Unprepared for life to fork off in this direction, at least this early on, and only presented with the opportunity after an impromptu decision to join the school choir to be close to the new Parisian boy at school, Gabriel (Ilian Bergala), Paula must grapple with the consequences of leaving home when her family depends heavily on her.
Her mum and dad, Gigi (Karin Viard) and Rodolphe (François Damiens), who are devoted to each other to an annoyingly endearing degree, and younger brother Quentin (Luca Gelberg) depend on Paula to speak to customers at the cheese stall they run at the local market, and to deal with the suppliers and bankers who are pivotal to their business.
It's a lot sitting on the shoulders of Paula but she handles it with admirably mature aplomb, sandwiching calls to business contacts inbetween fretting with best friend Mathilde (Roxane Duran) over her prospects with Gabriel and later, trying to decide whether going to Paris is something she wants to do, and indeed, can even practically do.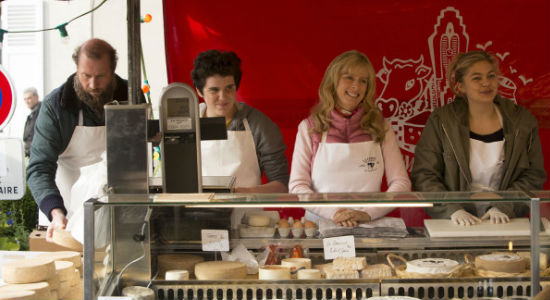 So there are a lot of big life decisions to be made, made all the more complicated by her dad's decision to run for mayor with the ironic tagline "I hear you" – he is, of course, well aware of the fun people will have with it but all publicity is good publicity right? – her mum's amusingly over-involved role in her daughter's life and her brother's infatuation with the slightly older Mathilde.
As with many French films, there is a refreshing dose of the farcical and the absurd to leaven out the big issue questions of the film, and director Éric Lartigau, who also had a hand in writing the screenplay, uses the more humorous elements judiciously to keep this charming film moving along.
On the surface, The Bélier Family is a lightweight confection, a gathering together of the sort of moments in a teenager's life, albeit one with way more responsibility than most, that anyone who has been through that time of upheaval will readily identify with.
What adds substance to the film is Paula's maturity, nicely leavened with some typical teen tantrums and emotional explosions which make perfect sense under the circumstances, her commitment to seeing things through (yes, even when the welfare of her family is at stake but sometimes under duress) and her willingness to consider such a big move at such a young age.
A typical teen in many ways she may be, apart from the obvious, but thanks to her upbringing, forged in family that by choice and necessity is much closer than the average nuclear grouping, she's been given the maturity to be able to sit back and work out what she needs to do.
Of course, all the maturity is being tossed hither and yon by the usual concoctions of hormones and emotional blender moments and this provides grist for the narrative which seesaws between big dramatic moments and some delightfully absurd scenes, particularly when Gigi, played with delightful over-the-top joie de vivre by Viard, and Paula's music teacher, M. Thomasson (Éric Elmosnino), who hates the provincial backwater in which he's stuck, are concerned.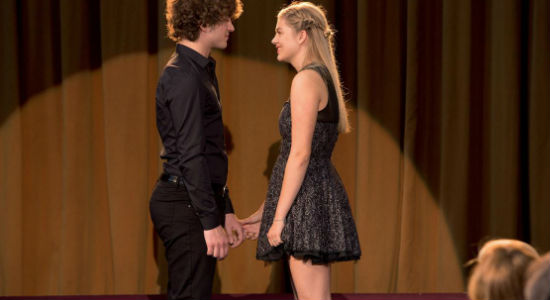 Much of the energy and joy of The Bélier Family comes from the near-perfect casting.
All the members of the titular family are a pleasure to watch and together make for a thoroughly believable, hilariously dysfunctional family, who clearly love each other deeply, but also irritate the hell out of each other from time to time.
The standout is Emera as Paula, a past semi-finalist on the French version of The Voice, who brings a simultaneous depth and levity to the role, at times mature and at others, anything but.
She is in other words, a real person which makes the more farcical elements of the plot, and the more over the top supporting cast members and minor subplots work nicely.
So impressive is the nascent singer and actress than even the rather conventional finale works to good effect, anchored by her passion, indecision and ultimately commitment to see this through, bolstered by her family who resignedly understand that life is going to change and they need to support Paula.
It's not a perfect film – there are odd elements such as the major to do about Paula's first period arriving at age 16 and the tendency at times to make the deafness of the Béliers a little too comical – but overall, The Bélier Family works a treat, the feel good crowd-pleasing comedy resting on the understanding that life can surprise us and we had best figure out a way to accommodate it, regardless of the complications that may ensue.